Aluminum Fencing: The Smart Choice for Hassle-Free Maintenance
When it comes to securing and enhancing your property, choosing the right fencing option is crucial. While there are various materials available in the market, aluminum fencing stands out as the smart choice for hassle-free maintenance. With its durability, versatility, and aesthetic appeal, aluminum fencing offers a range of benefits that make it a clear winner.
One of the primary advantages of aluminum fencing is its durability. Unlike wood or iron fences, aluminum doesn't rust or corrode easily, making it the ideal choice for outdoor installations. It is resistant to harsh weather conditions, including rain, snow, and UV rays, ensuring that your fence remains in pristine condition for years to come. Additionally, aluminum fences are not prone to warping, cracking, or splintering, further enhancing its durability quotient.
Another reason why aluminum fencing is gaining popularity is its low-maintenance nature. Unlike wood or wrought iron fences, aluminum does not require frequent staining, painting, or sealing to maintain its appearance. This saves you both time and money in the long run. A simple cleaning with soap and water is sufficient to keep your aluminum fence looking as good as new. This hassle-free maintenance makes aluminum fencing a practical choice for busy homeowners or commercial property owners looking for an aesthetically pleasing and durable fencing option without the need for extensive upkeep.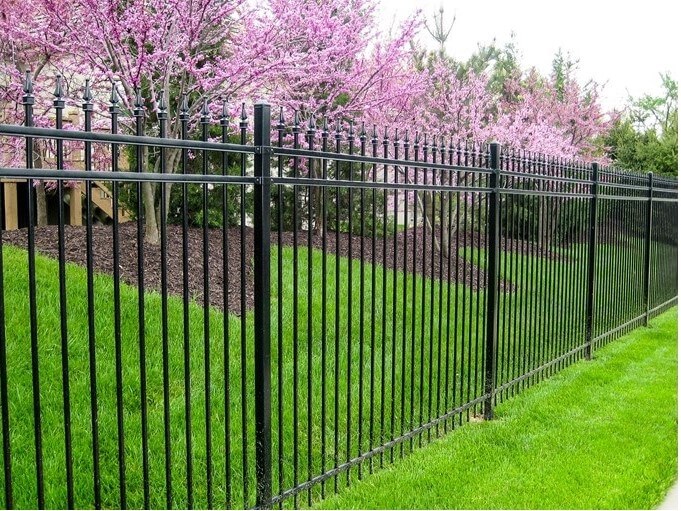 Versatility is another remarkable feature of aluminum fencing. Its lightweight nature allows for easy installation and customization, making it suitable for various property types and terrains. Whether you have a sloping landscape or curved paths, aluminum fences can be easily adjusted to meet your specific needs. Moreover, aluminum fences come in a wide range of styles, colors, and designs, allowing you to choose the perfect fence that complements your property's architecture and style. From classic designs to modern aesthetics, aluminum fencing offers endless possibilities to create a visually appealing boundary for your property.
In addition to its functional benefits, aluminum fencing is also an eco-friendly choice. Aluminum is a highly sustainable material as it is recyclable and requires less energy to produce compared to other materials like wood or iron. Opting for aluminum fencing contributes positively to the environment by reducing carbon emissions and waste. This eco-conscious decision aligns with the growing trend of sustainability and showcases your commitment to a greener future.
Security is undoubtedly a key factor when it comes to choosing fencing, and aluminum fencing is no exception. With its sturdy construction and customizable height options, aluminum fences provide a strong physical deterrent against potential trespassers and intruders. Additionally, the narrow gaps between the pickets prevent easy climbing, further enhancing security measures. Rest assured that aluminum fencing offers not only aesthetic appeal but also peace of mind, making it an excellent choice for both residential and commercial properties.
In conclusion, aluminum fencing offers a range of benefits that make it the smart choice for hassle-free maintenance. Its durability, low-maintenance nature, versatility, and aesthetic appeal set it apart from other fencing materials. By opting for aluminum fencing, you ensure a long-lasting, visually pleasing, and secure boundary for your property. So, why settle for a fence that requires constant upkeep and compromises on quality when you can make the smart choice with aluminum fencing? Upgrade your property today and enjoy the numerous advantages of aluminum fencing – the perfect combination of style and functionality.