When it comes to fencing options for residential and commercial properties, there is a wide range of choices available. From wooden fences to chain-link and vinyl options, each has its own advantages and disadvantages. However, one type of fencing that stands out for its durability, versatility, and aesthetic appeal is the aluminum rail fence.
Traditionally, rail fences were made of wood and consisted of horizontal rails supported by vertical posts. They were primarily used for their functional purpose of enclosing livestock or marking boundaries. Over time, rail fences have evolved and are now widely adopted for their elegant and timeless designs. One such evolution is the use of aluminum as the primary material.
Aluminum rail fences offer a modern twist on this classic design, combining the charm of traditional rail fences with the benefits of aluminum. By choosing an aluminum rail fence, property owners can benefit from its durability and low maintenance requirements. Unlike wood, aluminum does not rot, warp, or fade when exposed to the elements. This makes it a long-lasting and cost-effective option for fencing needs.
Moreover, aluminum rail fences are highly versatile in terms of design and style. They can be customized to complement any architectural theme, from rustic farmhouse to sleek modern. With a variety of profiles, finishes, and colors to choose from, property owners have the freedom to create a fence that perfectly suits their taste and enhances the overall look of their property.
Additionally, aluminum rail fences can be easily installed due to their lightweight nature. This makes the entire installation process quick and hassle-free. Compared to other types of fencing, the aluminum rail fence requires minimal labor and resources, resulting in cost savings for property owners.
Furthermore, aluminum rail fences offer excellent security and stability. They can be designed to have a higher profile and sturdier construction, making them a reliable barrier against intruders. Whether used for residential or commercial purposes, aluminum rail fences provide peace of mind by ensuring the safety and protection of the property.
Another significant advantage of aluminum rail fences is their eco-friendliness. Aluminum is a recyclable material, making it an environmentally responsible choice. By choosing an aluminum rail fence, property owners contribute to reducing waste and promoting sustainability.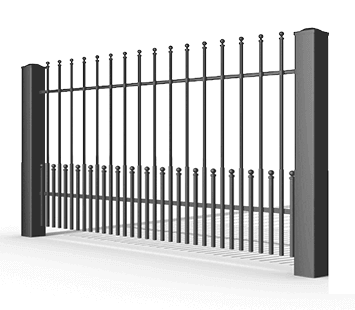 Maintenance of aluminum rail fences is also a breeze. Unlike wooden fences that require regular staining or painting, aluminum rail fences only need occasional cleaning to maintain their appearance. This saves property owners both time and effort, allowing them to focus on other important tasks.
Lastly, the versatility of aluminum rail fences extends to their application. They are suitable for a wide range of settings, including residential neighborhoods, parks, schools, and commercial properties. Whether used to enclose a backyard or to define a public space, aluminum rail fences provide an attractive and functional solution.
In conclusion, aluminum rail fences offer a modern twist on a classic design. They combine durability, versatility, and aesthetic appeal, making them an excellent choice for property owners. Whether looking for a fence that withstands the test of time, enhances the overall look of a property, or provides security and stability, an aluminum rail fence ticks all the boxes. With its numerous advantages and minimal maintenance requirements, the aluminum rail fence truly stands out in the world of fencing options.