In today's world, public infrastructure has an indispensable role in the development and well-being of societies. From bridges and buildings to parks and roadways, these structures not only facilitate the smooth functioning of cities but also contribute to the overall aesthetics. Unfortunately, acts of vandalism, protests, and civil unrest have led to numerous incidents where public infrastructure has been damaged or destroyed. This has not only resulted in significant financial losses but has also posed a threat to public safety. To address this issue, the implementation of an anti-throwing fence system proves to be an effective solution.
Vandalism and the destruction of public infrastructure have become a recurring problem in many cities across the globe. Protesters, aiming to voice their dissatisfaction, often resort to damaging public property as a means of displaying their frustration. However, such acts rarely produce the desired outcome and instead, result in the squandering of taxpayer money. The installation of an anti-throwing fence acts as a deterrent, reducing the likelihood of these destructive behaviors. By prohibiting direct access to these structures, vandals are discouraged from attempting to cause harm, ultimately preserving public infrastructure and taxpayers' investments.
Public safety is a paramount concern. Damaged infrastructure can quickly transform from an aesthetic nuisance to potential hazards for pedestrians and commuters. A crumbling bridge, a broken railing, or a shattered glass panel can present serious risks, leading to accidents and injuries. The implementation of an anti-throwing fence system not only protects public infrastructure but also ensures the safety of those utilizing these structures. By preventing unauthorized access and potential acts of vandalism, these fences contribute to the overall security and well-being of communities.
Additionally, anti-throwing fences help maintain the beauty and aesthetic appeal of public spaces. Parks, plazas, and recreational areas are meant to provide an enjoyable environment for citizens to relax and unwind. When these spaces are littered with damaged infrastructure, it not only diminishes the ambiance but also discourages people from utilizing these areas. Aesthetically pleasing environments positively impact mental health and promote a sense of community. An anti-throwing fence system serves as a protective shield, ensuring that public spaces remain inviting and attractive for individuals of all ages.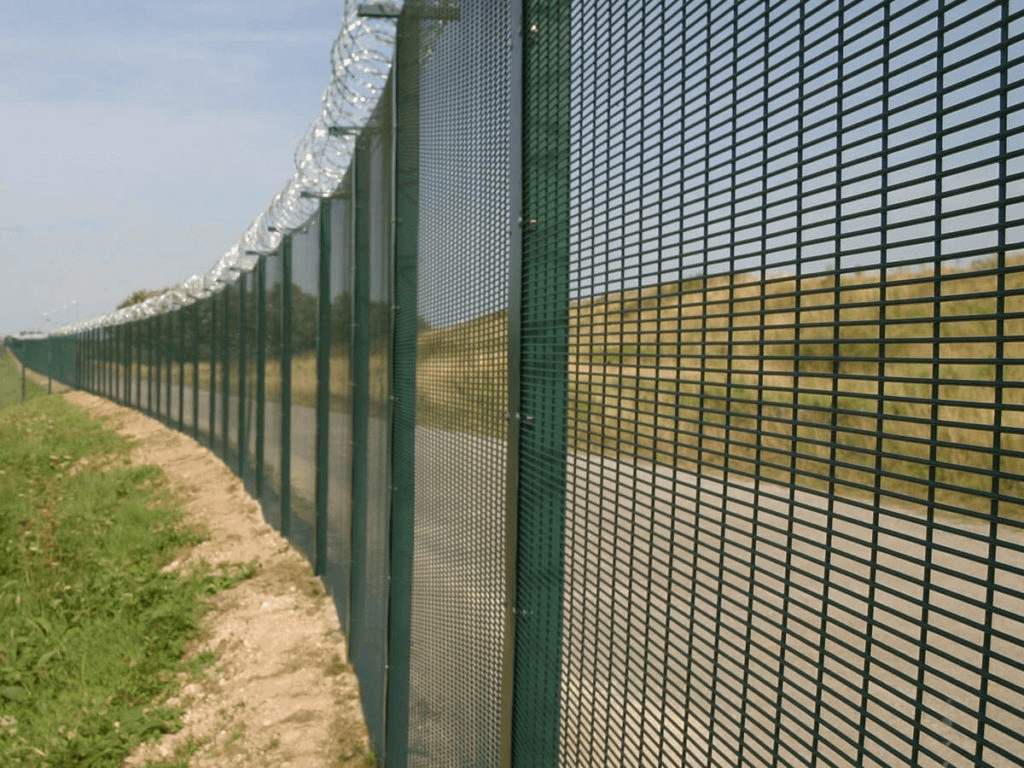 It is important to note that while anti-throwing fences act as a preventive measure, they should not hinder the freedom of expression. Peaceful protests and demonstrations are a fundamental aspect of any democratic society. Anti-throwing fences are specifically designed to deter individuals from engaging in destructive behavior, while still allowing space for the lawful exercise of free speech and peaceful assembly. They provide a clear boundary for protesters to voice their concerns without causing harm to public infrastructure.
The implementation of an anti-throwing fence system is a prudent investment. While the cost of installation and maintenance may seem substantial, it pales in comparison to the expenses associated with repairing or replacing damaged public infrastructure. Allocating funds towards the implementation of these fences demonstrates a commitment to the preservation of public spaces and the safety of citizens. By deterring vandalism, reducing risks, and maintaining the aesthetic appeal of public spaces, these fences contribute to the overall progress and development of communities.
In conclusion, the implementation of an anti-throwing fence system serves as an effective solution to protect public infrastructure from damage. By deterring acts of vandalism and unauthorized access, these fences preserve the aesthetic appeal of public spaces while ensuring the safety of citizens. It is crucial to strike a balance between maintaining the freedom of expression and safeguarding valuable public infrastructure. Allocating resources towards the installation and maintenance of anti-throwing fences is a wise investment that benefits communities in numerous ways. Let's work together to protect our public spaces and uphold the overall well-being of society.