Crowd control is an essential aspect of managing public events, ensuring the safety and security of both participants and organizers. To effectively control crowds, organizers must have the right barrier system in place. Among the various options available, the flat foot style barrier stands out as a superior choice. This article aims to shed light on the many benefits associated with choosing this style of barrier for crowd control.
Firstly, the flat foot style barrier offers excellent stability. The wide base and low center of gravity make it difficult for the barriers to be moved or knocked over, providing a reliable physical barrier to control crowd movement. This is especially important in high-traffic areas where large numbers of people gather, such as music festivals, sporting events, or political rallies.
Secondly, the flat foot style barrier ensures easy installation and dismantling. These barriers are designed to be lightweight yet sturdy, allowing for quick and efficient installation and removal. Their modularity features make it possible to adjust the length and position according to specific crowd control needs, maximizing flexibility while minimizing setup time. This is particularly advantageous in situations where time is of the essence, such as emergency evacuations or spontaneous public gatherings.
Another significant advantage of the flat foot style barrier is its versatility. The barriers can be used for various purposes beyond crowd control, such as marking boundaries, guiding traffic, or creating designated areas for specific activities. Their sleek and uniform appearance also contributes to the overall aesthetics of the event, enhancing the visual appeal and professionalism.
Furthermore, the flat foot style barrier offers enhanced safety for both the public and event staff. Its smooth design eliminates sharp edges and protrusions that could potentially cause injuries. The barriers are also designed to interlock securely with each other, forming a solid and continuous barrier line that prevents individuals from bypassing or climbing over. This feature is crucial in maintaining crowd order and preventing accidents or chaotic situations.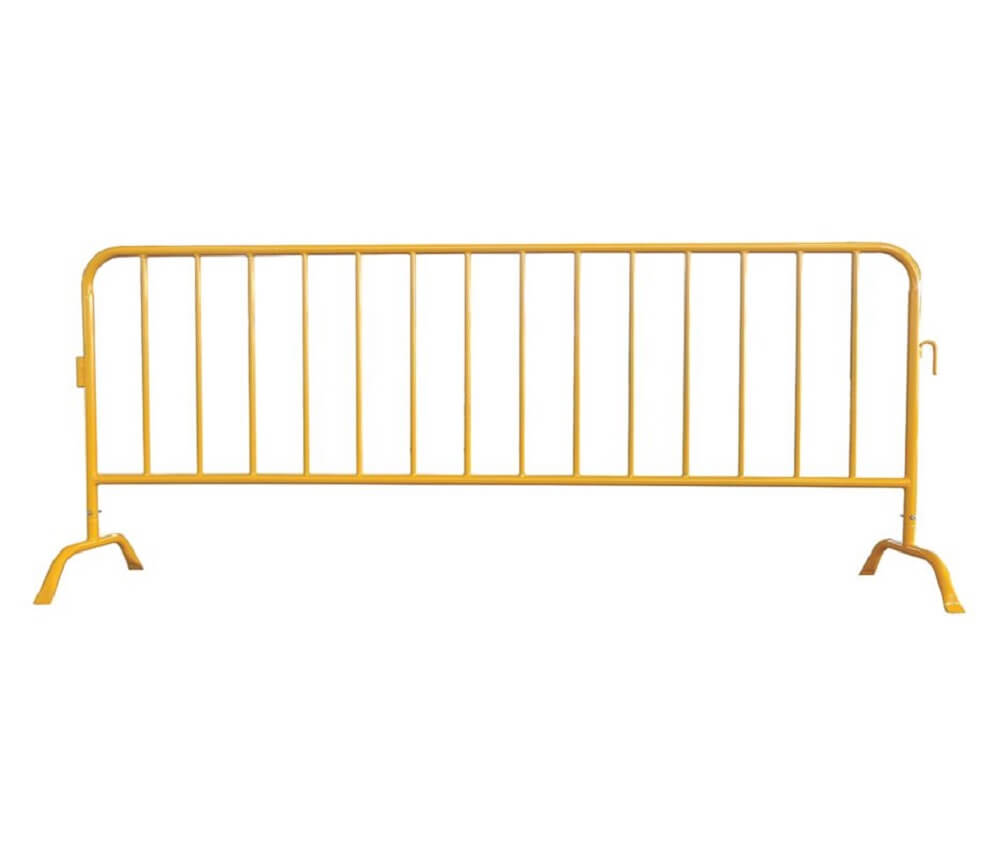 In addition to its safety features, the flat foot style barrier is highly durable. Made from high-quality materials, such as galvanized steel or heavy-duty plastic, these barriers can withstand harsh weather conditions and resist corrosion. This durability ensures a longer lifespan, making the barrier system a cost-effective investment for event organizers in the long run.
Moreover, the flat foot style barrier is easy to maintain. Its design allows for simple cleaning and maintenance, ensuring that the barriers remain in optimal condition for repeated use. This low maintenance requirement saves both time and resources, allowing organizers to focus on other aspects of event planning.
Lastly, the flat foot style barrier is eco-friendly. Many barriers in this style are made from recyclable materials, reducing environmental impact and promoting sustainability. By choosing these barriers, event organizers can contribute to a greener future while still ensuring the safety and control of crowds.
In conclusion, the flat foot style barrier offers numerous benefits that make it an ideal choice for crowd control. Its stability, easy installation, and versatility make it effective in managing crowds of any size. Additionally, its safety features, durability, easy maintenance, and eco-friendly design further enhance its appeal. When it comes to crowd control, it is clear that the flat foot style barrier is the ultimate solution.