Introducing Bridge Foot Style Barriers: The Perfect Solution to Efficiently Manage Crowds
In today's fast-paced world, managing crowds and ensuring efficient crowd control has become an essential aspect of organizing successful events and maintaining public safety. Recognizing this need, we are proud to introduce the Bridge Foot Style Barriers – an enduring solution that offers unparalleled crowd management capabilities.
Designed with both aesthetics and functionality in mind, our Bridge Foot Style Barriers seamlessly blend into any environment, making them an ideal choice for a wide range of applications. Whether it's a music festival, sporting event, trade show, or public gathering, these barriers not only effectively manage crowd flow but also enhance the overall visual appeal.
One of the key advantages of our Bridge Foot Style Barriers lies in their robust construction. Crafted from high-quality materials, they boast exceptional durability, ensuring they can withstand the rigors of heavy usage even in the most demanding conditions. This longevity translates into long-term cost savings, making them a smart investment for event organizers and venue managers.
Moreover, our Bridge Foot Style Barriers feature innovative interlocking mechanisms that enable quick and effortless installation. This means that event setup time is significantly reduced, allowing organizers to focus on other important aspects of their event. Furthermore, their modular design empowers customization possibilities, enabling flexible configurations to adapt to diverse crowd management needs.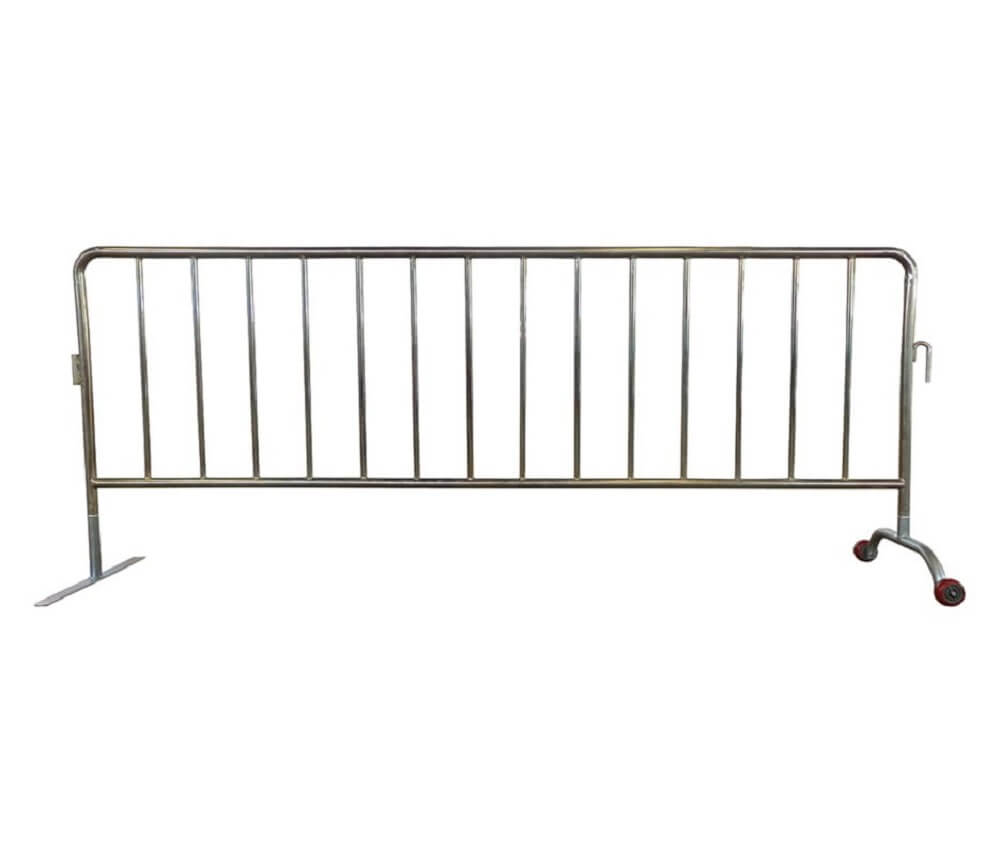 In terms of safety, our Bridge Foot Style Barriers leave no room for compromises. With sturdy construction and engineered stability, they provide a reliable boundary that prevents unauthorized access and maintains order. Additionally, their smooth surfaces and rounded edges minimize the risk of injury, prioritizing the well-being of both staff and attendees.
An exclusive feature of our Bridge Foot Style Barriers is their versatility to accommodate various signage and branding options. Event sponsors can effortlessly display their logos and promotional messages, maximizing brand visibility and creating a positive association with the event. This integration of advertising opportunities into crowd control measures amplifies both functionality and marketing potential.
Furthermore, our Bridge Foot Style Barriers are designed with portability in mind. Easy to handle and transport, these barriers offer exceptional convenience during event setup and breakdown. Their lightweight yet sturdy nature ensures hassle-free mobility, allowing for seamless reconfiguration and adaptability to changing crowd dynamics.
In conclusion, the Bridge Foot Style Barriers revolutionize crowd management, providing event organizers and venue managers with an enduring solution to efficiently handle crowds, enhance safety, and optimize branding opportunities. Their aesthetic appeal, robust construction, ease of installation, and portability make them a top choice for any event. Invest in these innovative barriers today to ensure seamless crowd control and a memorable experience for both organizers and attendees.