In today's uncertain world, security and peace of mind have become essential components for individuals, families, and businesses alike. Whether it's protecting your property, ensuring the safety of loved ones, or safeguarding valuable assets, the need for reliable security measures cannot be overstated. One highly effective solution that offers both robust protection and peace of mind is the 358 Welded Wire Fence.
The 358 Welded Wire Fence, also known as prison mesh or anti-climb fence, is a popular choice for high-security areas such as prisons, military installations, airports, and government buildings. Its name, "358", refers to its unique construction: 3-inch by 0.5-inch mesh openings, giving it a small enough aperture that prevents would-be intruders from gaining a foothold or using tools to cut through the fence.
Why should you choose the 358 Welded Wire Fence over other security options? Let's delve into its key features and benefits to understand why it is the ultimate choice for maximum security and peace of mind.
1. Unparalleled Strength and Durability:
The 358 Welded Wire Fence is constructed using high-quality galvanized steel wire, welded together at every intersection to create a robust barrier. This design ensures maximum strength and resistance to impact, cutting, and climbing attempts. Its heavy gauge steel wiring and anti-corrosion properties make it ideal for outdoor installation, ensuring long-lasting security for years to come.
2. Anti-Climb Design:
Criminals are always looking for vulnerable points of access. Thankfully, the 358 Welded Wire Fence thwarts their efforts with its anti-climb design. The small mesh openings make it nearly impossible for intruders to get a foothold, preventing unauthorized entry. This feature significantly enhances security levels and keeps potential intruders at bay.
3. Clear Visibility and Aesthetically Pleasing:
While security is paramount, it's also important to maintain an aesthetically pleasing environment. The 358 Welded Wire Fence strikes the perfect balance by offering clear visibility through its mesh design. This allows for better surveillance, ensuring that security cameras can capture any suspicious activity easily. Moreover, its sleek and minimalist appearance adds to the overall attractiveness of the property.
4. Easy Installation and Adaptability:
The 358 Welded Wire Fence is designed to be easily installed, minimizing downtime and disruptions during the installation process. Its modular panels can be adjusted to fit various terrains, including slopes and uneven surfaces. This adaptability ensures a seamless installation, providing a secure perimeter without compromising on safety or aesthetics.
5. Low Maintenance:
Maintaining security measures can be a costly affair, both in terms of time and money. Fortunately, the 358 Welded Wire Fence requires minimal maintenance. Its galvanized steel construction provides excellent resistance against rust and corrosion, significantly reducing the need for frequent repairs or replacements. Regular inspections and occasional cleaning are all that's needed to keep the fence in top shape.
6. Versatility and Customization: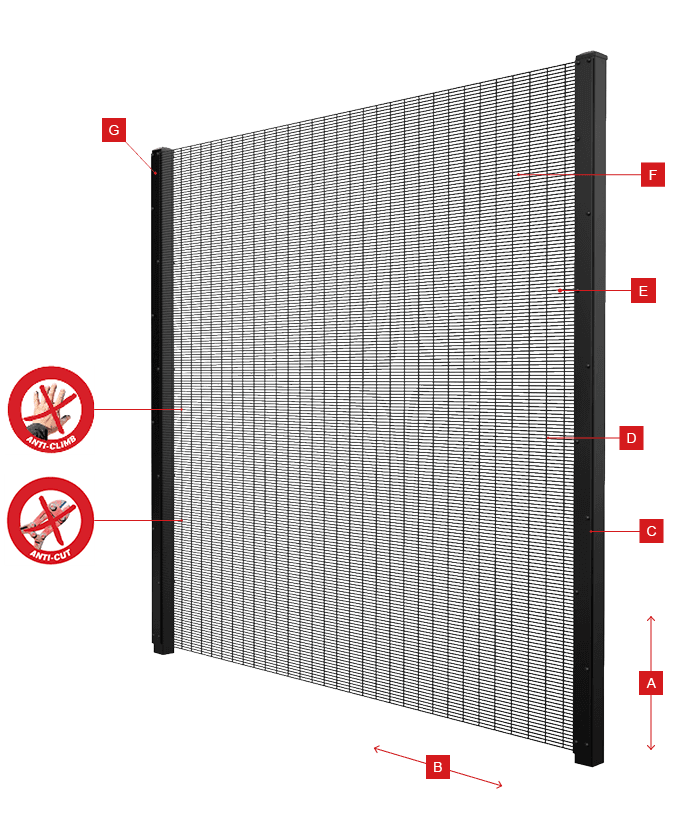 Whether you need security for a residential, commercial, or industrial property, the 358 Welded Wire Fence offers unmatched versatility. It can be customized to meet specific security requirements, such as adding additional razor wire, electric fencing, or integrating access control systems. This level of customization ensures tailored security solutions to fit individual needs.
In conclusion, when it comes to maximum security and peace of mind, the 358 Welded Wire Fence is the preferred choice for discerning individuals, families, and businesses. Its unparalleled strength, anti-climb design, clear visibility, easy installation, low maintenance, and versatility make it an unrivaled security solution. By choosing the 358 Welded Wire Fence, you are investing in a reliable and effective barrier that will provide the peace of mind you deserve. Don't compromise your security – choose the 358 Welded Wire Fence today!