Concertina Razor Coil: An Effective Solution for Perimeter Security
In an increasingly complex and unpredictable world, ensuring the safety and security of our properties and assets has become a top priority. When it comes to perimeter security, one solution stands out as an effective deterrent against potential threats: the Concertina Razor Coil. With its unique design and multiple layers of protection, the Concertina Razor Coil is gaining popularity as an indispensable tool for securing a wide range of locations, from residential properties to high-security facilities.
The Concertina Razor Coil is a form of barbed tape that consists of sharp-edged blades intertwined with high tensile wire. Its name originates from its compact and concertina-like structure that allows for easy installation on fences, walls, or other types of barriers. This specially crafted design enhances its effectiveness as a perimeter security measure, serving as a strong physical barrier that is hard to breach.
One of the primary reasons why the Concertina Razor Coil has gained recognition is its deterrent effect. The sight of razor wire alone is often enough to discourage potential intruders from attempting to breach a perimeter. Its sharp blades and threatening appearance make it clear that gaining access will not be an easy task. The presence of a Concertina Razor Coil acts as a powerful psychological barrier, deterring unauthorized access and effectively reducing the likelihood of criminal activities, such as theft, vandalism, or trespassing.
Moreover, the practicality and versatility of the Concertina Razor Coil make it an ideal choice for various security applications. It can be installed on different types of fences, walls, and even existing security systems, making it adaptable to a wide range of environments. The Concertina Razor Coil provides a cost-effective security solution, as it does not require significant alterations to existing structures, nor does it require ongoing maintenance. Once installed, it serves as a long-term security investment, offering continuous protection against potential threats.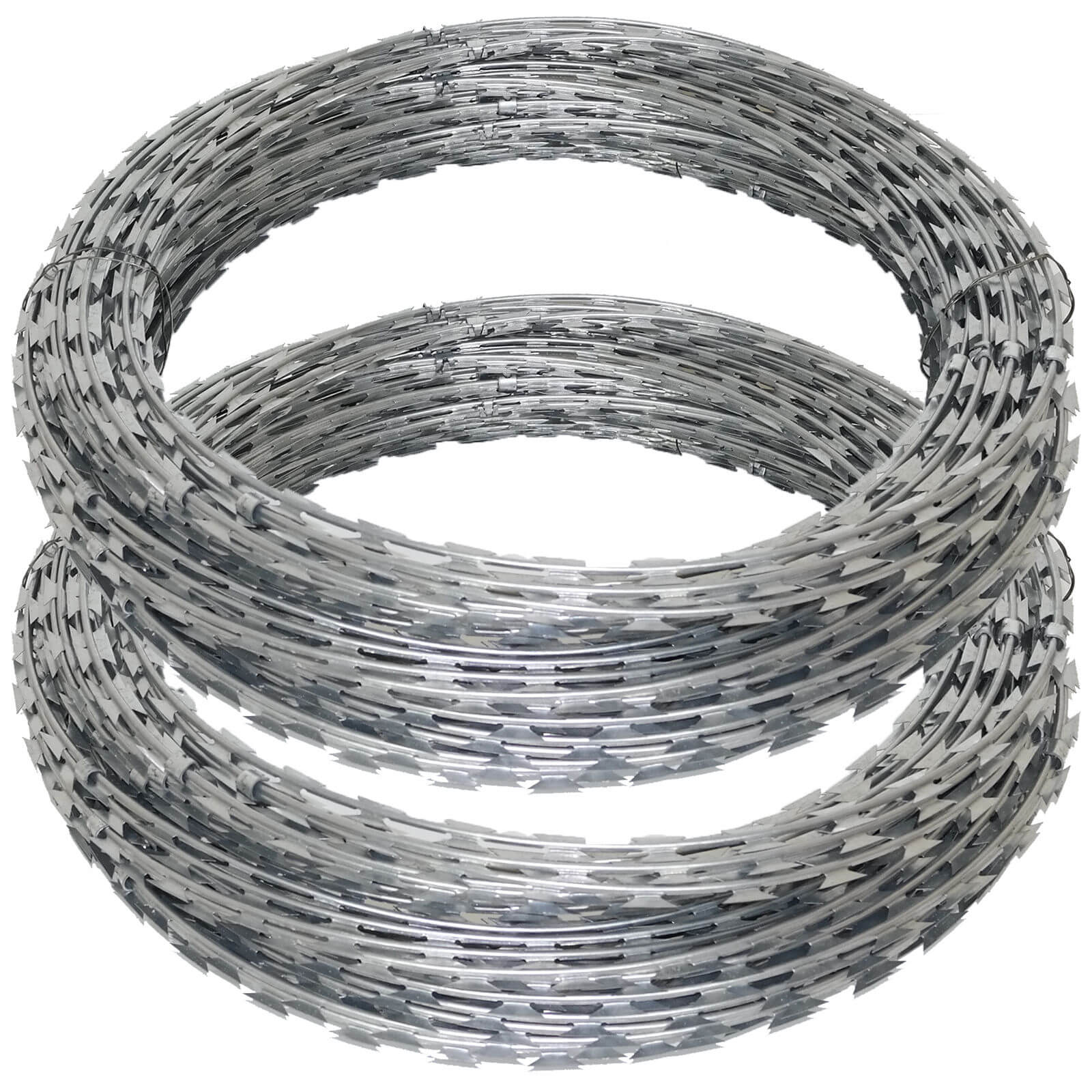 In addition to its ease of installation, the Concertina Razor Coil boasts exceptional durability and resistance to tampering. Crafted from high-quality materials, it is capable of withstanding extreme weather conditions, ensuring continuous functionality even under challenging circumstances. Moreover, attempts to cut or climb over the razor wire are met with resistance, thanks to its sharp blades and tightly wound structure. This added layer of protection greatly enhances the security potential of the Concertina Razor Coil, making it an effective deterrent against determined intruders.
Another notable advantage of the Concertina Razor Coil is its low maintenance requirements. Unlike other forms of perimeter security measures, the Concertina Razor Coil does not rely on electricity or complex systems. It is a simple yet powerful tool that functions independently, requiring minimal upkeep. This feature is particularly valuable for remote locations or areas with limited access to resources, where regular maintenance may be a challenge. The low maintenance demands of the Concertina Razor Coil further contribute to its cost-effective nature, ensuring long-term security without exorbitant expenses.
Furthermore, the Concertina Razor Coil is a legal and ethical choice for perimeter security solutions. It serves as a non-lethal means of deterring unauthorized access, without posing a significant risk of injury or harm. When implemented correctly, it provides a clear and visible warning to potential intruders, ensuring they are aware of the danger they would face if they attempt to breach the perimeter. This fundamental principle of deterrence aligns with legal and ethical guidelines, making the Concertina Razor Coil an acceptable choice for conscientious property owners and security professionals.
In conclusion, the Concertina Razor Coil is an effective solution for perimeter security, offering a powerful deterrent against potential threats. Its unique design and multiple layers of protection make it an indispensable tool for securing various locations. With its deterrent effect, ease of installation, durability, low maintenance requirements, and adherence to legal and ethical standards, the Concertina Razor Coil stands out as a reliable and cost-effective choice for ensuring the safety and security of properties and assets. Embracing this effective perimeter security solution can provide peace of mind and mitigate potential risks, allowing individuals and organizations to focus on their core activities without compromising security.