Introduction:
In today's world, managing and controlling crowds has become an essential task. Whether it is at airports, music festivals, sporting events, or even in public places like shopping malls, crowd control is a priority for ensuring the safety and security of everyone involved. Traditional crowd management techniques have their limitations, but the introduction of the Flat Foot Style Barrier has revolutionized this field. This article aims to explore the advantages of using the Flat Foot Style Barrier for crowd control, highlighting its efficiency, flexibility, and overall effectiveness.
Efficiency:
One of the primary advantages of the Flat Foot Style Barrier is its efficiency. With traditional crowd control methods such as ropes, fences, or barricades, it can be time-consuming to set up and take down the barriers. In contrast, the Flat Foot Style Barrier is quick and easy to install or dismantle. Its modular design allows for seamless interlocking, making it effortless for security personnel to create a clearly defined perimeter without any delays or hassle. This speed and efficiency save valuable time in situations where prompt crowd control measures are crucial, ensuring the smooth flow of people and minimizing the risk of accidents or chaos.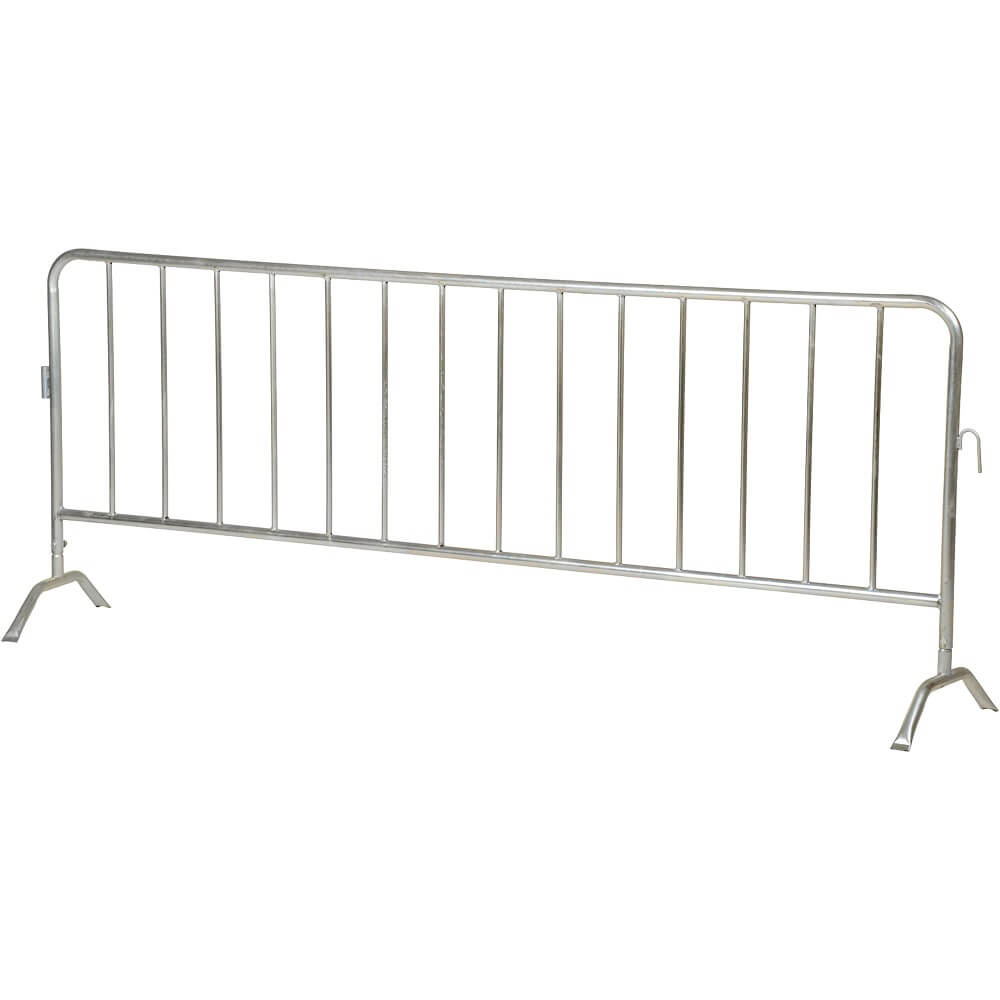 Flexibility:
Another remarkable advantage of the Flat Foot Style Barrier is its flexibility. It offers various customization options, allowing security personnel to adapt to different crowd control scenarios effortlessly. The barriers can be easily configured into multiple shapes and sizes, catering to specific requirements. Whether it is forming straight lines, curved paths, or enclosing specific areas, the Flat Foot Style Barrier provides the flexibility to create customized crowd control solutions. This versatility enables security teams to efficiently manage crowds in various settings, promoting safety, and maintaining order effectively.
Moreover, the Flat Foot Style Barrier is lightweight, making it portable and easy to handle. Unlike traditional heavy barricades, the barriers can be swiftly carried and relocated as needed. This portability further enhances the flexibility of the Flat Foot Style Barrier, enabling security personnel to adapt quickly to evolving crowd dynamics and effectively respond to emergencies.
Effectiveness:
The effectiveness of the Flat Foot Style Barrier in controlling crowds cannot be overstated. Due to its sturdy and stable structure, it effectively acts as a deterrent to prevent unauthorized access or breach. The barriers are designed to withstand external pressure, ensuring that they cannot be easily knocked down or pushed aside by unruly crowds. This durability significantly reduces the chances of stampedes or trampling incidents, safeguarding the well-being of attendees.
Additionally, the Flat Foot Style Barrier features a low-profile design, reducing the risk of trips and falls. Its smooth and seamless surface eliminates any protruding elements, which can often cause accidents in crowded environments. The barriers also offer excellent visibility, allowing security personnel to monitor the crowd effectively and respond promptly to any potential issues.
The modular nature of the Flat Foot Style Barrier contributes to its effectiveness as well. Even if a barrier is damaged or needs to be removed temporarily, it does not disrupt the entire crowd control setup. Individual barriers can be easily replaced or rearranged without impacting the overall effectiveness of the crowd management strategy.
Conclusion:
In conclusion, the Flat Foot Style Barrier has transformed crowd control management by providing an efficient, flexible, and effective solution. Its quick installation, adaptability to different scenarios, and durability make it an invaluable asset for security personnel tasked with managing crowds in various settings. By utilizing the Flat Foot Style Barrier, organizers can ensure the safety and security of both participants and staff, enabling everyone to enjoy events and public spaces without any hindrance. When it comes to controlling crowds with ease, the Flat Foot Style Barrier undeniably holds the advantage.