Create a Secure Perimeter with the Exceptional Strength of 358 Welded Wire Fence
In today's uncertain times, ensuring the security and protection of our properties and loved ones has become a top priority. From residential homes to commercial properties and institutions, the need for a strong and reliable perimeter fence has never been more crucial. That is where the exceptional strength of the 358 welded wire fence comes into play.
The 358 welded wire fence, often referred to as a prison mesh or anti-climb fence, is a highly effective security solution that provides an impenetrable barrier. Made by welding horizontal and vertical wires together, this fence has a remarkable strength that surpasses traditional chain link or barbed wire fences. Its name '358' comes from its measurements – 3 inches by 0.5 inches by 8 gauge, making it extremely difficult to cut or climb.
One of the key advantages of the 358 welded wire fence is its unparalleled resistance to intrusion. Because of its narrow spacing and robust construction, it prevents would-be intruders from gaining a foothold and climbing over. Its small mesh size makes it virtually impossible for someone to get a grip or leverage, making it an ideal choice for critical infrastructure protection, military facilities, and high-security areas.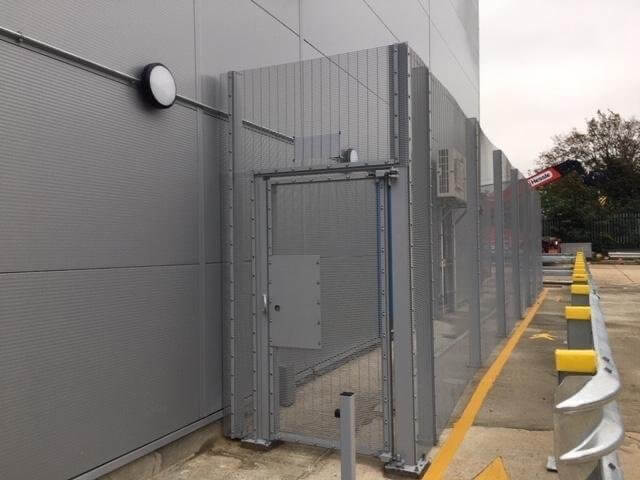 Moreover, the 358 welded wire fence offers excellent visibility while maintaining a high level of security. Unlike solid perimeter walls, this fence allows for unobstructed views, enabling property owners to monitor the activities in and around their premises. This also enhances natural surveillance and deters potential criminals by minimizing hiding spots within the fence. It not only provides a physical barrier but also acts as a psychological deterrent.
The exceptional strength of the 358 welded wire fence goes hand in hand with its durability. Constructed with high-quality galvanized or PVC-coated steel wire, this fence is resistant to corrosion, rust, and wear. It can withstand harsh weather conditions and does not require frequent maintenance, resulting in a long lifespan and cost-effective security solution.
Furthermore, the 358 welded wire fence offers versatility in its applications. Its robust design and strength make it suitable for a wide range of purposes beyond high-security installations. It can be utilized to secure public parks, sporting facilities, schools, airports, warehouses, and many other areas that require reliable perimeter protection.
Installation of the 358 welded wire fence is relatively straightforward, requiring professional expertise. The fence panels are usually prefabricated, making it easy to handle and install. By following the manufacturer's instructions and utilizing appropriate tools and equipment, property owners can quickly create a secure perimeter with the exceptional strength of this fence.
To summarize, a secure perimeter is essential to safeguard our properties, loved ones, and valuable assets. The 358 welded wire fence offers a superior security solution with its exceptional strength, resistance to intrusion, visibility, durability, and versatility. Its ability to deter and prevent would-be intruders makes it an excellent choice for a wide range of applications. When it comes to protecting what matters, the 358 welded wire fence is undoubtedly at the forefront, establishing peace of mind and ensuring the safety of those within its boundaries.