Create a Strong Barrier against Intruders with the 358 Welded Wire Fence
Introduction:
In today's increasingly insecure world, securing our properties has become a top priority. Whether it's our homes, businesses, or public spaces, protecting them from intruders is essential. One highly effective solution that provides robust security is the 358 Welded Wire Fence. This article will delve into the numerous advantages of this type of fencing and why it is a wise choice for creating a strong barrier against intruders.
1. Unmatched Strength and Durability:
The 358 Welded Wire Fence, also known as the "prison fence," sets itself apart with its exceptional strength and durability. Its name is derived from its 3-inch by 0.5-inch mesh size, making it virtually impossible for intruders to gain a foothold or squeeze through the fence. With thick wire panels and a welded design, this fence can withstand tremendous force, preventing any attempts to break or cut through.
2. Maximum Visibility and Disruption-Free Surveillance:
Maintaining security while ensuring ample visibility is crucial, especially in areas such as correctional facilities, airports, or critical infrastructure. The 358 Welded Wire Fence offers an ideal solution by maximizing visibility without compromising security. Due to its narrow aperture size, this fence offers clear sightlines, allowing for efficient surveillance and reducing blind spots. The small mesh size also prevents any unauthorized items from being passed through, eliminating potential security breaches.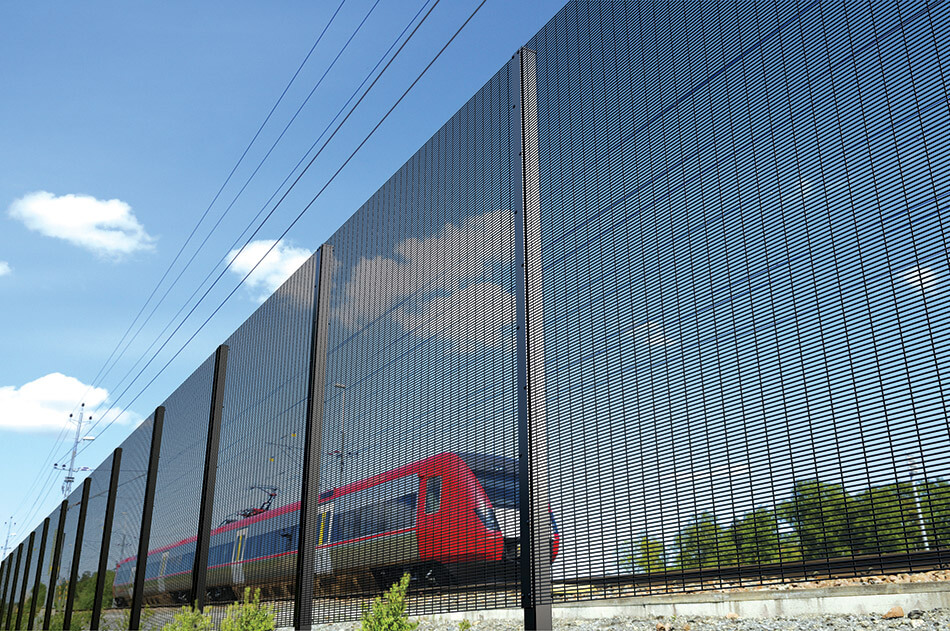 3. Anti-Climb and Cut-Proof Design:
Traditional fences are often susceptible to climbing or cutting attempts, giving intruders an advantage. However, the 358 Welded Wire Fence is specifically engineered to deter such actions. Its small mesh openings make it extremely difficult to gain a foothold, discouraging any climbing attempts. Additionally, the robust wire panels and welded structure make it resistant to cutting tools, ensuring that potential intruders are met with formidable resistance.
4. Excellent Resistance to Weather and Corrosion:
The 358 Welded Wire Fence is designed to withstand even the harshest weather conditions. Its galvanized or PVC-coated surface offers excellent corrosion resistance, making it suitable for installation in coastal areas or regions with high humidity. This exceptional durability ensures that the fence remains intact and performs optimally for an extended period, reducing the need for frequent maintenance and replacement.
5. Customization for Varied Applications:
The beauty of the 358 Welded Wire Fence lies in its flexibility and adaptability to diverse applications. Whether it's securing a prison, a military base, a data center, or a commercial property, this fence can be easily customized to meet specific requirements. Various heights, panel sizes, coatings, and colors are available, allowing for seamless integration with the surrounding environment while maintaining the highest level of security.
6. Cost-Effective and Low Maintenance:
Investing in security measures should be a long-term solution that doesn't burden the finances. The 358 Welded Wire Fence provides an ideal balance of effectiveness and cost-efficiency. Its durability ensures that it stands the test of time, reducing the need for frequent repairs or replacements. Additionally, its low-maintenance nature requires minimal upkeep, saving both time and money in the long run.
Conclusion:
Creating a strong barrier against intruders is a necessity to protect our valuable assets and ensure the safety of individuals in various settings. The 358 Welded Wire Fence, with its unmatched strength, exceptional visibility, anti-climb design, and resistance to weather and corrosion, offers a highly effective solution to these security challenges. With its customization options and cost-effective nature, this fence proves to be a reliable choice for anyone seeking a robust and long-lasting security solution.