When it comes to enhancing the aesthetics and security of your home, decorative aluminum fencing proves to be a superior choice. With its combination of durability, low maintenance, and elegant design options, this type of fencing offers a perfect balance between functionality and style. Whether you're looking to update your property's exterior, establish boundaries, or keep your loved ones safe, decorative aluminum fencing provides a timeless solution that will not disappoint.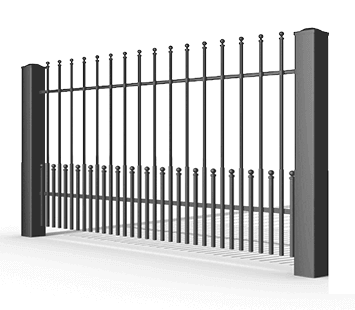 One of the key advantages of decorative aluminum fencing is its exceptional durability. Unlike traditional wood fencing, aluminum is resistant to rust, rot, and other forms of deterioration. This means that your investment will withstand the test of time and remain in pristine condition for years to come. The sturdiness of aluminum also ensures that your fence can withstand various weather conditions, including heavy rain, wind, and even extreme temperatures. This makes it an ideal choice for homeowners who live in regions with harsh climates.
Another significant benefit of decorative aluminum fencing is its low maintenance requirements. Unlike wood or wrought iron fences that may require regular staining or painting, aluminum fencing retains its appearance without the need for such treatments. A simple occasional wash with soap and water is sufficient to keep it looking fresh and vibrant. This means that you can spend more time enjoying your outdoor living space instead of being burdened with constant maintenance tasks.
The versatility of decorative aluminum fencing is another compelling factor that sets it apart from other options. With its wide range of design choices, there is bound to be a style that complements your home's existing architecture and personal preferences. Whether you're aiming for a classic, ornamental look or a contemporary, sleek design, aluminum fencing provides endless possibilities. Additionally, you can select from various colors and finishes to further customize your fence and create a cohesive look that ties your entire property together.
In addition to its aesthetic appeal, decorative aluminum fencing offers unmatched security for your home. Its sturdy construction and the ability to add features such as gates and locks make it an effective deterrent against intruders. By installing an aluminum fence, you can enjoy peace of mind knowing that your property is well-protected. Furthermore, if you have children or pets, the fencing serves as a reliable barrier, ensuring their safety while they play outdoors.
Enlisting the help of professionals to install your decorative aluminum fencing is crucial to ensure a seamless and long-lasting result. Experienced installers will take accurate measurements, secure the necessary permits, and guarantee that the fence is properly aligned and secured. By entrusting this task to professionals, you can save yourself the hassle of DIY installation and rest assured that your fence will be installed with the utmost precision.
To summarize, decorative aluminum fencing offers a winning combination of functionality and elegance for your home. Its durability, low maintenance requirements, versatile design options, and security features make it an excellent investment. Whether you're looking to enhance your property's curb appeal, establish boundaries, or create a safe outdoor space, decorative aluminum fencing is the perfect solution. By choosing this type of fencing, you can elevate the aesthetics and security of your home without compromising on style or convenience.