Defend Your Property from Intruders with the High-Quality 358 Welded Wire Fence
In today's world, property security has become an essential concern for homeowners and businesses alike. Protecting our valuable assets from intruders is not only crucial for ensuring personal safety but also for safeguarding our investments and maintaining a sense of peace and privacy. When it comes to choosing the right perimeter fencing solution, the 358 welded wire fence stands out as a top-notch option providing unmatched security, durability, and aesthetic appeal.
First and foremost, security is the foremost aspect to consider when selecting a fencing system. The 358 welded wire fence, also known as the anti-climb or prison mesh fencing, excels in delivering exceptional security measures. Its unique design prevents potential intruders from climbing over due to the closely spaced horizontal wires and small mesh size. With a vertical wire diameter of 3mm and a horizontal wire diameter of 4mm, the fence offers unrivaled resistance to cutting and vandalism, making it practically impossible for trespassers to breach.
Moreover, the robustness of the 358 welded wire fence ensures long-lasting protection for your property. Constructed from high-quality galvanized steel, this particular fence is resistant to corrosion, weathering, and general wear and tear. Unlike traditional chain-link fences or wooden barriers that deteriorate over time, the 358 welded wire fence retains its structural integrity for years to come. Its durability not only saves you from the hassle of frequent maintenance and repairs but also guarantees a solid and reliable security solution, even in the harshest conditions.
Beyond ensuring security and longevity, aesthetics should not be overlooked when choosing a fence. The 358 welded wire fence effortlessly combines functionality with an attractive appearance. Its uniform and visually appealing design blends well with various architectural styles and landscapes, providing a sophisticated and polished look to any property. Additionally, the fence can be further customized with various colors and finishes to match your personal taste and complement the surroundings. Whether you desire a modern and sleek look or a more traditional and rustic feel, the 358 welded wire fence offers a versatile design that meets your aesthetic requirements.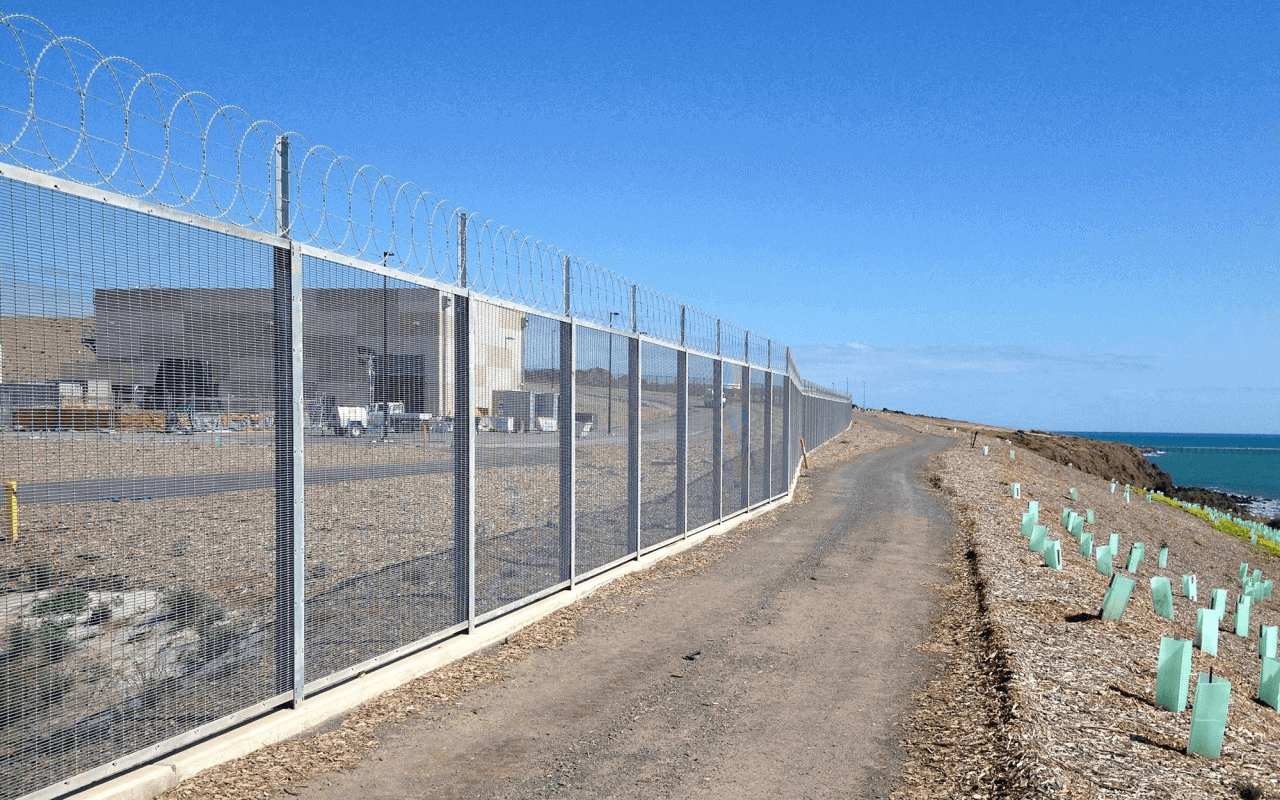 Furthermore, the installation process of the 358 welded wire fence is simple and hassle-free, ensuring a quick setup. Its modular panels can be easily assembled and adjusted, allowing for flexibility to adapt to any terrain or property specifications. This saves both time and money during the installation, ensuring minimal disruption to your daily life or business operations. Additionally, maintenance and cleaning are a breeze, thanks to its smooth surface and absence of sharp edges. With the right care, the fence continues to look pristine and functions efficiently for an extended period, providing you with a cost-effective solution in the long run.
In conclusion, when it comes to defending your property from potential intruders, the 358 welded wire fence stands as an outstanding choice. Its superior security features, durability, aesthetic appeal, and easy installation make it the ideal solution for homeowners and businesses alike. With this high-quality fencing system, you can have peace of mind knowing that your property is protected, and your loved ones or valuable assets are secure. Don't compromise when it comes to property security; choose the 358 welded wire fence today and experience the ultimate blend of safety, durability, and aesthetics.