In today's rapidly evolving world, security is paramount. Whether it's protecting our homes, businesses, or public spaces, finding a balance between safety and visibility has always been a challenge. However, with the innovative 358 welded wire fence with clear panels, this dilemma can finally be resolved. By offering enhanced security without sacrificing visibility, this fence is revolutionizing the way we protect our properties.
Traditional fences have long been the go-to solution for security, but they often obstruct visibility, leaving us feeling isolated from the outside world. Transparent fences, on the other hand, may provide fantastic visibility but offer little in terms of protection. The 358 welded wire fence with clear panels, however, strikes the perfect balance between the two.
One of the primary advantages of the 358 welded wire fence with clear panels is its exceptional strength and durability. Constructed using heavy-gauge steel wires, this fence type is incredibly difficult to breach. The tight mesh pattern ensures that potential intruders cannot get a foothold or use tools to cut or break through the fence. Its welded construction also eliminates weak points, making it resistant to bending or warping. This fence is truly a fortress that provides a solid barrier against unauthorized access.
Moreover, the clear panels integrated into the fence design offer unobstructed visibility, making it perfect for security applications where surveillance is crucial. These panels are typically made from polycarbonate, a lightweight and impact-resistant material that withstands harsh weather conditions. The transparency of the panels allows for easy monitoring of activities both inside and outside a property. This not only helps surveillance personnel but also provides a sense of openness and connectedness to the surrounding environment.
Another significant advantage of the 358 welded wire fence with clear panels is its versatility. It can be used in a variety of settings, from residential and commercial properties to public areas like parks or museums. In residential applications, the fence allows homeowners to feel secure within their property while still maintaining visibility of their neighborhood. Businesses can benefit from this fence by keeping their premises secure while showcasing their products and services to potential customers. In public settings, the clear panels provide safety without creating a physical barrier between visitors and the area they are visiting.
Furthermore, the 358 welded wire fence with clear panels is highly customizable. It can be tailored to meet specific security requirements by adjusting the height, panel size, and mesh pattern. For areas where privacy is a concern, the clear panels can be replaced with opaque options while still maintaining the structural integrity of the fence. This flexibility ensures that the fence can be adapted to suit any environment and security need.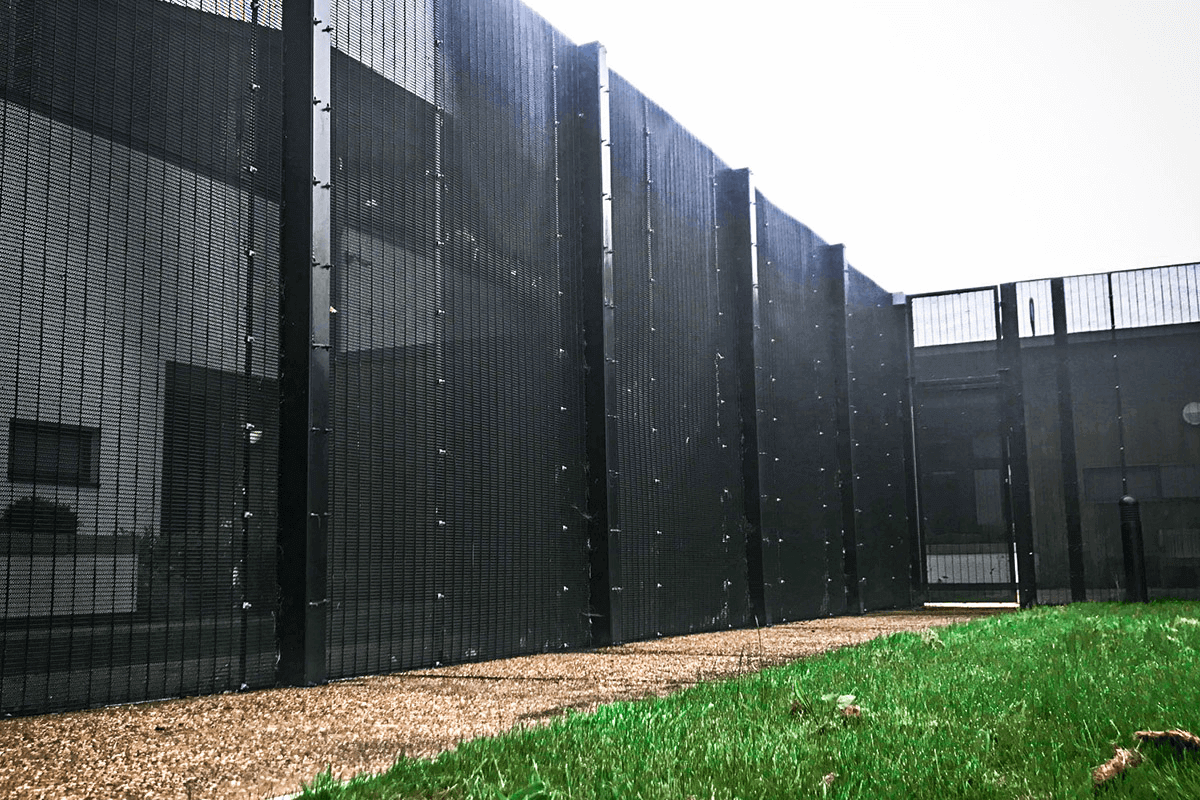 Lastly, the 358 welded wire fence with clear panels is a cost-effective solution in the long run. Its durable construction requires minimal maintenance, ensuring that it lasts for years without incurring significant repair or replacement costs. Additionally, the ability to combine security and visibility into one fence eliminates the need for multiple barriers or additional surveillance systems, saving both time and money.
In conclusion, the 358 welded wire fence with clear panels is a game-changer in the field of security fencing. It offers enhanced security without sacrificing visibility, providing the perfect solution for protecting properties while ensuring a sense of openness. With its exceptional strength, durability, versatility, and cost-effectiveness, this fence has become the go-to choice for institutions and individuals seeking the ideal blend of security and visibility.