Ensure Privacy and Security with the 358 Welded Wire Fence Solution
Introduction:
In today's fast-paced world, ensuring privacy and security has become a paramount concern for many homeowners, businesses, and institutions. With technological advancements and an increase in population density, protecting our properties and loved ones has become more challenging than ever. Fortunately, the 358 welded wire fence solution emerges as an effective way to achieve both privacy and security, offering a robust barrier that is not only durable but also aesthetically pleasing. In this article, we will discuss the numerous benefits of the 358 welded wire fence and explore why it has become the top choice for privacy and security needs.
1. Unparalleled Strength and Durability:
The 358 welded wire fence is constructed with high-quality steel wires, meticulously welded together to form a grid pattern of 3 inches by 0.5 inches, giving it its name. This design offers immense strength and durability, making it resistant to cutting and climbing attempts. Unlike traditional chain-link fences, the 358 welded wire fence effectively deters burglars and intruders, providing a reliable defense against unauthorized access. Its robust structure ensures that it can withstand extreme weather conditions, guaranteeing a long-lasting fencing solution for years to come.
2. Maximum Privacy:
Privacy is a fundamental aspect of feeling secure within our properties. The 358 welded wire fence excels in providing maximum privacy without compromising on style. Its small mesh size obstructs the view from outside, ensuring that prying eyes cannot invade our personal spaces. Whether it's a residential backyard, commercial warehouse, or correctional facility, this fence solution helps maintain a peaceful and private environment. Additionally, the fence can be customized with various heights and coating options, making it adaptable to different privacy needs.
3. Enhanced Security:
Security is the primary reason for having a fence, and the 358 welded wire fence ensures impeccable protection. The small mesh aperture, combined with the robust construction, creates an incredibly secure boundary. The tight gaps prevent unauthorized individuals from squeezing through the fence, eliminating any weak points and minimizing the chance of breaching. Furthermore, the welded wire design makes it difficult to cut through the fence, acting as a substantial deterrent against vandalism and break-ins. By choosing the 358 welded wire fence, you are investing in a high-security solution that grants peace of mind.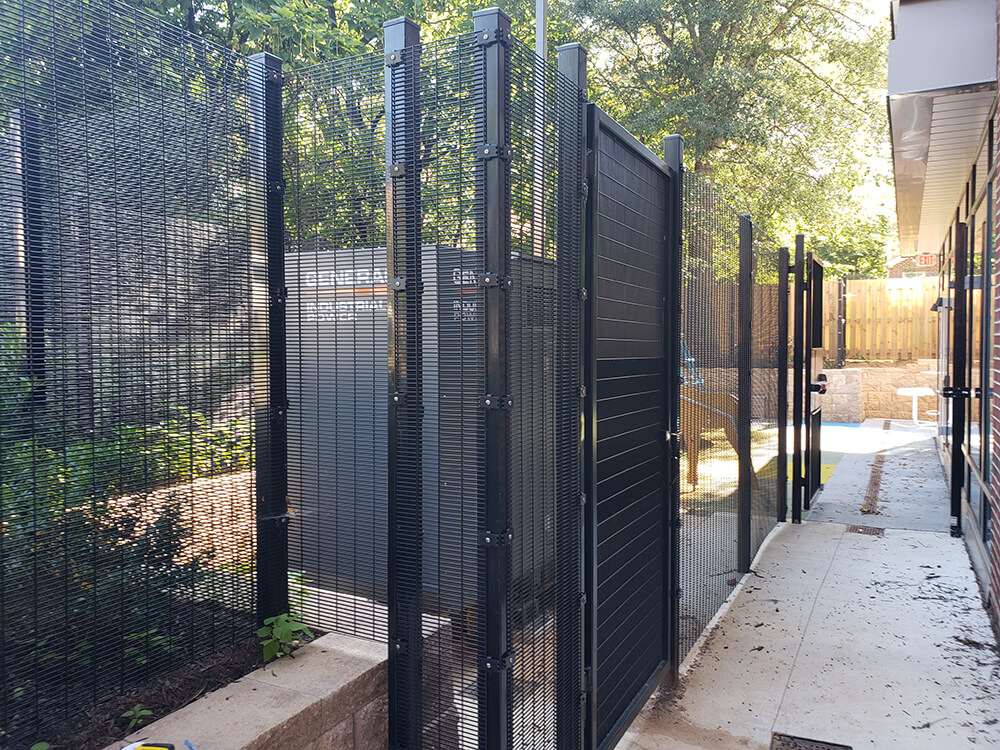 4. Aesthetically Pleasing:
Aside from providing privacy and security, the 358 welded wire fence is also aesthetically pleasing. Fences no longer need to be eyesores that detract from the overall appearance of a property. With its narrow mesh spacing, the fence offers a sleek and unobtrusive look, seamlessly blending into any architectural style. The fence can be coated with various colors, allowing homeowners and businesses to select a finish that complements their surroundings. This combination of functionality and visual appeal allows the 358 welded wire fence to enhance the overall attractiveness of any property.
5. Low Maintenance:
In addition to its numerous benefits, the 358 welded wire fence requires minimal maintenance. The high-quality materials used in its construction make it resistant to corrosion, eliminating the need for frequent repairs or replacements. Cleaning the fence regularly with a simple spray of water is typically all that is needed to maintain its pristine appearance. This low-maintenance nature makes the 358 welded wire fence a cost-effective choice in the long run, saving both time and money.
Conclusion:
In conclusion, the 358 welded wire fence solution offers an ideal blend of privacy, security, durability, and aesthetics, making it a standout choice for property owners worldwide. Its unparalleled strength effectively deters intrusions, while the small mesh size maintains maximum privacy. Furthermore, the combination of style and functionality ensures that the fence adds value to any property. With low maintenance requirements and long-lasting durability, the 358 welded wire fence provides a reliable and cost-effective investment for those seeking comprehensive privacy and security solutions. Choose the 358 welded wire fence and grant yourself the peace of mind and protection you deserve.