Aluminum rail fences have gained immense popularity among homeowners and commercial property owners alike. These fences not only provide security and privacy but also enhance the aesthetics of any property. The wide range of designs and styles available makes it possible to find the perfect aluminum rail fence to suit any architectural style or personal preference.
One of the most appealing aspects of aluminum rail fences is their versatility in design. Whether you have a traditional or modern property, there is a design to match every need. From classic to contemporary, the options are endless. Let's explore some of the different designs of aluminum rail fences:
1. Classic Picket Style:
The classic picket style is a timeless design that is synonymous with charm and elegance. This style features evenly spaced vertical pickets that are attached to horizontal rails. It creates an open and welcoming look without compromising security. The pickets can be customized with different embellishments such as decorative finials or spears to add a touch of sophistication.
2. Modern Horizontal Style:
For those seeking a sleek and contemporary look, the modern horizontal style is the perfect choice. This design features horizontal rails that run between the posts, offering a clean and minimalist appearance. The absence of vertical pickets not only provides an unobstructed view but also adds a sense of modernity to the property.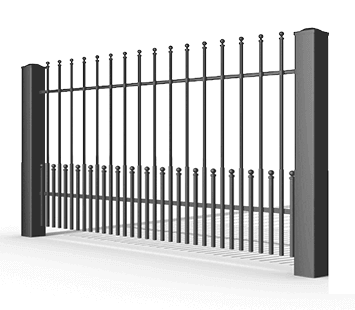 3. Ornamental Style:
The ornamental style of aluminum rail fences is an excellent choice for those who want to combine security with elegance. This design features intricate patterns and decorative elements such as scrollwork, finials, or floral motifs. Ornamental fences can be customized to match the architectural details of the property, creating a cohesive and aesthetically pleasing look.
4. Privacy Style:
Privacy is a top priority for many property owners, and aluminum rail fences can provide just that. The privacy style features closely spaced pickets or slats that prevent outsiders from peering into your property. This design offers both security and seclusion, making it an ideal choice for residential areas or commercial properties that require privacy.
5. Pool Style:
Properties with swimming pools require fences that comply with safety regulations. The pool style of aluminum rail fences is specifically designed to meet these requirements. These fences feature narrow spacing between the pickets to prevent small children or pets from accessing the pool area unsupervised. They not only provide safety but also add an elegant touch to the overall poolside ambiance.
6. Mixed Material Style:
If you prefer a fence with a unique and eye-catching appearance, consider opting for a mixed material style. This design incorporates various materials such as wood, stone, or glass into the aluminum rail fence. The combination of different textures and materials creates a visually appealing and distinctive look that stands out from standard fence designs.
In conclusion, aluminum rail fences offer an array of design options to suit various architectural styles and personal preferences. Whether you prefer a classic picket style, a modern horizontal look, an ornamental design, a privacy fence, a pool style, or a mixed material approach, there is a perfect aluminum rail fence for you. With their durability, low maintenance requirements, and aesthetic appeal, these fences are an excellent investment for any property. Choose the design that resonates with your style, and transform your property into a secure and visually stunning space.