Title: Flat Foot Style Barriers: Strong and Stable Crowd Control Solutions
Introduction:
When it comes to maintaining order and ensuring the safety of large gatherings, having the right crowd control solutions is paramount. Among the various options available, flat foot style barriers have emerged as a popular choice due to their strength, stability, and versatility. In this article, we will explore the features and benefits of flat foot style barriers, and discuss how they can effectively manage crowds in various settings.
1. The Anatomy of Flat Foot Style Barriers:
Flat foot style barriers are designed with a sturdy base and a vertical panel. The base, as the name suggests, is flat and wide, providing enhanced stability and resistance to tipping over. It is typically made of heavy-duty materials such as steel or plastic, ensuring durability in even the most demanding conditions. The vertical panel, which extends upwards from the base, acts as a physical barrier, preventing unauthorized access and guiding the flow of pedestrian traffic.
2. Strength and Stability: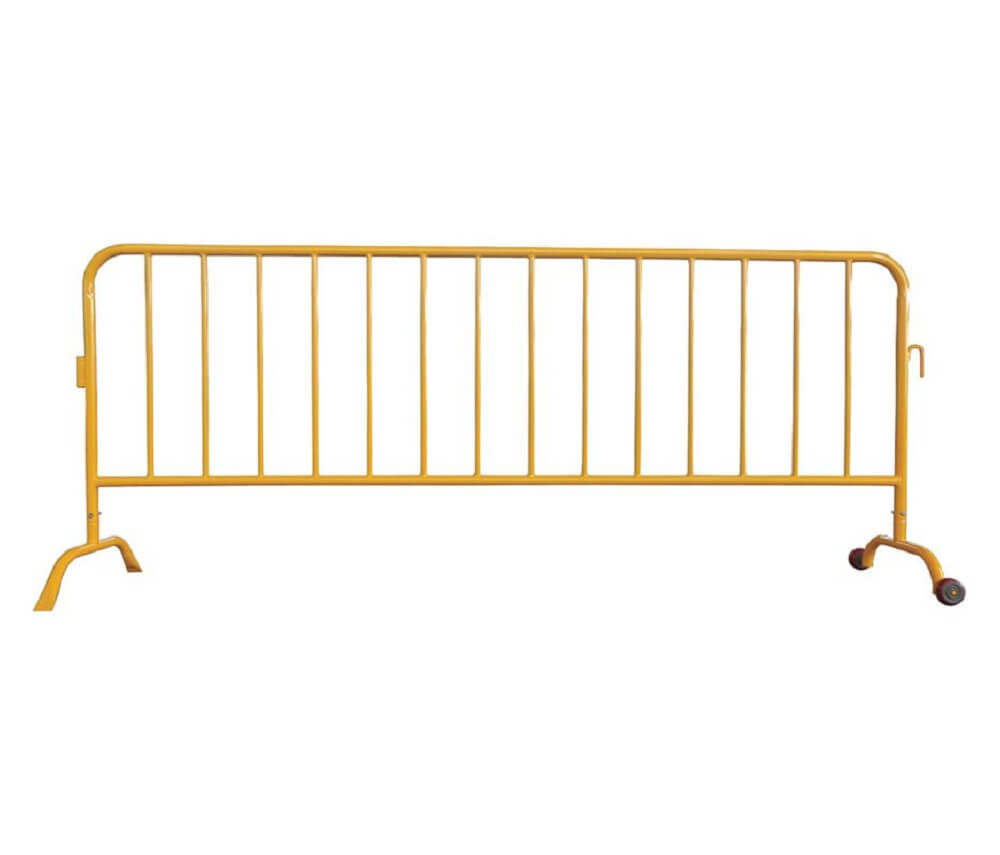 One of the key advantages offered by flat foot style barriers is their remarkable strength and stability. Their robust construction allows them to withstand the pressure exerted by large crowds without compromising their integrity. The flat base distributes the weight evenly, minimizing the risk of toppling over even in crowded and high-impact situations. This makes them suitable for a wide range of events, from music festivals and sporting events to construction sites and public gatherings.
3. Versatility in Crowd Control:
Flat foot style barriers are highly versatile and can be adapted to various crowd control needs. They can be easily interconnected, creating a continuous barrier that can span a considerable distance. This flexibility allows event organizers to customize the layout according to the specific requirements of each location. Additionally, these barriers can be combined with accessories like signage boards, reflective strips, or branding displays, enhancing their functionality and visibility.
4. Easy Installation and Transportation:
Another significant advantage of flat foot style barriers is their ease of installation and transportation. They are designed to be lightweight and compact, allowing for quick and effortless setup. Their portability is particularly beneficial for events that require frequent relocation or temporary installations. The barriers can be stacked or stored efficiently, occupying minimal space when not in use. This convenience makes them a preferred choice for both short-term and long-term crowd management solutions.
5. Safety and Crowd Guidance:
In crowded environments, safety is of utmost importance. Flat foot style barriers address this concern by creating clear boundaries and pathways for pedestrians. Their height and visible presence assist in guiding the crowd, channeling the flow towards designated areas and ensuring smooth accessibility for emergency personnel if required. Moreover, the stability of these barriers offers added security, preventing crowd surges or potential accidents.
6. Durability and Weather Resistance:
Flat foot style barriers are built to withstand the elements and ensure long-lasting performance. The materials used, such as galvanized steel or impact-resistant plastic, provide excellent resistance to corrosion, rust, and damage caused by extreme weather conditions. This durability makes them suitable for both indoor and outdoor applications, whether it's an open-air concert, a sporting event, or crowd management in public spaces.
Conclusion:
Flat foot style barriers have proven to be reliable, strong, and stable crowd control solutions. Their robust construction, versatility, and ease of use make them an ideal choice for events and locations where crowd management is essential. By providing safety, clear guidance, and durable performance, flat foot style barriers contribute to maintaining order and ensuring a smooth and secure experience for both event organizers and attendees alike.