Security is a major concern for homeowners and business owners alike. While there are many different security measures that can be put in place to deter criminals and protect property, one solution that is often overlooked is the use of spike strips. Spike strips, also known as tire deflation devices, can be an incredibly effective security measure for anyone looking to protect their property from unwanted intruders.
The principle behind spike strips is simple: a series of sharp metal spikes protrude from a strip of rubber or plastic, creating a barrier that punctures the tires of any vehicle that attempts to drive over them. This puncturing effect immediately deflates the tires, leaving the vehicle immobilized and the driver trapped. Spike strips can be used in a variety of applications, from protecting residential driveways to securing large business complexes.
One of the main benefits of using spike strips as a security measure is their effectiveness. Traditional security measures, such as alarms and surveillance cameras, work primarily as deterrents, with the hope that would-be intruders will be scared off by the threat of being caught. Spike strips, on the other hand, provide a direct physical barrier to access. There is no way for a vehicle to pass over a set of spike strips without having its tires punctured.
Another benefit of using spike strips is their simplicity. Spike strips do not require electricity or other power sources to operate, and they are easy to install and maintain. Unlike sophisticated security systems that require professional installation and regular maintenance, spike strips can be installed by anyone with basic tools and can last for years with minimal maintenance.
Spike strips can also be used in conjunction with other security measures to provide even greater protection. For example, spike strips can be placed at the entrance to a business park, combined with security cameras and access control systems to create a comprehensive security system that keeps out unauthorized vehicles and individuals.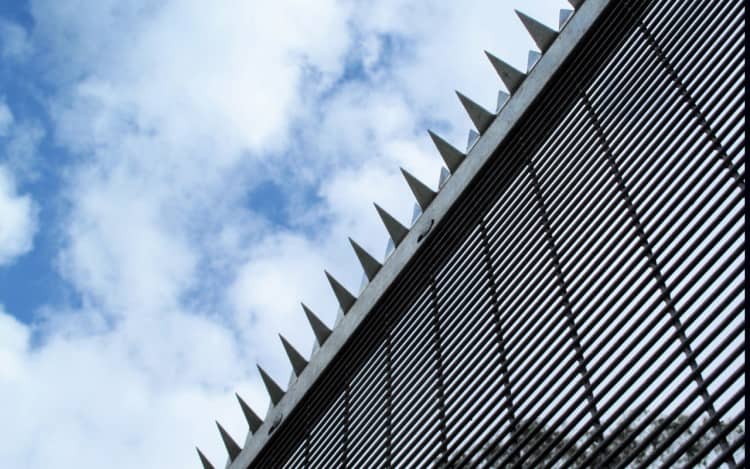 There are some potential downsides to using spike strips as a security measure, however. One concern is the possibility of puncturing the tires of emergency vehicles, such as ambulances or fire trucks, that may need to access the property in the event of an emergency. To mitigate this risk, many spike strips are designed to be easily removable or collapsible, allowing emergency vehicles to pass through unimpeded.
Another concern is the potential liability associated with using spike strips. If a unsuspecting driver or passenger is injured as a result of driving over the spike strips, the property owner may be held liable for damages. To minimize this risk, property owners should take care to clearly mark the presence of spike strips and provide adequate warning to drivers who may inadvertently encounter them.
Despite these potential downsides, spike strips remain a highly effective and cost-efficient security measure for anyone looking to protect their property from unwanted intruders. With their simplicity, durability, and effectiveness, spike strips are a valuable addition to any security system. So if you're looking to keep your property safe and secure, consider adding spike strips to your arsenal of defenses.