Decorative steel fencing is an excellent way to enhance the safety and style of any residential or commercial property. With its durability, versatility, and aesthetic appeal, steel fencing has become increasingly popular among property owners. In this article, we will delve into the various aspects of decorative steel fencing, including its benefits, applications, and maintenance requirements.
One of the primary reasons why people choose decorative steel fencing is its exceptional safety features. With its strength and durability, steel fencing provides a reliable barrier that can withstand various external pressures. Whether it is for residential purposes or commercial use, the security offered by steel fencing is unparalleled. It acts as a deterrent to potential intruders while ensuring the safety of children and pets within the property.
Aside from safety, decorative steel fencing offers a vast array of styles and designs to suit individual preferences and complement the property's architectural aesthetics. From traditional and ornamental designs to modern and sleek options, there is a steel fence style for every taste. Additionally, steel fencing can be customized in terms of height, color, and ornamental details, making it a versatile choice for property owners looking to create a unique and personalized environment.
Decorative steel fencing finds its application in various settings, ranging from residential properties to commercial establishments. For homeowners, it serves as an ideal solution to secure their premises while enhancing the overall appeal. Steel fencing can create an elegant perimeter boundary, accentuating the beauty of a garden or landscape design. In commercial settings, it not only ensures security but also adds a touch of professionalism to the property, leaving a lasting impression on clients and visitors.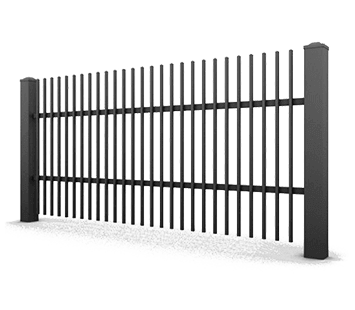 Proper maintenance is essential to ensure the longevity and effectiveness of decorative steel fencing. Routine inspection should be performed to identify any signs of damage, such as rust or loose components. Prompt repairs should be carried out to prevent further deterioration. Regular cleaning using mild detergents and non-abrasive materials will help keep the fence looking its best. Applying a protective coating or paint can also help prevent rust and maintain the fence's visual appeal.
In conclusion, decorative steel fencing offers the perfect balance between safety and style. Its durability, versatility, and customization options make it a popular choice among property owners. Whether it is for residential or commercial purposes, steel fencing provides reliable security while enhancing the overall aesthetic appeal of the property. By ensuring proper maintenance, property owners can ensure the longevity and effectiveness of their decorative steel fence. Invest in decorative steel fencing today and elevate the safety and style of your property to new heights.