Maintain Safety and Security with the Reliable 358 Welded Wire Fence
Introduction
In an ever-evolving world, safety and security remain paramount concerns for individuals and organizations alike. Whether safeguarding a residential property, a commercial space, or a public establishment, having a reliable and effective fencing system is essential. One such exceptional option is the 358 welded wire fence, designed to provide the utmost safety and security while offering a durable and aesthetically pleasing solution. In this article, we will delve into the details of the 358 welded wire fence, exploring its unique features, benefits, and applications, and highlighting why it has become the preferred choice of many.
Section 1: Understanding the 358 Welded Wire Fence
To fully appreciate the capabilities of the 358 welded wire fence, it is crucial to gain a comprehensive understanding of its construction, materials, and design. The name "358" refers to the measurements of the fence panel, where 3″ x 0.5″ (76.2 mm x 12.7 mm) mesh apertures are welded at every intersection using heavy-duty wires. This design ensures exceptional strength, rigidity, and resistance to vandalism, making it exceptionally difficult for intruders to gain unauthorized access. The 358 welded wire fence is typically manufactured using high-quality galvanized steel wires, which provide corrosion resistance and extend the lifespan of the fence even in harsh environmental conditions.
Section 2: Unparalleled Safety and Security
When it comes to safety and security, the 358 welded wire fence surpasses many other fencing options. The small mesh size and robust construction make it virtually impossible for individuals to climb over the fence. Its design also ensures limited visibility from the outside, preventing potential intruders from effectively assessing the target area. Furthermore, the strength and rigidity of the fence panels offer excellent resistance to forced entry, making it an ideal choice for high-security areas such as prisons, airports, military installations, and government facilities. The 358 welded wire fence acts as a strong deterrent to unauthorized access, providing peace of mind to property owners and minimizing the risk of intrusion.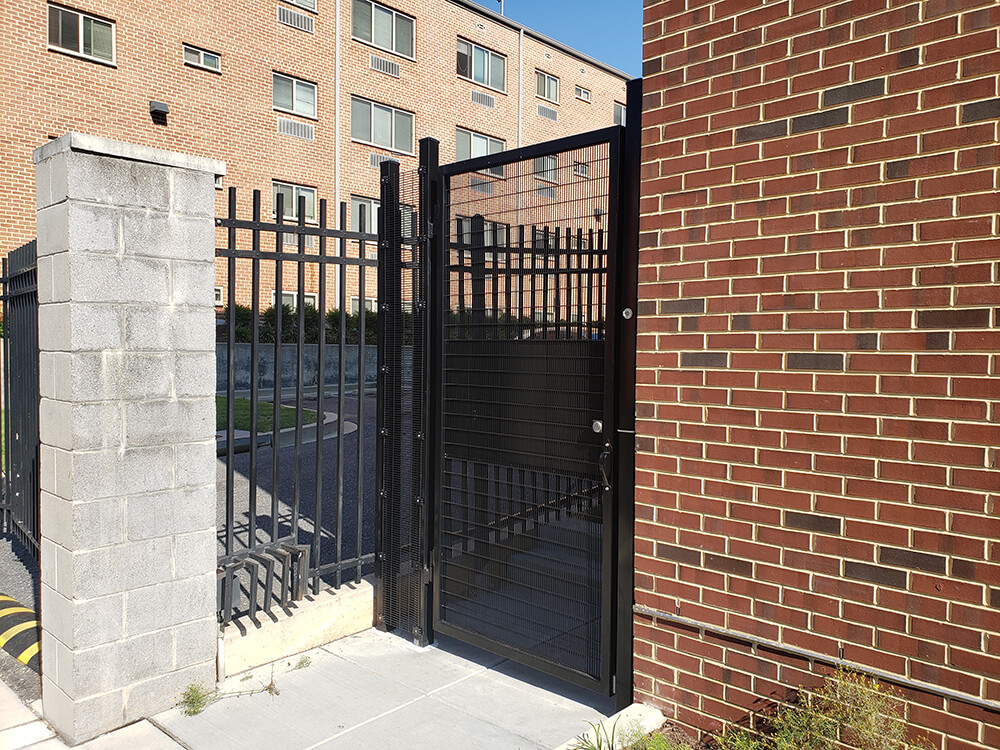 Section 3: Versatile Applications
The flexibility of the 358 welded wire fence allows for an array of applications, making it suitable for various settings. From residential properties seeking enhanced security and privacy to commercial buildings aiming to protect valuable assets, this fence can be tailored to meet specific requirements. Additionally, it is frequently used in educational institutions, parks, and recreational areas to establish safe boundaries and prevent unauthorized entry. The 358 welded wire fence has also gained popularity in the transportation sector, providing perimeter security for airports, train stations, and highways. Its adaptability and versatility make it a go-to choice for those seeking a reliable and customizable fencing solution.
Section 4: Aesthetics and Maintenance
While the primary focus of the 358 welded wire fence is safety and security, it is not devoid of aesthetic appeal. The clean lines and minimalistic design of the fence panels offer a contemporary look that complements various architectural styles. The option to choose from different colors and finishes allows property owners to seamlessly integrate the fence into their existing surroundings. Moreover, the maintenance requirements for this type of fence are minimal. The galvanized steel construction ensures durability and longevity, resisting rust and corrosion. Routine inspections and occasional cleaning are usually sufficient to keep the fence in optimal condition, saving time and effort in the long run.
Conclusion
In conclusion, the 358 welded wire fence stands out as a reliable, versatile, and aesthetically pleasing solution to ensure safety and security. Its unique construction, small mesh size, and robust design make it virtually impenetrable and provide exceptional resistance against intruders. This fence finds extensive use in various applications, from residential properties and educational institutions to high-security establishments. With its modern aesthetic appeal and minimal maintenance requirements, the 358 welded wire fence offers a comprehensive solution for those seeking to enhance safety and security without compromising on visual aesthetics. Invest in the unyielding protection and peace of mind provided by the 358 welded wire fence – your trusted guardian in an uncertain world.