Make a Statement with Ornamental Fencing
Ornamental fencing has become a trendy choice for modern homeowners who want to add a touch of elegance, security, and personality to their properties. Ornamental fencing is a versatile and durable fencing solution that can complement almost any architectural style and landscape design. With its attractive appearance and functionality, ornamental fencing is an excellent investment that can provide lasting value and protection for your home or business.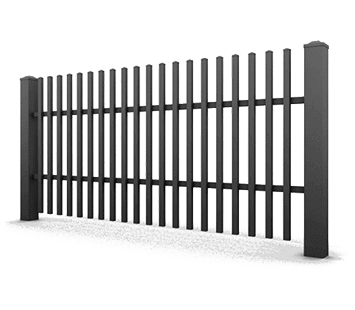 Attractive Appearance
Ornamental fencing is known for its beautiful and intricate designs that showcase an array of ornamental elements such as scrolls, finials, spears, and other decorative features. Ornamental fencing can be made from various materials such as aluminum, wrought iron, steel, and vinyl, which offer different textures, colors, and finishes to match your style preferences. Ornamental fencing can transform your property's exterior into a stunning masterpiece that will leave a lasting impression on your guests.
Durable and Long-Lasting
Ornamental fencing is built to last and withstand harsh weather conditions, high winds, and impact. Ornamental fencing materials are chosen for their durability and resistance to rust, corrosion, and fading. Ornamental fencing is a low-maintenance solution that requires minimal upkeep, saving you time and money over the long term.
Enhanced Security
Ornamental fencing can provide a higher level of security and privacy than other types of fencing. Ornamental fencing can be designed to include additional security features such as gates, locks, and alarms, which can deter unauthorized entry and protect your property and family. Ornamental fencing can also provide a psychological barrier to intruders, making it less likely for them to target your home or business.
Increased Property Value
Ornamental fencing can increase the value of your property and improve its overall curb appeal. Ornamental fencing is a sophisticated and stylish fencing solution that can make your property stand out from others in your neighborhood. Ornamental fencing can also contribute to a safer and more appealing environment that can attract potential buyers and renters.
In conclusion, ornamental fencing is a functional and aesthetic fencing solution that can make a statement and add value to your property. Ornamental fencing is a wise investment that can provide long-lasting benefits and enhance the security, privacy, and beauty of your home or business. When choosing ornamental fencing, it is essential to select a reputable company that offers high-quality materials, craftsmanship, and installation services. So, make a statement with ornamental fencing, and enjoy the many benefits it has to offer.