Optimize Security Measures with 358 Welded Wire Fence Systems
Introduction:
Security is a paramount concern in today's world, and reliable perimeter protection is crucial for maintaining safety and privacy. One of the most effective solutions is the implementation of 358 welded wire fence systems. These robust and versatile structures offer superior protection against intrusions, making them an ideal choice for high-security environments such as correctional facilities, airports, military installations, and commercial establishments. In this article, we will delve into the features, benefits, and usage of 358 welded wire fence systems, highlighting why they are the preferred choice for optimizing security measures.
1. Unrivaled Strength and Durability:
358 welded wire fence systems, also known as anti-climb or prison mesh fences, are constructed using a high-density mesh made of vertical and horizontal wires, each measuring 3mm in diameter. The small apertures, measuring 76.2mm x 12.7mm, effectively prevent any potential intruders from gaining a foothold or handhold, making it nearly impossible to climb. Additionally, the welded construction ensures enhanced strength and durability, allowing the fence system to withstand considerable force and resist any cutting or tampering attempts. This property is particularly crucial in high-security areas where adversaries might attempt to breach the perimeter.
2. Enhanced Visibility:
While ensuring security is vital, it is equally important to maintain visibility for surveillance purposes. The 358 welded wire fence system's mesh design allows cameras, sensors, and security personnel to monitor the surroundings with minimal obstruction. The narrow apertures enable unobstructed views, ensuring quick identification of any potential threats. Moreover, the fence's color options can be customized to blend with the surroundings, providing an aesthetically pleasing appearance without compromising security.
3. Functionality and Adaptability: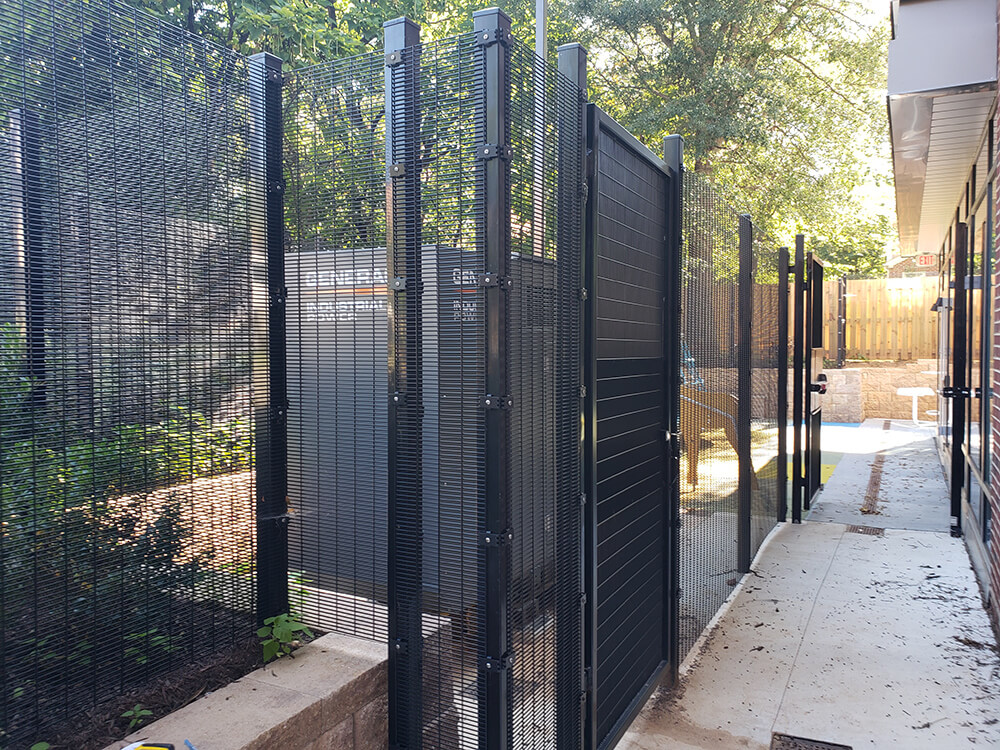 358 welded wire fence systems are not only designed to provide excellent security but also offer versatility and adaptability to meet specific requirements. These fence systems are available in various heights, from 1.8m to 6m, catering to different security needs. Additionally, they can be easily customized with additional security features such as razor wire, electric fencing, and intrusion detection systems to create a multi-layered security solution. The fence panels are modular and can be installed on different terrains, making them suitable for securing uneven surfaces or hilly areas. This adaptability allows for seamless integration with existing security infrastructure, ensuring a comprehensive defense perimeter.
4. Cost-Effective Solution:
Implementing a comprehensive security system can be financially burdensome. However, 358 welded wire fence systems offer a cost-effective solution without compromising on security. The durability and longevity of these fence systems significantly reduce maintenance and replacement costs compared to traditional chain-link fences. Additionally, the robust construction deters potential intruders, reducing the likelihood of security breaches and associated costs. The long-term cost savings provided by 358 welded wire fence systems make them a wise investment for organizations aiming to optimize security measures without excessive expenditure.
Conclusion:
In a world where security threats are ever-present, it is imperative to adopt reliable and sustainable security measures. 358 welded wire fence systems provide an optimal solution for enhancing security in high-risk environments. Their unparalleled strength, durability, enhanced visibility, adaptability, and cost-effectiveness make them the preferred choice for organizations aiming to optimize their security measures. By implementing 358 welded wire fence systems, you can ensure the safety and privacy of your premises while maintaining an unobstructed view of the surroundings. Make the right choice and invest in 358 welded wire fence systems to fortify your security and gain peace of mind.