Ornamental Fence Options to Suit Any Architectural Style
When it comes to enhancing the beauty and security of your property, choosing the right fence is essential. An ornamental fence not only provides functionality but also adds elegance, making it a perfect choice for any architectural style. Whether you have a modern, traditional, or contemporary home, there are numerous options available to suit your aesthetic preferences.
One popular choice for ornamental fences is wrought iron. With its timeless appeal and durability, wrought iron can effortlessly enhance the elegance of any architectural style. The intricate designs and exquisite craftsmanship of wrought iron fences create a visually stunning boundary for your property. Whether you opt for a classic design or a more elaborate pattern, a wrought iron fence adds a touch of sophistication to any home.
For those seeking a more versatile option, aluminum fencing is a fantastic alternative to wrought iron. Aluminum fences offer the look of wrought iron but with added advantages. They are lightweight, low-maintenance, and resistant to rust and corrosion. With a wide range of styles and colors available, you have the flexibility to choose an aluminum fence that complements your architectural style. From traditional picket fences to modern slat designs, aluminum fences can be customized to suit your individual taste.
If you prefer a natural and eco-friendly option, consider a wood fence. Wood has a warm and inviting appeal that can beautifully blend with any architectural style. From rustic cottages to contemporary homes, wood fences provide a timeless and organic element to your property. With a variety of wood species to choose from, such as cedar, pine, or redwood, you can select a fence that matches the color and texture of your home. Additionally, wood fences can be stained or painted to further enhance their aesthetic appeal.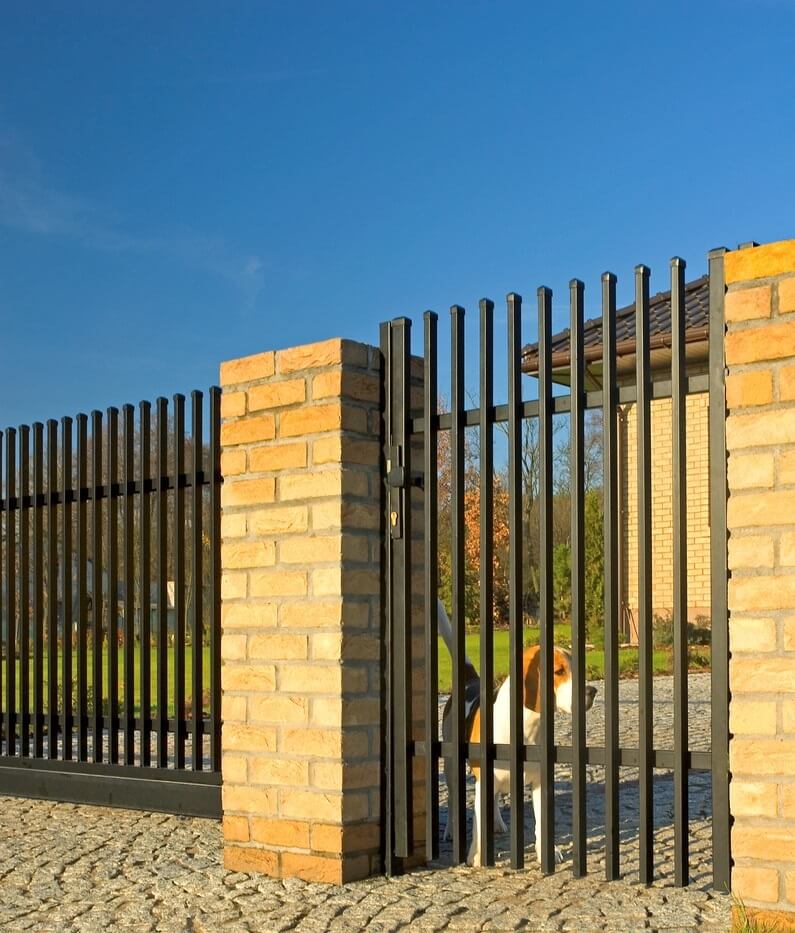 For a more contemporary look, steel fences are an excellent choice. The sleek and minimalist design of steel fences perfectly complements modern architectural styles. They provide a clean and elegant appearance while offering exceptional security and durability. Additionally, steel fences can be customized with various patterns and colors, allowing you to personalize your fence to suit your unique preferences.
Another option suitable for many architectural styles is vinyl fencing. Vinyl fences are known for their durability and low maintenance. They are resistant to fading, warping, and rotting, making them an excellent long-term investment. With a wide range of colors and styles available, including traditional picket fences and privacy panels, vinyl fences can effortlessly enhance the curb appeal of any home.
No matter which ornamental fence option you choose, it is essential to consider the style, functionality, and maintenance requirements. Consulting with a professional fence installer can help you make an informed decision that aligns with your architectural style and personal preferences. A well-designed and carefully selected ornamental fence not only enhances the beauty and security of your property but also adds value to your home.
In conclusion, ornamental fences offer a wide range of options suitable for any architectural style. Whether you prefer the timeless elegance of wrought iron, the versatility of aluminum, the natural appeal of wood, the modern look of steel, or the durability of vinyl, there is an ornamental fence that will beautifully complement your home. By selecting the right fence, you can create a visually stunning boundary that enhances the overall aesthetics of your property.