Creating Safe and Seamless Walkways with Cutting-Edge Pedestrian Barriers
In today's fast-paced and bustling world, the need for safe and efficient walkways is more crucial than ever. With crowds increasing in size and density, it is essential to implement robust solutions that prioritize pedestrian safety without compromising on ease of movement. That's where our innovative range of pedestrian barriers steps in, revolutionizing the way we design and manage walkways.
At the heart of our pedestrian barriers is their exceptional design, meticulously crafted to ensure maximum safety for everyone traversing busy areas. These barriers are constructed using high-quality materials that are built to withstand the rigors of heavy foot traffic, providing a reliable and long-lasting solution for any environment.
These state-of-the-art barriers are engineered to optimize crowd flow, minimizing congestion and creating a seamless pedestrian experience. By strategically positioning these barriers in high-traffic areas, we enhance the organization and management of crowds, preventing potential bottlenecks and chaos. With our cutting-edge barriers in place, pedestrians can safely navigate through any space, whether it's a bustling city street, a busy event venue, or a crowded transportation hub.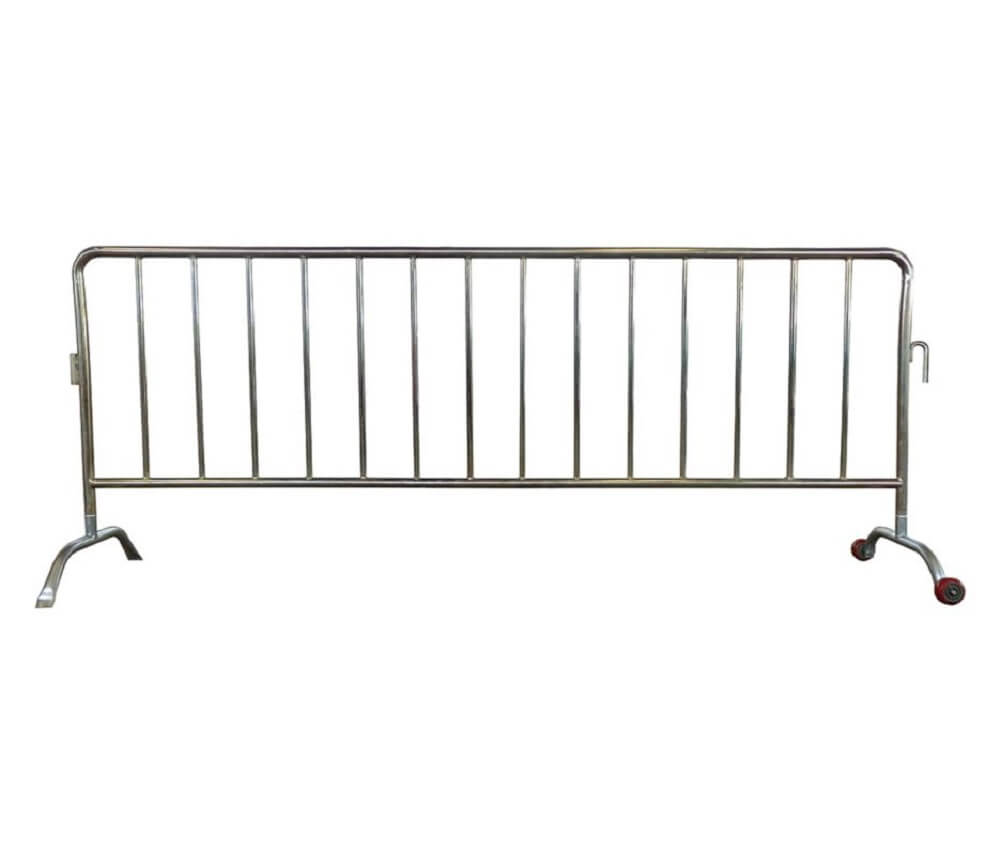 One notable advantage of our pedestrian barriers is their adaptability. Our team of experts understands that different areas have unique requirements, which is why we offer a range of customizable options to suit diverse needs. From removable barriers that enable flexible space utilization to height-adjustable ones that accommodate specific event regulations, we have a solution for every scenario. Moreover, our barriers can be easily branded to incorporate corporate logos, advertisements, or safety instructions, promoting distinct identities or relaying essential information.
Safety is paramount, which is why our barriers undergo rigorous testing and meet the highest industry standards. Each barrier is carefully designed with smooth edges and rounded corners to minimize the risk of accidents, ensuring the well-being of pedestrians. Additionally, our barriers are equipped with innovative locking mechanisms that deter unauthorized access, making them an effective tool for crowd control and event security.
The benefits of our pedestrian barriers extend beyond safety. Their sleek and modern design effortlessly blends in with any surrounding, enhancing the aesthetics of walkways and creating a sophisticated atmosphere. With their durability and low maintenance requirements, our barriers result in significant cost savings in the long run.
Investing in our innovative pedestrian barriers is not just a practical choice; it's a commitment to prioritizing the safety and comfort of pedestrians. With their cutting-edge design, adaptability, and unrivaled durability, our barriers redefine the concept of safe and efficient walkways. Join us in shaping the future of crowd management and revolutionize the way we navigate busy spaces, one barrier at a time.