Razor wire fencing has been widely recognized as one of the most effective and reliable security measures for protecting properties. With its razor-sharp edges and sturdy construction, it acts as a formidable deterrent against potential intruders. Whether you own a residential property, a commercial establishment, or an industrial facility, incorporating razor wire fencing into your security system can provide you with a peace of mind knowing that your property is well-protected.
The primary advantage of razor wire fencing lies in its ability to act as a physical barrier. The sharp metal blades, often made of high-tensile wire, are designed to inflict severe injuries on anyone attempting to breach it. This serves as a strong deterrent, effectively discouraging potential intruders from even attempting to trespass onto a property. The unyielding nature of razor wire fencing ensures that any unauthorized access is made significantly more difficult, if not impossible.
Moreover, razor wire fencing is highly versatile and can be customized to suit various security needs. There are different types and configurations of razor wire fencing, including flat wrap, concertina, and barbed tape, which can be tailored to specific requirements. For instance, flat wrap razor wire fencing is often used for protecting residential areas, as it is less conspicuous and complements the aesthetics of the property. On the other hand, concertina and barbed tape razor wire, with their sharper blades and more aggressive appearance, are commonly used in industrial and high-security installations. This flexibility allows property owners to choose the most suitable type of razor wire fencing to meet their specific security needs.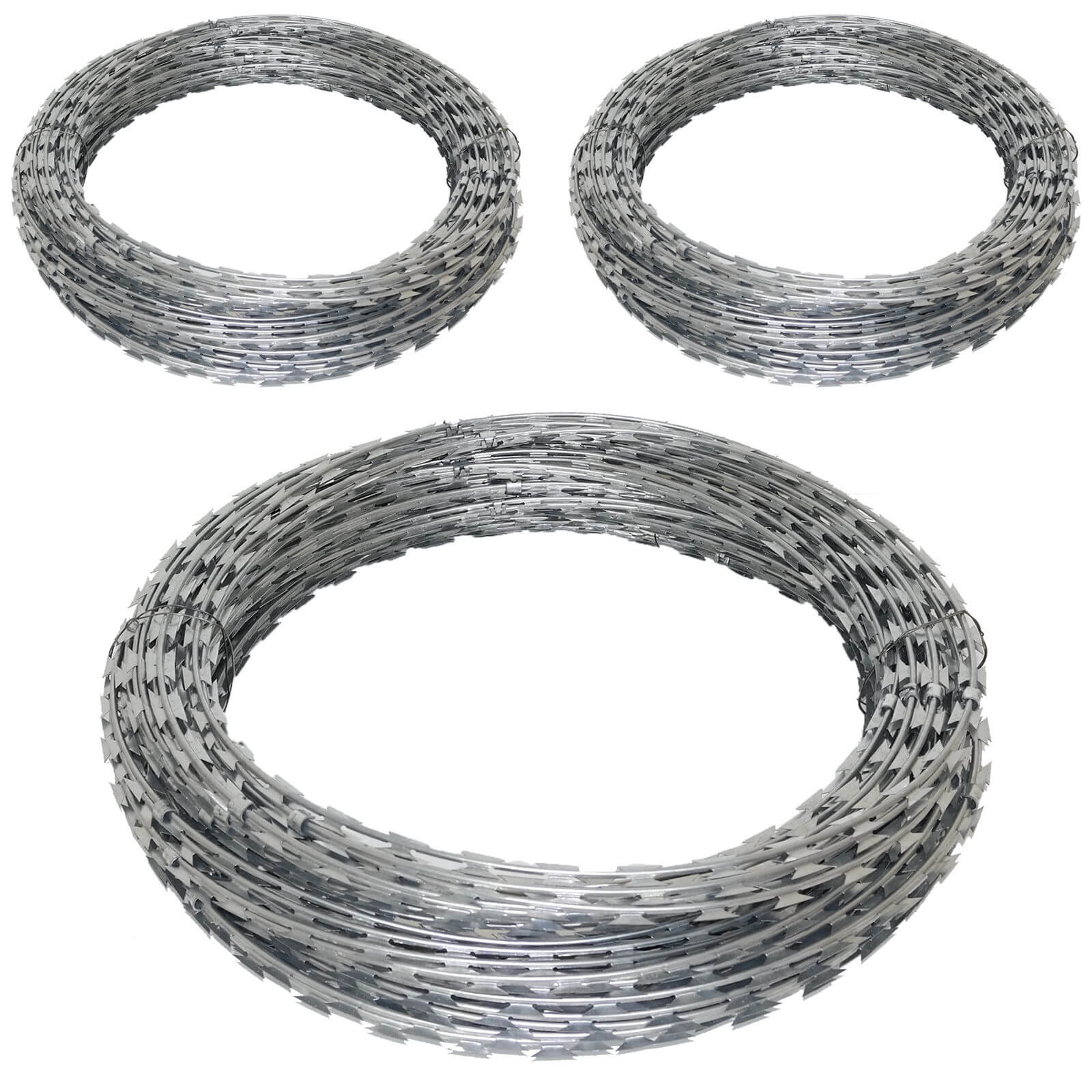 Another key advantage of razor wire fencing is its durability and low maintenance requirements. High-quality razor wire fencing is built to withstand harsh weather conditions, corrosion, and potential tampering. Manufacturers often use galvanized or stainless steel materials, ensuring longevity and resistance to rust. Additionally, proper installation techniques and regular inspections can further enhance the lifespan of razor wire fencing. Unlike other types of security measures that may require constant attention and expensive upkeep, razor wire fencing is relatively low maintenance, making it a cost-effective choice in the long run.
Furthermore, razor wire fencing can be integrated with other security systems to create a multi-layered defense strategy. CCTV cameras, motion sensors, and alarms can be installed along with razor wire fencing, enhancing your property's security. This combination allows for early detection of any breach attempts and timely response to potential threats. By implementing a comprehensive security system that includes razor wire fencing, property owners can significantly reduce the risks associated with trespassing, theft, and vandalism.
It is important to note that while razor wire fencing is an effective security measure, its installation should be carried out by professionals to ensure its efficiency and compliance with local regulations. Seeking expert advice and services will not only ensure a proper installation but also provide guidance on choosing the right type of razor wire fencing for your property.
In conclusion, protecting your property with the strength of razor wire fencing is an investment in the safety and security of your assets. Its physical barrier, versatility, durability, and integration capabilities make it an ideal choice for safeguarding residential, commercial, and industrial properties. By adopting razor wire fencing as part of your security system, you can deter potential intruders, enhance your property's defense, and enjoy the peace of mind that your valuable assets are well-protected.