Razor Wire Fencing: The Ultimate Solution for Enhanced Security
When it comes to ensuring the safety and security of your property, one cannot underestimate the importance of an effective fencing system. While there are various options available in the market, razor wire fencing stands out as the ultimate solution for enhanced security. With its unique design and formidable features, this type of fencing offers unparalleled protection against intruders and acts as a powerful deterrent. In this article, we will delve into the intricacies of razor wire fencing, exploring its benefits, installation process, and usage in different sectors.
Razor wire fencing, also known as concertina wire, is a type of high-security barrier that combines sharp-edged razor blades with sturdy wire material. Its purpose is to form a formidable barrier, making unauthorized access extremely difficult and deterring potential intruders. The design consists of sharp-edged blades intertwined with wire coils, creating a visually intimidating structure.
One of the primary advantages of razor wire fencing is its unparalleled security. The sharp-edged blades act as a powerful deterrent, significantly reducing the likelihood of unauthorized access. Intruders are deterred not only by the physical barrier but also by the psychological impact of seeing the formidable structure. The presence of razor wire sends a strong message that the property is well-protected, dissuading potential criminals from attempting to breach the perimeter.
Moreover, razor wire fencing is highly versatile and can be customized to suit different security needs. It can be installed on a variety of surfaces, including walls, fences, gates, and even rooftops. This adaptability makes it an ideal choice for various settings, such as residential properties, industrial facilities, military installations, and correctional facilities. Additionally, razor wire fencing can be used in both temporary and permanent installations, providing flexibility based on specific security requirements.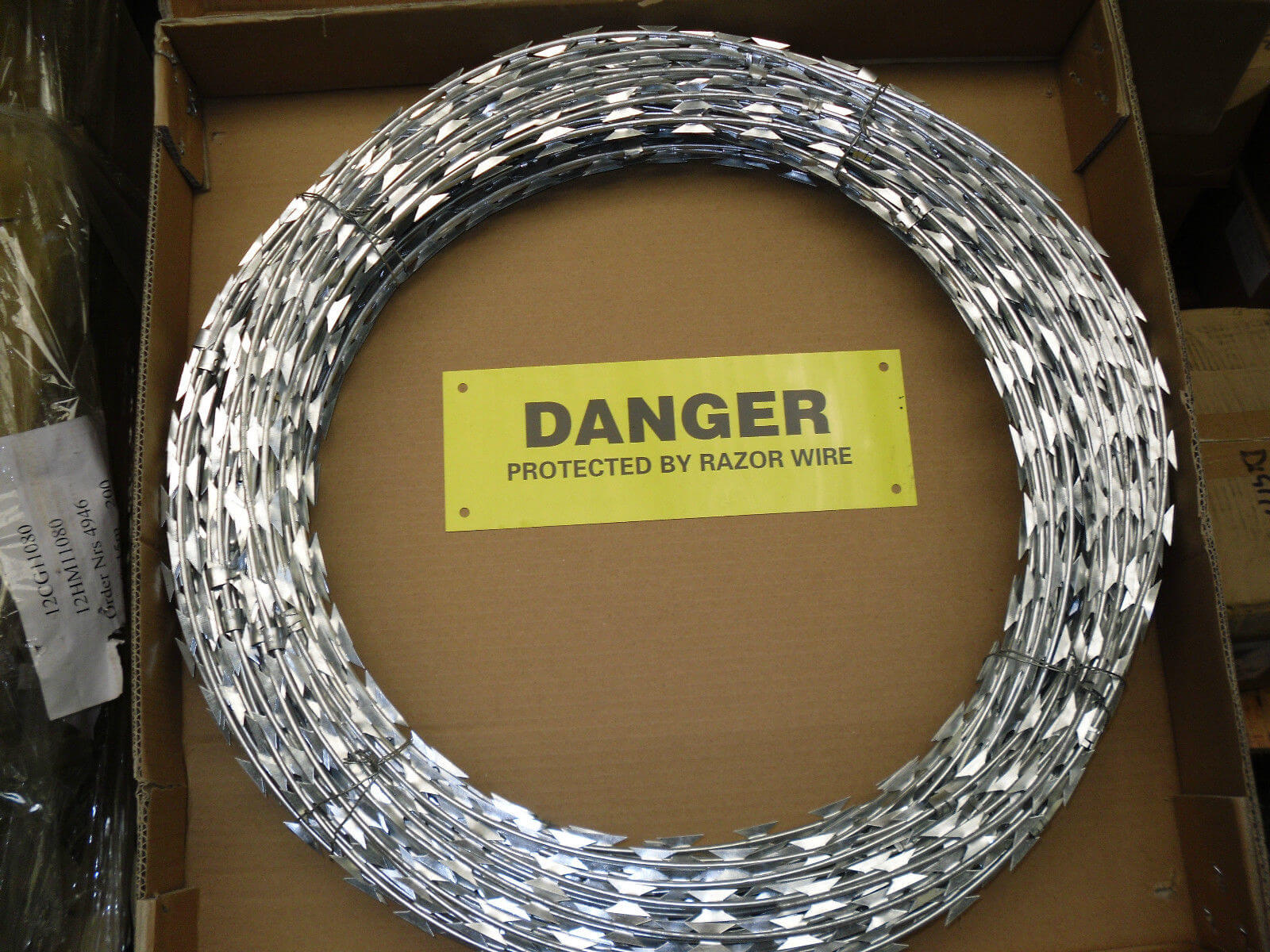 Installation of razor wire fencing requires careful planning and expertise. It is recommended to hire professionals with experience in handling this type of fencing, as incorrect installation can compromise its effectiveness. During the installation process, the razor wire is tightly stretched and secured, ensuring a taut and formidable barrier. Proper placement of anchor points, angles, and reinforcements is crucial to maintain its structural integrity and ensure maximum security.
Not only does razor wire fencing provide physical security, but it also offers a cost-effective solution in the long run. Its durability and low maintenance requirements make it a sustainable investment. The materials used in its construction, such as stainless steel, are resistant to corrosion, ensuring long-lasting protection without compromising its efficacy. Regular inspections and minimal upkeep are sufficient to maintain its functionality for years to come.
In addition to its usage in securing physical boundaries, razor wire fencing finds applications in various sectors. It is extensively used in residential areas to protect personal property and ensure the safety of families. Its presence acts as a significant deterrent against burglaries and trespassing. Industrial facilities, especially those housing sensitive information or valuable assets, employ razor wire fencing as a first line of defense against potential threats. Military installations benefit from razor wire's ability to impede enemy infiltrations and enhance perimeter security. Even correctional facilities rely on this robust fencing solution to prevent escapes and maintain order.
In conclusion, razor wire fencing stands out as the ultimate solution for enhanced security. Its unique design, formidable features, and versatility make it an ideal choice for various settings. The sharp-edged blades and deterring structure provide unparalleled security, while its installation and customization options ensure adaptability to different requirements. Furthermore, its durability and cost-effectiveness make it a sustainable investment in the long run. Whether it is for residential, industrial, or institutional purposes, razor wire fencing is the go-to option for those seeking optimum security measures.