In today's fast-paced world, managing crowds has become a critical issue for various industries and sectors. Whether it is at events, public gatherings, or busy commercial areas, effective crowd control is crucial to ensure public safety and maintain order. Fortunately, with the introduction of the Original Flat Foot Style Barrier, the task of managing crowds has become simpler and more efficient than ever before.
The Original Flat Foot Style Barrier is a revolutionary crowd control solution that offers multiple benefits over traditional methods. With its innovative design and practical features, it has gained popularity across various industries, including event management, hospitality, transportation, and retail.
One of the key advantages of the Original Flat Foot Style Barrier is its remarkable stability. Unlike conventional barriers that rely on weighted bases or ropes, this barrier is equipped with flat feet that provide superior stability on any surface. Whether it is a smooth pavement, uneven terrain, or even sandy beaches, these barriers firmly stand their ground, reducing the risk of accidents and maintaining control over the crowd.
Additionally, the Original Flat Foot Style Barrier offers outstanding versatility. Its modular design allows for easy customization and quick assembly, making it adaptable to various crowd control situations. For instance, it can be effortlessly configured into straight lines, curves, or even complex patterns to effectively manage queues, create separate areas, or guide people in a specific direction. This versatility ensures that the barrier can be conveniently utilized for any event or environment.
Furthermore, the Original Flat Foot Style Barrier is designed for maximum convenience. Thanks to its lightweight construction and ergonomic handles, it can be easily transported and deployed by a single individual. This saves valuable time and manpower, enabling event organizers or security personnel to focus on other essential tasks.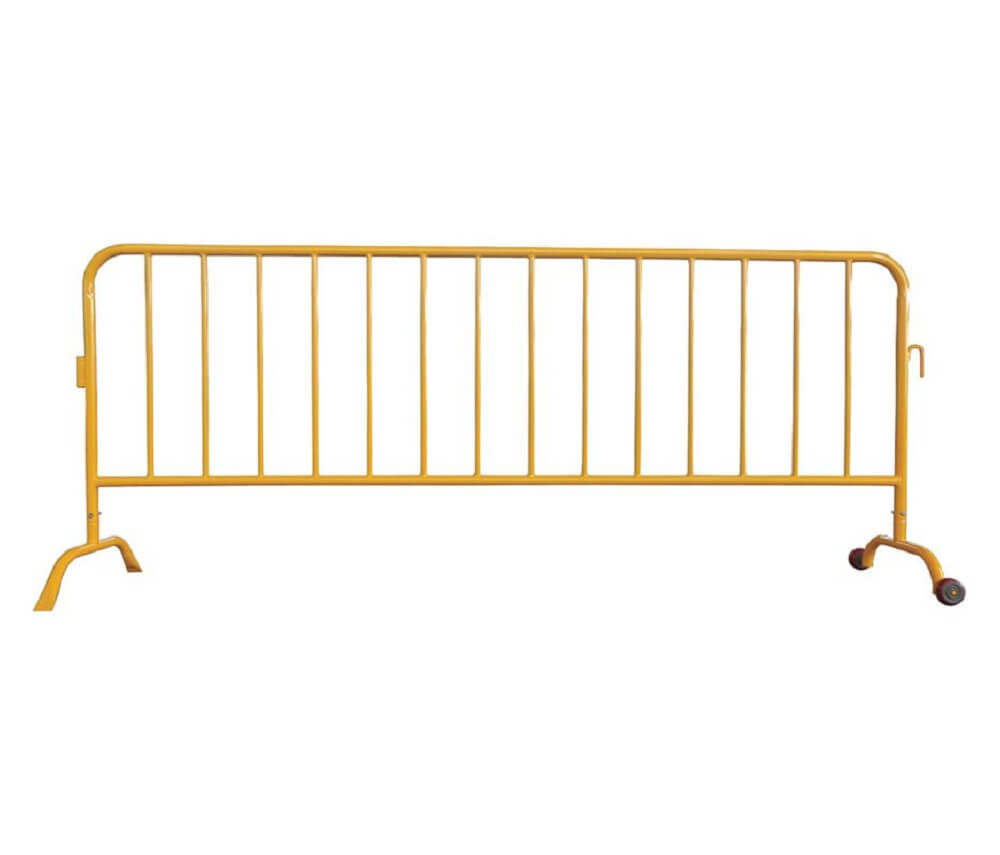 Another significant advantage is the barrier's durability. Created using premium quality materials such as sturdy steel and weather-resistant finishes, the Original Flat Foot Style Barrier can withstand harsh outdoor conditions, ensuring a long-lasting investment. This exceptional durability guarantees its effectiveness and makes it an ideal choice for both temporary and permanent crowd control needs.
Moreover, the Original Flat Foot Style Barrier prioritizes safety. Its smooth, rounded edges and absence of sharp corners minimize the risk of accidents or injuries, providing reassurance to both event attendees and staff. Additionally, the barrier's high visibility ensures that it can be easily spotted by the public, thereby reducing the chances of tripping or collision incidents.
Aside from its practical advantages, the Original Flat Foot Style Barrier also offers several aesthetic benefits. Its sleek and modern design seamlessly blends with any surroundings, enhancing the overall appearance of the event or venue. The barriers can also be customized with branding or logos, creating a unique and professional image for businesses or sponsors.
In conclusion, the Original Flat Foot Style Barrier has revolutionized the way crowd control is managed. This innovative solution simplifies the process while ensuring optimal safety, convenience, and versatility. Its stability, versatility, and durability make it a preferred choice for industries ranging from events to public facilities. By investing in these barriers, organizations can effectively manage crowds, maintain order, and create a secure environment for everyone involved. Simplify your crowd control efforts with the Original Flat Foot Style Barrier today!