Introducing Spike Wall for Outdoor: The Ultimate Solution for Enhanced Safety and Durability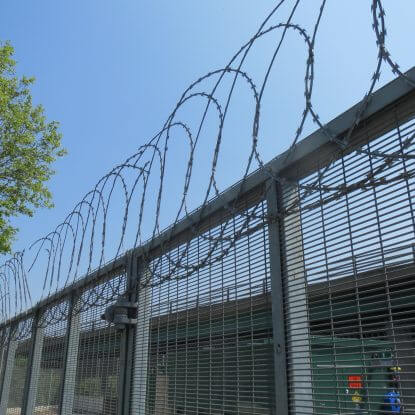 When it comes to outdoor security, there's always a need for reliable and robust protection measures. With the groundbreaking Spike Wall for Outdoor, you can now ensure heightened safety and deter unwanted intruders with its remarkable defense features. This exceptional product has revolutionized the way we safeguard our premises, providing an unmatched level of security and peace of mind.
One key aspect that sets the Spike Wall for Outdoor apart from its competitors is its impeccable design and durability. Crafted with precision and engineered to perfection, this cutting-edge solution guarantees long-lasting performance even in the harshest weather conditions. Made from premium quality materials, the Spike Wall is resistant to corrosion, ensuring its effectiveness for years to come. Its sturdy construction makes it virtually impenetrable, creating an impenetrable barrier that safeguards your property 24/7.
Not only does the Spike Wall excel in durability, but it also boasts an innovative design that maximizes safety without compromising aesthetics. Its sleek and unobtrusive appearance seamlessly integrates with any outdoor environment, creating an attractive yet highly effective security system. Whether it's for residential, commercial, or recreational areas, the Spike Wall blends effortlessly with the surroundings, providing discreet protection without altering the scenic beauty of your premises.
Enhanced by sharp spikes that act as an efficient deterrent, the Spike Wall is effective in preventing unauthorized access to your property. These spikes present a formidable challenge to potential intruders, thwarting any attempts to scale or breach the barrier effortlessly. The mere sight of the Spike Wall acts as a strong visual deterrent, sending a clear message that any trespassing is simply not worth the risk.
Another aspect that makes the Spike Wall for Outdoor stand out is its ease of installation and maintenance. With its user-friendly design, installation is a breeze, ensuring quick and hassle-free setup. Additionally, the Spike Wall requires minimal maintenance, saving you time and effort while providing round-the-clock protection.
By investing in Spike Wall for Outdoor, you are making a wise choice in prioritizing the safety and security of your premises. Its state-of-the-art design, unparalleled durability, and effortless integration make it the ultimate solution for any outdoor security needs. Don't compromise on safety – choose Spike Wall for Outdoor and experience the peace of mind you deserve.