Introduction:
Temporary fencing is an essential part of many construction sites, events, and public spaces. It provides security, delineates boundaries, and ensures safety. However, like any other structure, temporary fencing requires proper maintenance to extend its lifespan. In this article, we will explore valuable tips and strategies to help you keep your temporary fencing in excellent condition.
1. Selecting the Right Temporary Fencing Materials:
Choosing the appropriate materials for your temporary fencing is crucial for its longevity. Consider factors such as weather conditions, terrain, and the purpose of the fence. Opt for sturdy and durable materials like galvanized steel, which are resistant to rust and corrosion. Additionally, select fencing panels that offer easy installation and dismantling without compromising on stability.
2. Regular Cleaning and Inspection:
Regular cleaning is a fundamental aspect of temporary fencing maintenance. Inspect the fence for any signs of damage or wear and tear. Look out for loose or broken panels, bent frames, or rust spots. Address these issues immediately to prevent further damage. Clean the fence regularly using mild detergents and a soft brush to remove dirt, dust, and other debris. Rinse with water and allow it to dry thoroughly before reinstalling.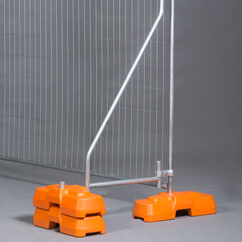 3. Conserve and Protect Your Fencing:
To extend the lifespan of your temporary fencing, conserve its usage by taking it down when not in immediate need. Store the dismantled panels in a secure and dry place to prevent unnecessary exposure to the elements. When storing, ensure that the panels are stacked properly to avoid any bending or warping. Consider investing in covers or protective wraps to shield the panels from dust, moisture, and sunlight during storage.
4. Implement Proper Installation Techniques:
Improper installation can significantly affect the durability and stability of temporary fencing. Ensure that the fence is installed on a level surface to distribute the weight evenly. Use sturdy ground supports such as concrete blocks, sandbags, or ground spikes to secure the fence firmly. Avoid placing the fence in areas prone to excessive wind or environmental hazards. Regularly check the stability of the fence and reinforce it if necessary.
5. Addressing Rust and Corrosion:
Although galvanized steel is corrosion-resistant, it may still develop rust over time. Promptly treat rust spots by using a wire brush or sandpaper to remove the corroded area. Apply rust inhibitor or primer to the affected area before painting it with a durable, rust-resistant paint. Regularly inspect the fence for any signs of rust and address them immediately to prevent further deterioration.
6. Consider Environmental Factors:
Temporary fencing is often exposed to various weather conditions, so it is crucial to consider these factors during maintenance. For areas with high humidity or coastal regions, apply a protective coating or wax to the fence to prevent moisture buildup. In snowy or icy conditions, removing accumulated snow or ice from the fence will prevent excess weight and potential damage.
Conclusion:
Proper maintenance of temporary fencing is essential to extend its lifespan and ensure its effectiveness. Regular cleaning, thorough inspections, proper installation, and addressing any issues promptly are vital steps to keep the fence in excellent condition. By following these tips and implementing a proactive approach, you can enhance the durability, stability, and overall performance of your temporary fencing, saving both time and money in the long run.