When it comes to ensuring the safety and security of a temporary construction site or event, it is crucial to have a reliable fencing solution in place. In recent years, temporary fencing with plastic feet has emerged as a popular choice for its affordability and portability. This article will delve into the benefits and features of this versatile fencing option, providing you with a comprehensive understanding of its advantages.
One of the primary reasons why temporary fencing with plastic feet has gained traction is its cost-effectiveness. Compared to traditional fencing options such as chain-link or metal panels, this type of fencing is significantly more economical. The use of plastic feet helps to lower its production costs, ultimately making it an affordable choice for those working within a tight budget. However, don't let its affordability fool you as it doesn't compromise on quality or durability.
Portability is another key advantage of temporary fencing with plastic feet. These fences can be easily assembled and disassembled, making them ideal for temporary sites or events that require flexibility. The lightweight nature of plastic feet ensures that transportation and installation are hassle-free. Whether you need to move and relocate the fencing frequently or simply shift it within the site, this type of fencing offers the convenience you need without sacrificing security.
When it comes to security, temporary fencing with plastic feet provides a sturdy barrier that is capable of deterring unauthorized access. The high-density polyethylene panels used in these fences are robust and resistant to harsh weather conditions, ensuring that they will withstand the test of time. Additionally, the interlocking design of the panels ensures a strong and secure perimeter, providing peace of mind for site managers and event organizers.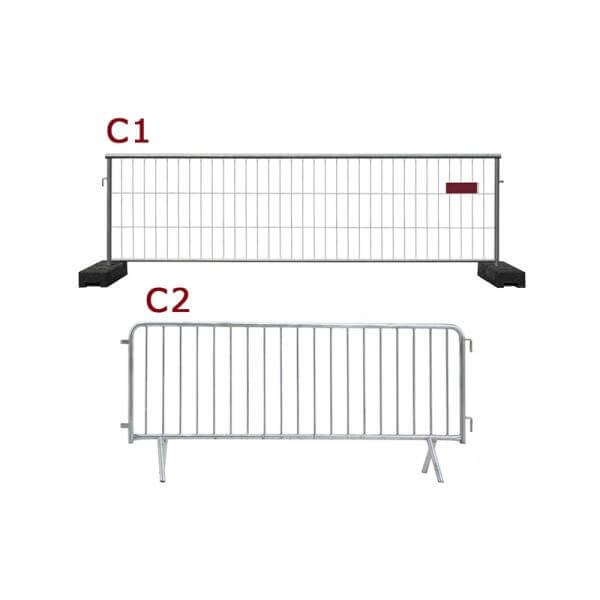 Beyond its security features, temporary fencing with plastic feet also offers versatility in its applications. Whether you need to secure a construction site, control the crowd at an event, or create a temporary barrier for safety reasons, this fencing option can meet a wide range of needs. Its modular design allows for customization, making it possible to adjust the length and height of the fence according to specific requirements. This flexibility ensures that you can create a tailored solution that meets your unique security needs.
Furthermore, temporary fencing with plastic feet is highly visible, making it an excellent choice for areas that require clear demarcation. The vibrant colors and reflective strips integrated into the design make the fence easily identifiable, especially in low-light conditions. This enhances safety and minimizes the risk of accidents or incidents in busy construction sites or crowded events.
In conclusion, temporary fencing with plastic feet is a cost-effective, portable, and reliable solution for temporary security needs. Its affordability, ease of transportation, and assembly make it an attractive choice for project managers and event organizers. With its robust construction and versatile applications, this fencing option offers both security and flexibility. Whether it is a construction site, event venue, or any temporary area that requires demarcation and safety, temporary fencing with plastic feet proves to be a worthy investment.