When it comes to securing both commercial and residential properties, razor wire fencing has emerged as one of the most effective measures. With its sharp, razor-like barbs and sturdy construction, this type of fencing provides numerous advantages over traditional options. In this article, we will delve into the advantages of razor wire fencing, exploring its effectiveness, versatility, and cost-effectiveness.
First and foremost, the primary advantage of razor wire fencing lies in its high level of security. The sharp-edged barbs act as a powerful deterrent, creating a physical barrier that is difficult to breach. The mere presence of razor wire on a property is often enough to discourage potential intruders, as the risk of injury and entanglement is considerable. Unlike traditional fencing, which can be easily cut or scaled, razor wire fencing provides an additional layer of protection, making it an ideal choice for high-security areas such as military installations, prisons, and government buildings.
In addition to its enhanced security, razor wire fencing also offers unparalleled versatility. It can be installed on various types of surfaces and terrains, including concrete walls, chain-link fences, and even on top of existing fences. This flexibility ensures that razor wire can be integrated seamlessly into any property, regardless of its architectural design or layout. Moreover, razor wire fencing can be customized to meet specific security requirements, with options for different blade lengths, spacing configurations, and coil diameters. This adaptability makes razor wire fencing suitable for a wide range of applications, including private residences, industrial facilities, and public infrastructure.
Another advantage of razor wire fencing is its durability and low maintenance requirements. Made from high-tensile steel, razor wire is built to withstand the harshest weather conditions and resist corrosion. This robust construction ensures that the fencing remains effective and intact for an extended period, minimizing the need for frequent repairs or replacements. Furthermore, due to its design and material, razor wire does not accumulate dust or debris, making it easy to clean and maintain. These attributes contribute to the long-term cost-effectiveness of razor wire fencing, as it requires minimal upkeep and offers a prolonged service life.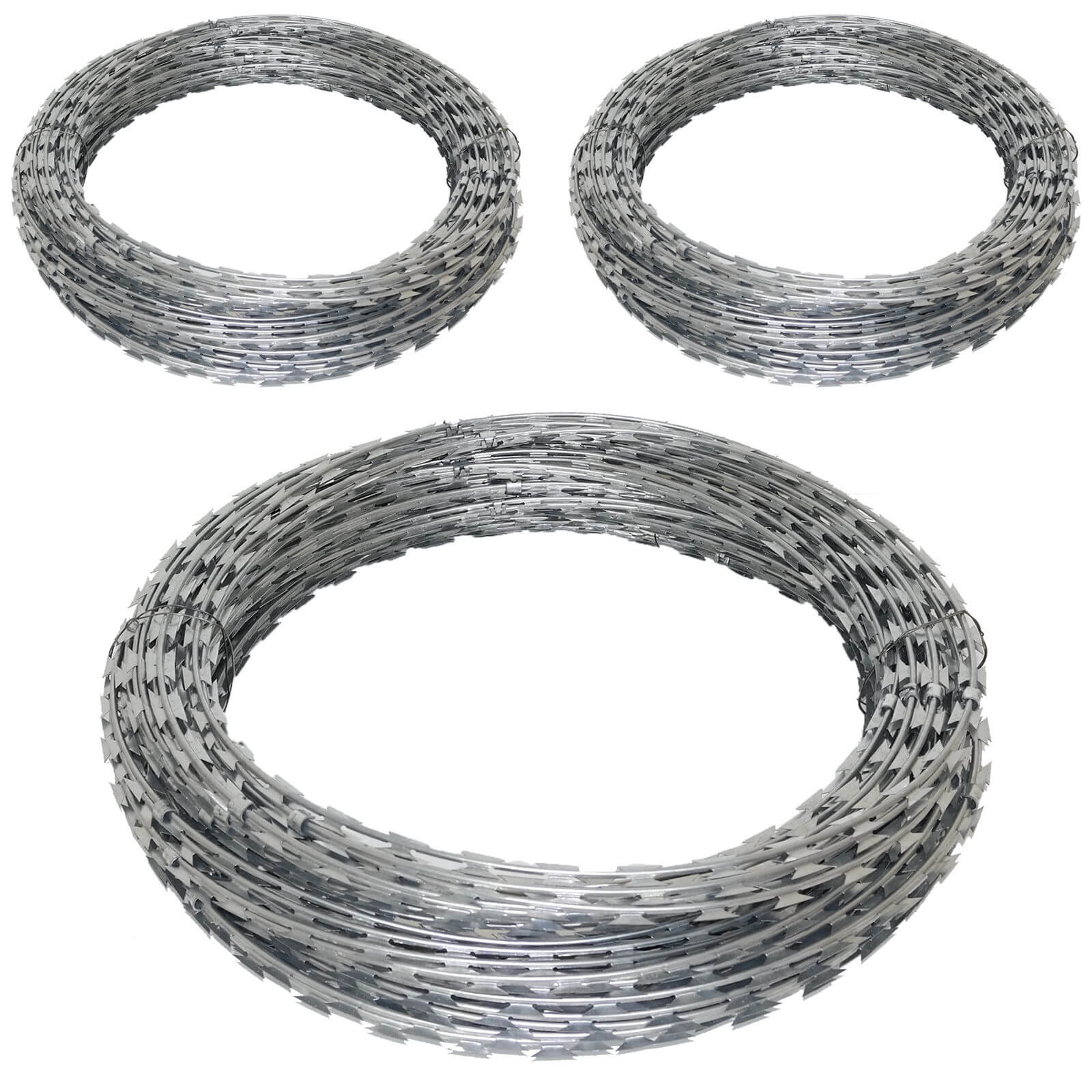 Despite its numerous advantages, razor wire fencing has faced criticism due to concerns regarding its safety. However, it is crucial to note that modern razor wire fencing is manufactured with safety in mind. The barbs are designed with blunt edges and rounded tips to minimize the risk of severe injuries while still providing a strong deterrent. Additionally, certain regulations and guidelines dictate the appropriate usage of razor wire, ensuring that it is installed properly and responsibly.
In conclusion, razor wire fencing offers a multitude of advantages that make it a preferred choice for those seeking maximum security and versatility. With its formidable appearance and sharp barbs, it acts as a reliable deterrent to potential intruders. Its adaptability allows for easy integration into various landscapes and structures, ensuring its effectiveness in any setting. Furthermore, its durability and low maintenance requirements make it a cost-effective option in the long run. When considering security measures for your property, razor wire fencing stands out as an exceptional choice that combines functionality, safety, and ease of maintenance.