Introduction:
In today's fast-paced world, where large gatherings and events have become the norm, ensuring the safety and security of participants has become more important than ever. Crowd control barriers have emerged as an effective solution to manage and regulate crowds in various settings. In this in-depth analysis, we will explore the functionality of crowd control barriers and highlight their significance in maintaining order, ensuring safety, and enhancing the overall participant experience.
1. Maintaining Order:
One of the primary functions of crowd control barriers is to maintain order in crowded places. These barriers act as a physical barrier between crowds and designated areas, creating a clear boundary that helps prevent unauthorized access and maintain controlled movement. By clearly demarcating areas, crowd control barriers help effectively channel the flow of people, preventing chaos and congestion.
2. Ensuring Safety:
Safety is of utmost importance in any public gathering or event. Crowd control barriers play a vital role in ensuring the safety of both participants and event organizers. By creating secure perimeters, these barriers help mitigate the risk of accidents, stampedes, and unwanted interactions. In outdoor concerts or sports events, for example, crowd control barriers act as a protective shield, preventing unauthorized entry and minimizing the chances of crowd surges.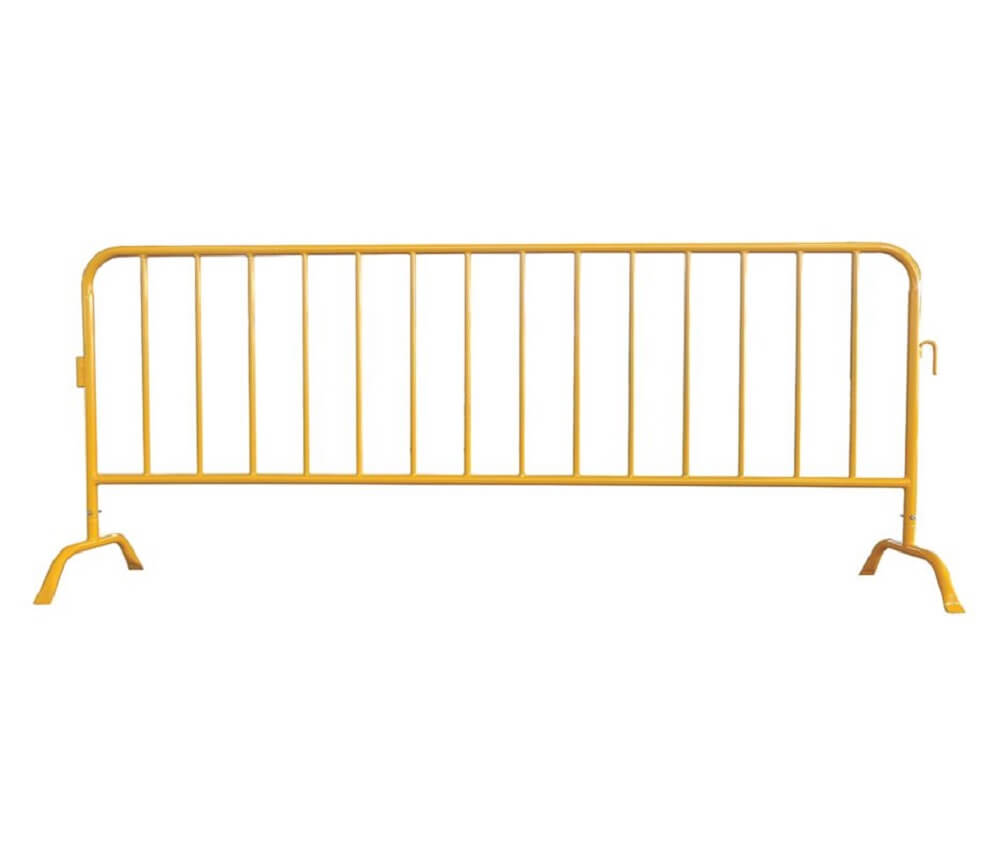 3. Crowd Management:
Efficient crowd management is crucial to the success of any event or gathering. Crowd control barriers serve as a valuable tool in managing and organizing large crowds. They help control and direct the movement of people, preventing overcrowding and allowing for smooth flow within the designated areas. By strategically placing barriers, event organizers can effectively divide the space into sections, optimizing crowd dispersal, and ensuring an enjoyable experience for all participants.
4. Queue Management:
Long queues can be frustrating for participants and often lead to dissatisfaction. Crowd control barriers offer an effective solution to manage queues, enhancing the overall participant experience. When arranged in an organized manner, these barriers help create designated pathways, ensuring a systematic and orderly progression. This not only reduces waiting times but also provides a sense of fairness, as individuals can clearly see their position in the line.
5. Enhanced Security:
In today's security-conscious world, maintaining high levels of security is paramount in any public gathering. Crowd control barriers play a pivotal role in enhancing security measures. By restricting access to unauthorized areas, these barriers deter potential threats or disruptive behavior. Additionally, crowd control barriers can be equipped with additional security features such as CCTV cameras or barbed wire fencing, making them a versatile tool for event organizers to ensure the safety of participants.
6. Branding and Advertising Opportunities:
Crowd control barriers also offer unique branding and advertising opportunities for organizers and sponsors. These barriers can be customized with logos, messaging, or promotional materials, effectively turning them into a mobile advertising platform. By utilizing crowd control barriers strategically, event organizers can leverage them as an advertising medium that not only enhances brand visibility but also adds a professional touch to the overall event setup.
Conclusion:
Crowd control barriers have transcended their conventional role as simple physical barriers. They have evolved into an indispensable component of crowd management and event planning. In this in-depth analysis, we have explored the various functionalities of crowd control barriers, from maintaining order, ensuring safety, and enhancing security to improving crowd management and offering branding opportunities. In an era where large gatherings are commonplace, the proper implementation of crowd control barriers can significantly contribute to the success and safety of events, creating a positive experience for all involved.