Introduction:
When it comes to securing a property or public space, installing a fence is crucial. However, not all fences are created equal, especially when it comes to addressing the issue of throwing objects over them. In this article, we will discuss the importance of choosing the right material for an anti-throwing fence and how it can enhance the safety and security of your property or public space.
1. Safety First:
The primary concern when installing a fence is to ensure the safety of people on both sides. Throwing objects over a fence can pose significant risks, including injury to passersby or damage to property. Therefore, selecting a material that can effectively deter such behavior is essential. By choosing the right material, you can minimize the chances of accidents and physical harm caused by objects being hurled over the fence.
2. Prevention of Vandalism: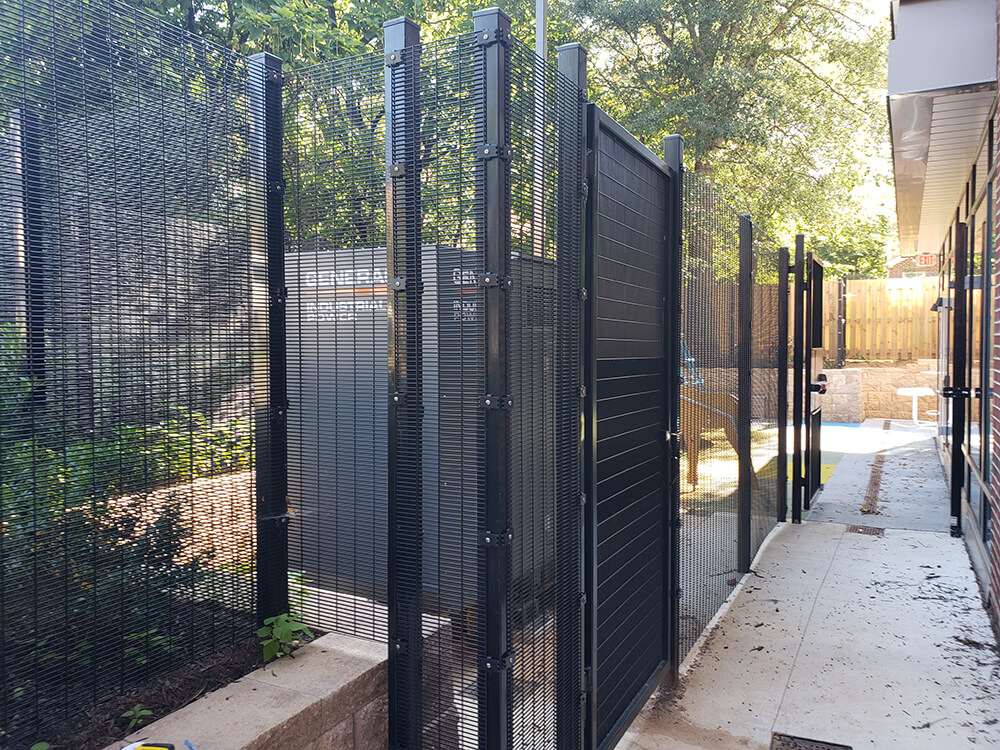 Vandalism is an unfortunate reality that many property owners and public facilities face. From graffiti to property damage, these incidents can be costly to repair and can create a sense of insecurity in the community. By opting for a material that acts as a deterrent against throwing objects, you can significantly reduce acts of vandalism. Materials that are difficult to climb, cut, or break are crucial in preventing these incidents, as they discourage potential vandals.
3. Protection of Privacy:
A fence not only serves as a physical barrier but also helps protect the privacy of individuals and properties. Throwing objects over a fence can violate this privacy by invading personal space or damaging personal belongings. By selecting a material that is resistant to such actions, you can safeguard your privacy and create a secure environment for yourself and others.
4. Enhanced Security:
Security concerns are a significant reason for installing a fence. Depending on the purpose of the enclosed space, be it a residential property or a public facility, ensuring the security of the area is of utmost importance. Choosing a material that is capable of withstanding forceful impact or tampering can greatly contribute to enhancing security measures. The right material can deter potential trespassers or criminals from attempting to breach the fence, thus increasing the overall safety of the environment.
5. Longevity and Cost-effectiveness:
Investing in a fence can be a considerable expense, and it is essential to choose a material that offers both longevity and cost-effectiveness. Some materials may require frequent repairs or replacements, which can be both time-consuming and expensive. By selecting a material that is durable and resistant to damage, you can save on long-term maintenance costs and ensure the longevity of your fence.
6. Esthetic Appeal:
While the primary focus is on functionality, the visual appeal of a fence should not be ignored. The right material can provide both functionality and aesthetic value. Choosing a material that complements the overall design and architecture of the property or public space can enhance its curb appeal, adding value to the surroundings.
Conclusion:
Selecting the right material for an anti-throwing fence is crucial for ensuring safety, preventing vandalism, protecting privacy, enhancing security, promoting longevity, and maintaining aesthetic appeal. By carefully considering the requirements and purpose of the fence, property owners and public facility managers can make an informed decision to improve the overall safety and security of their spaces. Remember, investing in the right material today can save you from potential damages, expenses, and inconveniences in the future.