Title: The Original Bridge Foot Style Barrier: Ensuring Optimal Crowd Safety
Introduction:
In the world of crowd management and event safety, the importance of reliable barriers cannot be overstated. As experts continuously strive to enhance crowd safety, the Original Bridge Foot Style Barrier emerges as a classic solution, ensuring utmost security and control. This revolutionary product is widely recognized for its exceptional features, unparalleled quality, and remarkable advantages. Let's explore how the Original Bridge Foot Style Barrier exemplifies excellence in crowd safety.
Unmatched Stability and Durability:
The Original Bridge Foot Style Barrier stands out due to its superior stability and durability. Manufactured using high-grade steel, its strong construction provides a robust barricade that withstands heavy pressure and prevents unauthorized access. Recognized for its outstanding resistance against extreme weather conditions and impacts, this barrier guarantees the safety and security of crowds, contributing to seamless event management.
Innovative Interlocking System:
One of the key features of the Original Bridge Foot Style Barrier is its innovative interlocking system. Designed to enhance efficiency during installation, this unique feature allows for quick and effortless set-up, saving valuable time and resources. Additionally, the interlocking system ensures a seamless connection between barriers, forming a solid line of defense and minimizing the risk of gaps or breaches. This exceptional design feature amplifies the barrier's effectiveness in maintaining order and crowd control.
Versatility and Adaptability: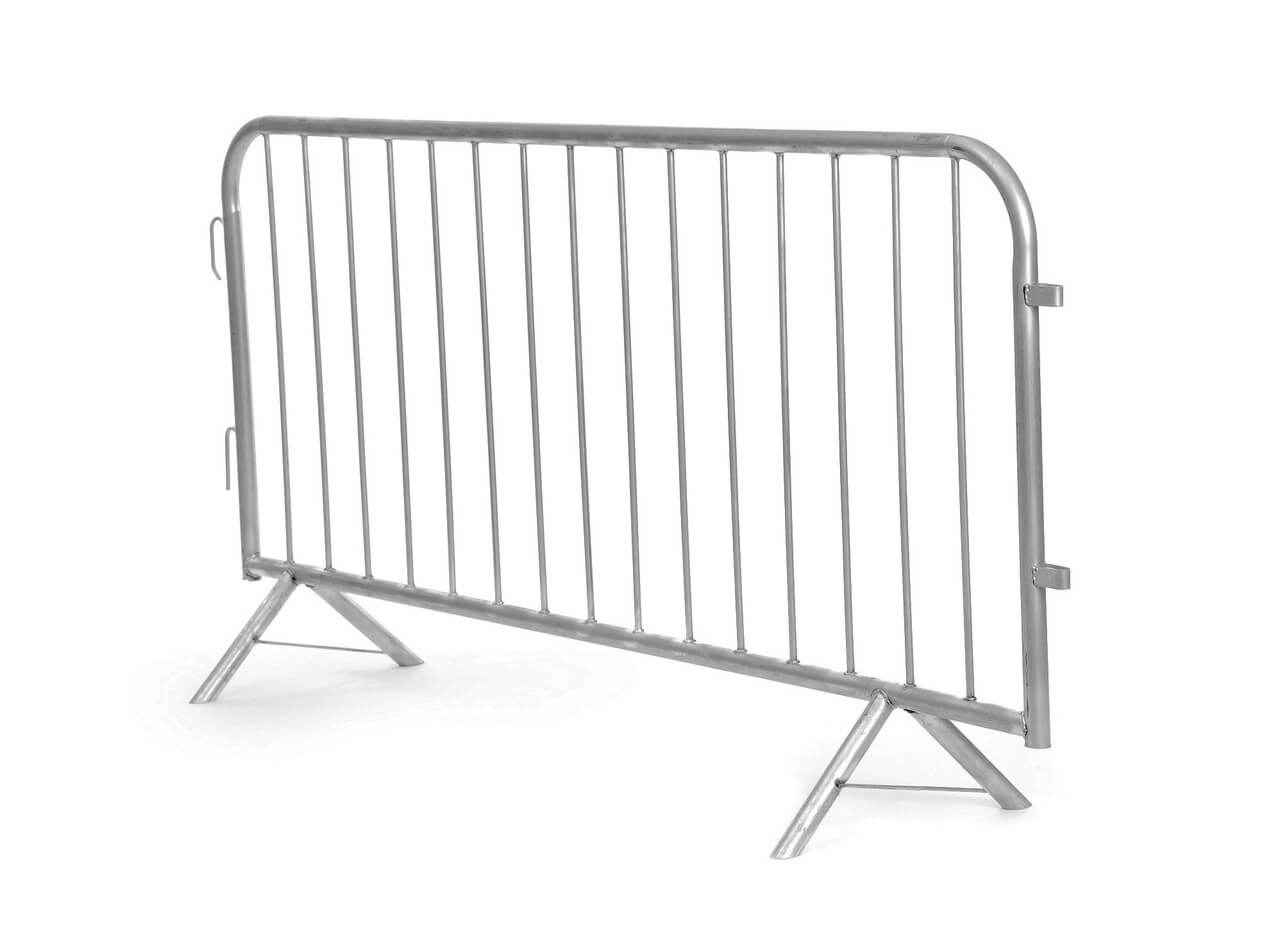 The Original Bridge Foot Style Barrier excels in its versatility and adaptability, catering to a wide range of event requirements. Its modular design enables easy customization, allowing for varied configurations to suit specific crowd management needs. Whether used to define walkways, restrict access, or create dedicated spaces, this barrier adapts effortlessly to different environments without compromising safety or aesthetics. With its sleek design and availability in various finishes, the barrier seamlessly integrates with any venue or event theme.
Superb Portability and Storage:
Another remarkable advantage of the Original Bridge Foot Style Barrier is its portability and ease of storage. Designed to be lightweight without compromising on strength, these barriers can be easily maneuvered and transported to different locations as needed. Additionally, their compact design facilitates efficient storage, enabling organizers to maximize their space utilization. This versatility in transportation and storage significantly contributes to the barrier's accessibility and convenience for event planners.
Concluding Thoughts:
When it comes to crowd safety, the Original Bridge Foot Style Barrier truly shines as a pioneer in its field. Combining unmatched stability, innovative interlocking systems, adaptability, and superb portability, this classic solution proves to be a reliable choice for event organizers worldwide. By prioritizing crowd safety through the incorporation of this exceptional barrier, event planners can instill confidence, ensuring a secure and enjoyable experience for attendees.