In today's fast-paced world, crowd control has become an essential aspect of event management and public safety. From major concerts and sporting events to public gatherings and protests, effectively managing crowds is a challenging task for event organizers and law enforcement agencies alike. To address this critical need, the original bridge foot style barrier has emerged as the forefront solution in crowd control strategies.
The bridge foot style barrier is a versatile and practical tool designed to manage and optimize crowd flow. Its unique design and functionality allow for efficient control and guidance of crowds in various settings. The barrier's key feature lies in its sturdy and reliable construction. Made from high-quality materials, it ensures durability and robustness, even in the face of high-pressure situations.
One of the most significant advantages of the bridge foot style barrier is its portability. Its lightweight design allows for easy transportation and quick setup, making it an ideal choice for events held in different locations. Whether it's a music festival, political rally, or a street parade, the barrier can quickly adapt to the changing needs and dynamics of the crowd. This versatility enables administrators to implement effective crowd control strategies promptly.
The barrier's interlocking mechanism provides seamless connectivity, enabling organizers to create custom configurations that suit specific event requirements. Its modular design allows for scalable deployment, providing a flexible solution for events of all scales. From creating orderly entry and exit points to directing foot traffic and forming queues, the bridge foot style barrier offers a myriad of possibilities to manage crowds effectively.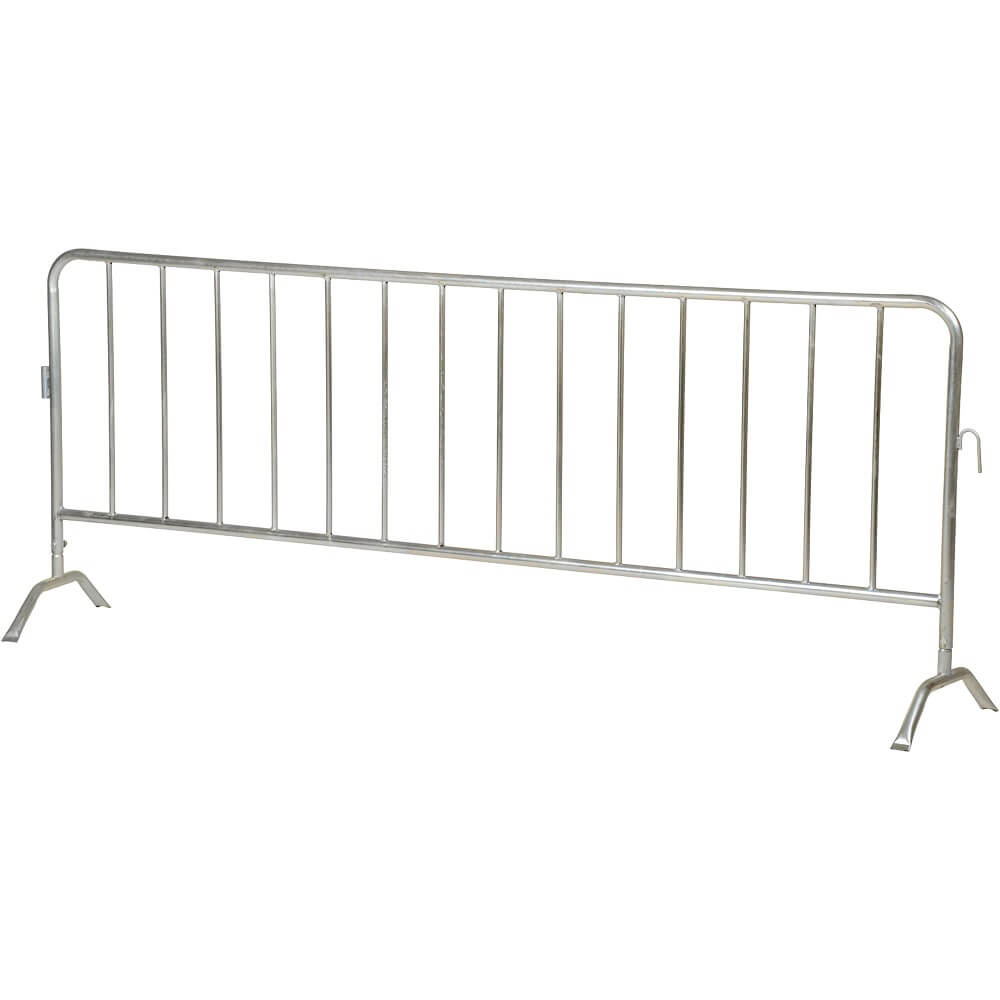 Moreover, the barrier's aesthetic appeal should not be underestimated. It blends seamlessly with various environments, enhancing the overall appeal of the event. The sleek design and neutral color palette ensure that the barrier does not become an eyesore or disrupt the visual aesthetics of the venue. Instead, it harmoniously integrates into the surroundings while simultaneously fulfilling its vital crowd control function.
Safety is paramount when it comes to crowd management, and the bridge foot style barrier excels in this aspect. With its reinforced construction and anti-tipping features, the barrier guarantees a high level of security for both event attendees and staff. It acts as a physical barrier, preventing unauthorized access, maintaining order, and deterring potential disruptive behavior. By creating designated areas and controlled zones, the barrier helps maintain a safe and secure environment for everyone involved.
Additionally, the bridge foot style barrier enhances the efficiency of security personnel. Its transparent panels allow for unobstructed visibility, enabling security personnel to monitor the crowd closely. This feature empowers law enforcement officers to identify potential threats quickly, respond promptly to any security incidents, and ensures a rapid and efficient evacuation in case of emergencies.
In conclusion, the original bridge foot style barrier stands as a necessity in crowd control strategies. With its durability, portability, versatility, aesthetic appeal, and above all, its commitment to safety, this innovative solution provides a reliable means to manage crowds effectively. Whether it's an outdoor concert, a large-scale public event, or a political demonstration, the bridge foot style barrier ensures a smooth and secure experience for all attendees, enhancing public safety and event success.