Introduction:
In recent years, ensuring the safety of large crowds has become a growing concern, as the number of events, festivals, and gatherings continues to increase. One crucial aspect of crowd safety is the management of pedestrian flow and the implementation of effective crowd control measures. This is where the Original Bridge Foot Style Barrier comes in – a reliable solution for crowd safety that has revolutionized event management and proven to be highly effective in maintaining order and ensuring the well-being of attendees.
Creating a Safe Environment:
Events draw massive crowds, and it's essential to have a system in place to guide, direct, and control the flow of people. The Original Bridge Foot Style Barrier offers a practical and efficient solution to this challenge. With its robust construction and easy setup, organizers can quickly create designated lanes for attendees, preventing overcrowding and potential chaos. These barriers act as a physical line of defense, allowing for the smooth movement of individuals while maintaining a safe distance between groups.
Unmatched Durability:
To handle the demands of large crowds, barriers need to be reliable and long-lasting. The Original Bridge Foot Style Barrier doesn't disappoint in this regard. These barriers are constructed using premium materials that are designed to withstand heavy use and adverse weather conditions. From extreme heat to heavy rainfall, they maintain their integrity, ensuring a continuous and reliable safety solution. The solid base of the barrier provides stability, minimizing the risk of accidents caused by tipping or shifting.
Versatile and Customizable:
Events come in various shapes and sizes, and crowd-control solutions should be adaptable. The Original Bridge Foot Style Barrier provides this versatility. Its modular design allows for effortless customization, enabling organizers to create specific pathways, block certain areas, or form crowd enclosures as needed. Additionally, these barriers can be easily linked together to cover extended areas, giving event planners the flexibility to cater to different crowd sizes and venue layouts. With the option to add accessories such as signage, lighting, or branding panels, the barriers can blend seamlessly into the event's aesthetic and branding requirements.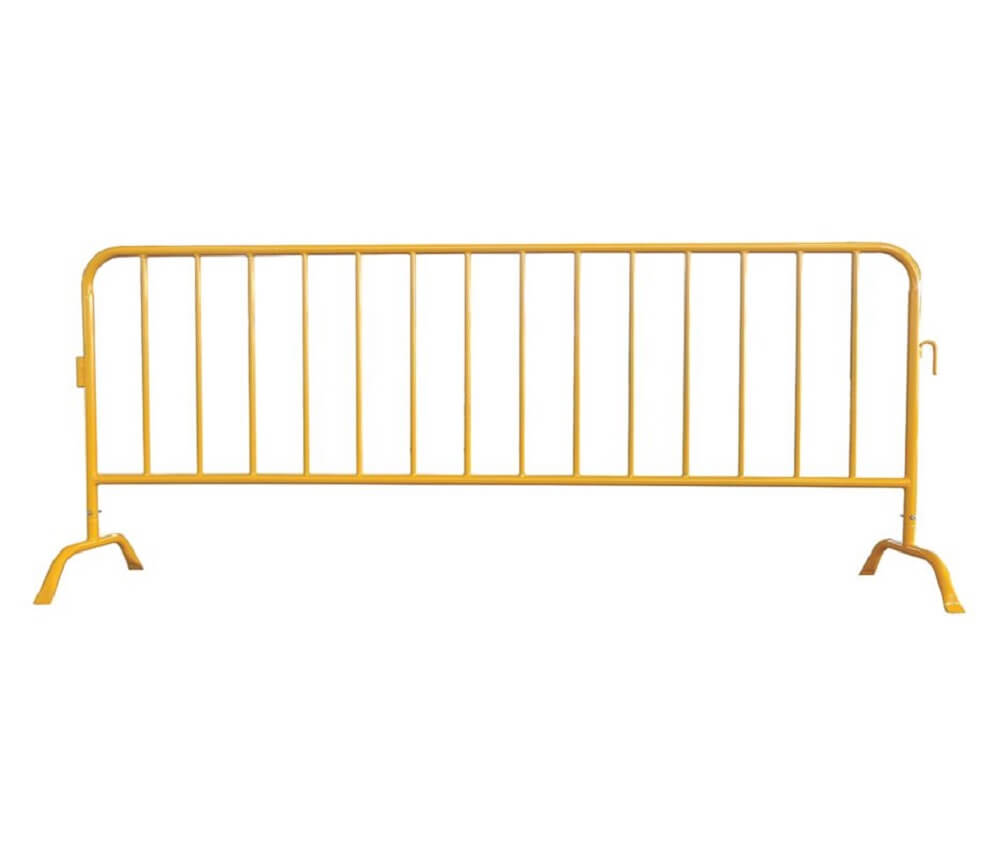 Enhanced Security and Access Control:
Crowd safety goes beyond managing pedestrian flow; it also involves ensuring the security and well-being of attendees. The Original Bridge Foot Style Barrier includes features that enhance security and access control. By incorporating secure locking mechanisms and gates, event organizers can regulate entry points, verify tickets, and prevent unauthorized access. These barriers act as the first line of defense, providing peace of mind and reducing the risk of any untoward incidents.
User-Friendly and Efficient:
In time-sensitive events, the speed and ease of setup and removal are crucial factors. The Original Bridge Foot Style Barrier offers a user-friendly and efficient solution. Its lightweight design makes it easy to transport and install quickly, reducing the time and effort required for crowd management. The barriers can be set up and dismantled with a minimal workforce, freeing up valuable resources for other event-related tasks. This efficiency is particularly significant during large-scale events where time is of the essence.
Conclusion:
When it comes to crowd safety, the Original Bridge Foot Style Barrier is the unrivaled choice for event organizers. Its reliability, durability, versatility, enhanced security features, and user-friendly nature make it an indispensable tool in effectively managing crowd flow and maintaining order. Whether it's a music festival, sports event, or public gathering, this barrier system has proven time and again to be a reliable and efficient solution, ensuring the safety and satisfaction of attendees. Invest in the Original Bridge Foot Style Barrier and experience the peace of mind that comes with having a robust crowd safety solution in place.