Introduction
When it comes to managing crowds and ensuring safety in various events and public spaces, the importance of effective crowd control cannot be overstated. Among the array of crowd control solutions available, one stands out as a timeless and highly reliable option – the Original Bridge Foot Style Barrier. In this article, we will delve into the unique features of this crowd control solution, its wide range of applications, and the reasons why it remains unrivaled in the industry.
Unraveling the Design
The Original Bridge Foot Style Barrier is distinguished by its innovative design, which combines sturdiness, versatility, and ease of use. The barriers are constructed using high-quality materials, meticulously tested for durability, and engineered to withstand substantial pressure. With their signature bridge foot design, they provide exceptional stability in various environments, ensuring that even the most energetic crowds are effectively controlled.
Applications in Crowd Management
One of the remarkable aspects of the Original Bridge Foot Style Barrier is its versatility in terms of applications. Whether it is a music festival, a sporting event, a construction site, or even a busy mall during holiday sales, these barriers seamlessly adapt to diverse environments. Their modular design allows for easy customization and flexibility in creating designated areas, guiding pedestrian flows, and preventing unauthorized access.
Safety First
When it comes to crowd control, safety is paramount, and the Original Bridge Foot Style Barrier excels in this aspect. The barriers are equipped with rounded edges and smooth surfaces, preventing any potential harm to the crowd. Additionally, their sturdy construction ensures that they remain intact even under immense pressure, minimizing the risk of accidents or breakdowns in heavily crowded settings. With these barriers in place, event organizers can have peace of mind, knowing that they have taken the necessary precautions to keep attendees safe.
Efficiency and Ease of Setup
In fast-paced events and situations, time is of the essence. The Original Bridge Foot Style Barrier understands this need for efficiency and offers a speedy and hassle-free setup process. The lightweight yet robust design of the barriers enables easy transportation and installation. Each barrier can be effortlessly connected to the next, creating a seamless, continuous barrier line within minutes. This allows for quick response and adaptability to ever-changing crowd dynamics.
Uncompromising Aesthetics
While functionality is paramount, aesthetics should not be overlooked. The iconic design of the Original Bridge Foot Style Barrier adds a touch of elegance to any event or public space. Its sleek and timeless appearance blends seamlessly with various surroundings, without compromising the primary goal of crowd control. Whether it is a high-profile red carpet event or a casual outdoor concert, these barriers enhance the visual appeal while serving their crucial purpose effectively.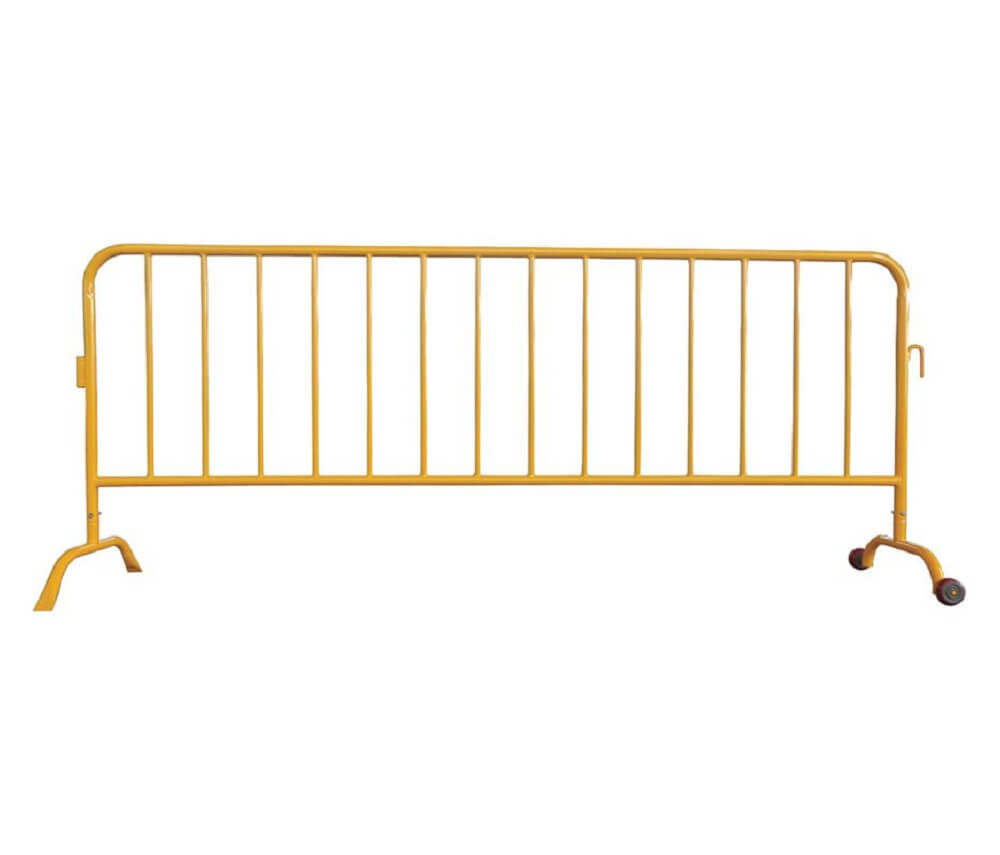 Environmental Sustainability
In an era where environmental consciousness is vital, the Original Bridge Foot Style Barrier stands out as an environmentally sustainable crowd control solution. The barriers are made from recyclable materials, and their long-lasting design minimizes the need for frequent replacements. Event organizers and authorities can thus contribute to a greener future while ensuring public safety.
Conclusion
The Original Bridge Foot Style Barrier is not just a crowd control solution; it is an embodiment of excellence and reliability. With its unrivaled design, adaptability to various environments, uncompromising safety features, efficiency in setup, and contribution to environmental sustainability, it remains the go-to choice for event organizers, security professionals, and authorities worldwide. When it comes to crowd control, the Original Bridge Foot Style Barrier continuously proves itself as the timeless solution that guarantees safety and ease in managing even the most challenging crowd scenarios.