Introduction:
In recent years, hosting successful events has become an essential part of marketing strategies for businesses and organizations. However, ensuring the safety of the crowd attending such events is equally important. It becomes crucial to establish a secure barrier system that not only provides stability but is also aesthetically pleasing. In this regard, the Original Bridge Foot Style Barrier has emerged as a game-changer. This article aims to highlight the significance of this innovative barrier system and its role in ensuring crowd safety.
1. Stability:
One of the key features that make the Original Bridge Foot Style Barrier stand out is its exceptional stability. With a robust design and advanced manufacturing techniques, this barrier system guarantees maximum stability even in high-impact situations. Whether it's a concert, sporting event, or public gathering, organizers can have peace of mind knowing that the crowd is protected by a barrier that won't topple under pressure. This stability factor significantly reduces the risk of accidents, ensuring the safety of everyone present.
2. Versatility:
Another reason why the Original Bridge Foot Style Barrier is a go-to choice for event organizers is its versatility. These barriers are not limited to a specific type of event but can be adapted to various settings. From large-scale concerts to intimate corporate gatherings, this barrier system seamlessly fits in. Moreover, it can be easily adjusted to create different barrier configurations based on the event's requirements. This flexibility allows for better crowd control, making it an ideal choice for events of all sizes.
3. Aesthetics:
Gone are the days when event barriers were merely functional and devoid of any aesthetic appeal. The Original Bridge Foot Style Barrier revolutionizes the concept of crowd safety by combining functionality with aesthetics. With its sleek design and customizable color options, this barrier system blends harmoniously with its surroundings. It no longer disrupts the visual appeal of an event but rather becomes an integral part of the overall experience. This aesthetic appeal not only enhances the event's atmosphere but also contributes to positive brand associations.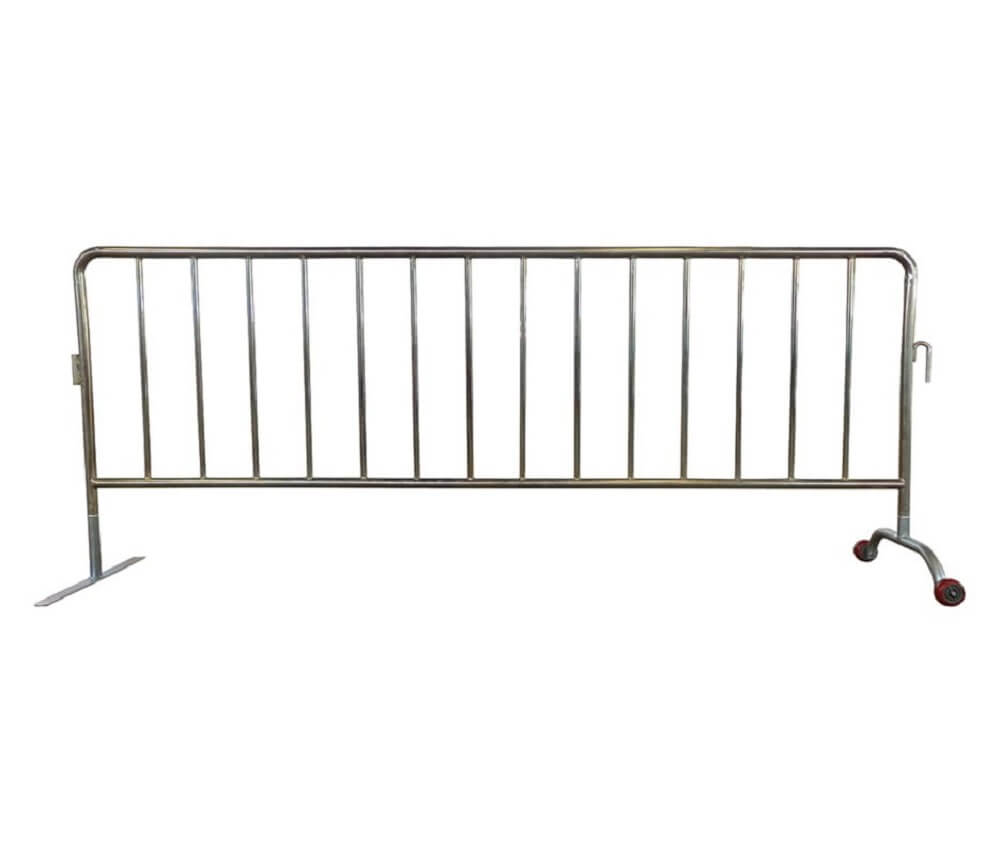 4. Easy Installation:
Event organizers are often faced with the challenge of setting up and dismantling barriers quickly and efficiently. The Original Bridge Foot Style Barrier addresses this issue by providing a solution that is easy to install and dismantle. With its modular design and lightweight materials, these barriers can be effortlessly assembled or disassembled, saving valuable time and effort. This feature proves beneficial, especially in situations where multiple events are held in quick succession or at different locations.
5. Customization and Branding Opportunities:
The Original Bridge Foot Style Barrier offers event organizers the option to customize and brand the barrier system according to their specific requirements. The ability to incorporate logos, designs, or slogans on the barriers creates a unique brand presence and marketing opportunity. Additionally, customization allows businesses and organizations to align the barrier system with their overall event theme, boosting brand recognition and memorability.
Conclusion:
The safety of event attendees should never be compromised, and the Original Bridge Foot Style Barrier ensures that it isn't. With its exceptional stability, versatility, aesthetic appeal, easy installation, and branding opportunities, this barrier system revolutionizes crowd safety at events. Event organizers can now confidently create memorable experiences while ensuring the utmost safety for everyone involved. Make the smart choice with the Original Bridge Foot Style Barrier and redefine how events are enjoyed, keeping safety at the forefront.