Introduction:
In today's world, crowd control has become a crucial aspect of ensuring public safety at various events and gatherings. With the increasing number of people attending these events, it becomes challenging to maintain order and manage the flow of crowds effectively. Traditional barriers often hinder mobility and create obstacles, but the introduction of the Original Caster Foot Style Barrier has revolutionized crowd control. This article will delve into the benefits and features of this innovative solution, showcasing how it enables easy mobility for crowd control.
Enhanced Mobility: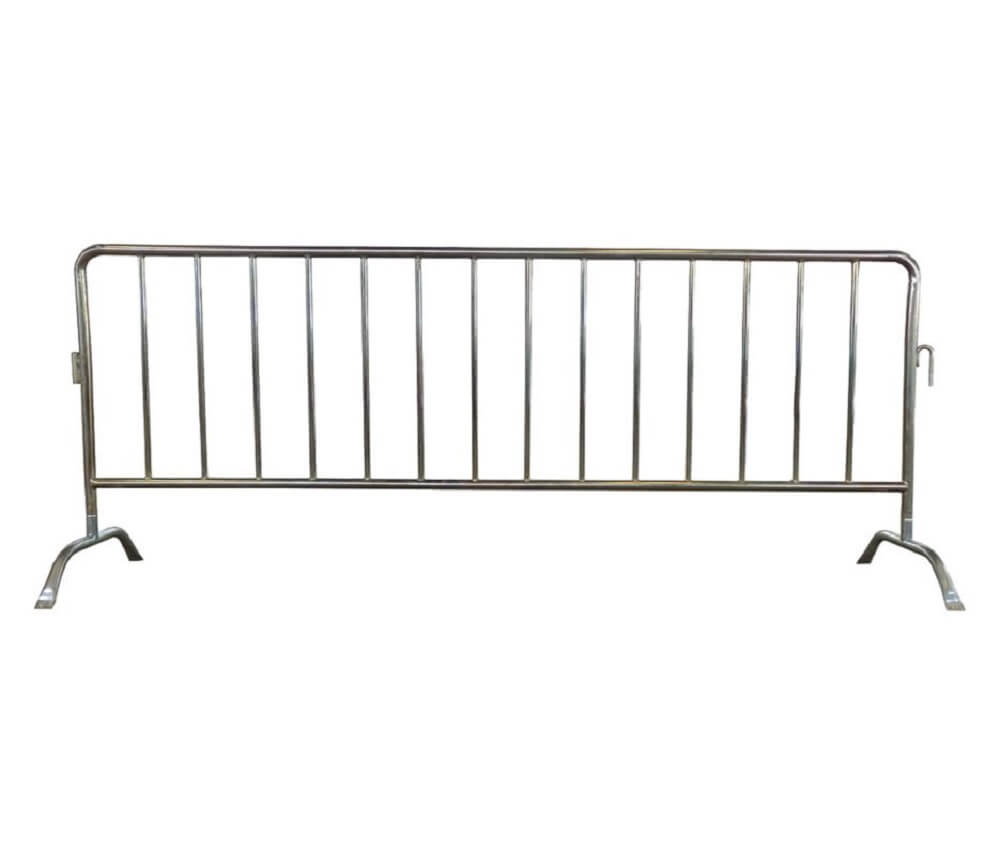 The Original Caster Foot Style Barrier stands out from its predecessors due to its exceptional mobility. Traditional barriers are often cumbersome and difficult to move, requiring significant human effort and time. In contrast, the Original Caster Foot Style Barrier features built-in casters, making it effortless to transport and reposition. The smooth glide of the casters allows for quick adjustment of pathways, reducing the chances of congestion and ensuring efficient crowd movement. Event organizers can now effortlessly adapt to changing needs, making crowd control operations more agile and effective.
Durable and Sturdy Design:
Despite its exceptional mobility, the Original Caster Foot Style Barrier does not compromise on durability and stability. Its robust construction ensures that it can withstand high-impact collisions, guaranteeing the safety of both the crowd and the barrier. The specially designed caster system distributes weight evenly, preventing tipping and maintaining balance even in crowded environments. This features the added benefit of reducing accidental tripping hazards that arise from unstable barriers. With the Original Caster Foot Style Barrier, event organizers can have peace of mind knowing that their crowds are protected by a reliable and secure solution.
Versatility and Customization:
One of the significant advantages of the Original Caster Foot Style Barrier is its versatility and ease of customization. Event spaces come in various shapes and sizes, and having a crowd control solution that can adapt to these unique environments is essential. These barriers are available in different lengths and can be easily connected or detached, allowing for a flexible arrangement that fits any space seamlessly. Moreover, organizers have the option to customize the appearance of the barriers, such as adding branding or event-specific designs, blending with the aesthetics of the venue and enhancing overall ambiance.
Seamless Integration with Accessories:
To further enhance crowd control operations, the Original Caster Foot Style Barrier seamlessly integrates with various accessories. By incorporating attachment points, organizers can easily attach additional accessories such as sign holders, advertising panels, or directional signage. This integration not only allows for effective communication with the crowd but also provides opportunities for sponsors and advertisers to reach a wider audience. The adaptability of the Original Caster Foot Style Barrier enables event organizers to create a comprehensive and efficient crowd control system tailored to their specific needs.
Cost-effective and Sustainable Solution:
The Original Caster Foot Style Barrier not only offers exceptional functionality but also provides long-term cost-efficiency and sustainability. Traditional barriers often need to be replaced frequently due to wear and tear, resulting in additional expenses. However, the high-quality materials used in the Original Caster Foot Style Barrier ensure longevity, reducing the need for frequent replacements. Furthermore, its sustainable design prioritizes environmental considerations, making it a greener alternative. Event organizers can fulfill their crowd control requirements while minimizing their ecological footprint.
Conclusion:
In conclusion, the Original Caster Foot Style Barrier has revolutionized crowd control by offering easy mobility, durability, versatility, and sustainability. Its exceptional features make it an ideal choice for event organizers seeking a reliable and efficient crowd control solution. By investing in the Original Caster Foot Style Barrier, organizers can ensure public safety, enhance crowd management, and create a smooth and enjoyable experience for event attendees. Embrace this innovative solution and elevate your crowd control operations to new heights.