In today's fast-paced and highly dynamic world, crowd control has become an unavoidable challenge in various environments. From airports and stadiums to concerts and public events, ensuring the safety and convenience of large crowds is of utmost importance. However, traditional methods of crowd control often lack the necessary flexibility and efficiency to address the ever-changing needs of different situations. This is where the Original Caster Foot Style Barrier comes into the picture, revolutionizing the way we manage crowds.
The Original Caster Foot Style Barrier is a groundbreaking innovation that combines the stability of a traditional barricade with the mobility and versatility of casters. Designed to overcome the limitations of conventional barriers, this cutting-edge solution aims to enhance crowd control management in a wide range of scenarios.
One of the standout features of the Original Caster Foot Style Barrier is its unique caster foot mechanism, which allows for seamless movement and maneuverability. Unlike traditional barriers that are heavy and difficult to relocate, the caster foot design effortlessly glides across various surfaces. This means that within seconds, the barrier can be repositioned to accommodate changing crowd dynamics, ensuring safety protocols are maintained while minimizing disruptions.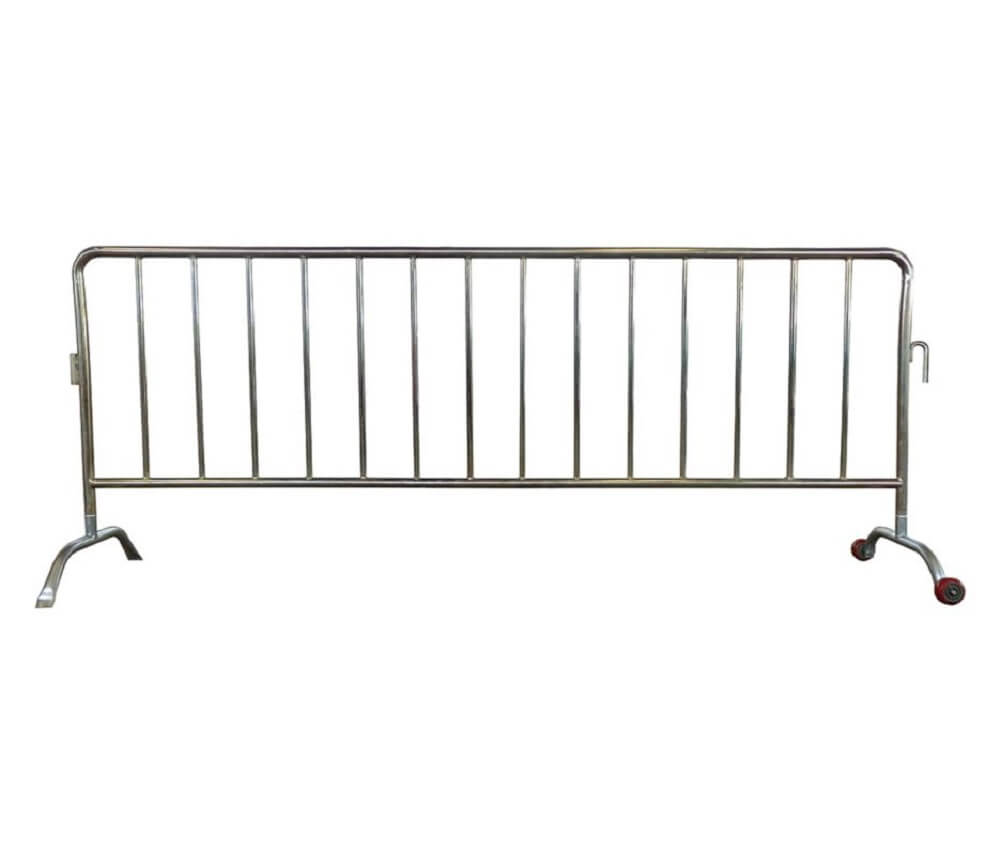 Moreover, the caster foot style design offers unparalleled versatility in managing different types of crowds. With its 360-degree rotation capability, the barrier can be easily adjusted to fit any desired configuration. Whether it's creating queues, forming secure perimeters, or establishing walkways, this innovative solution can adapt to the specific needs of any event or venue.
Another notable advantage of the Original Caster Foot Style Barrier is its user-friendly and intuitive design. Thanks to its ergonomic handle and lightweight construction, it can be effortlessly operated by a single individual. This not only streamlines the setup and teardown processes but also reduces the manpower required for crowd control. As a result, event organizers can allocate their resources more efficiently and focus on other critical aspects of crowd management.
Furthermore, the barrier's sturdy build ensures exceptional durability and longevity. Constructed from high-quality materials, it can withstand the wear and tear of continuous use, making it a cost-effective investment for any organization. Additionally, its weather-resistant properties ensure that it can perform optimally in a variety of conditions, whether it's scorching heat, pouring rain, or freezing temperatures.
In addition to its practical benefits, the Original Caster Foot Style Barrier also offers an enhanced level of safety. The barrier's robust construction acts as a physical deterrent, safeguarding both the crowd and event personnel. Additionally, the bright colors and reflective features make the barrier highly visible, minimizing the risk of accidents or collisions in low light conditions.
The Original Caster Foot Style Barrier has already garnered significant recognition and positive customer feedback in various industries. Event organizers, security personnel, and facility managers have all commended its ability to streamline crowd control while maintaining an optimal level of safety. With its innovative design and uncompromising performance, it has undoubtedly become a game-changer in the field of crowd management.
From enhancing mobility and versatility to providing increased safety and durability, the Original Caster Foot Style Barrier is poised to redefine how we approach crowd control. As the world continues to evolve, this innovative solution represents a new era in managing large crowds, ensuring a seamless experience for both event organizers and attendees alike. So, embrace the future of crowd control with the Original Caster Foot Style Barrier and witness firsthand its transformative impact at your next event.