In today's fast-paced and ever-evolving world, crowd control has become an essential challenge for event organizers and security personnel. Efficiently managing large gatherings while ensuring the safety and convenience of attendees requires innovative solutions. That is where the original caster foot style barrier comes into play, revolutionizing the way crowd control is approached. With its unique features and exceptional mobility, this barrier has proven to be an indispensable asset in handling large groups of people. Let's delve deeper into the intricacies of this revolutionary invention and explore how it enhances not only mobility but also overall crowd control efficiency.
The caster foot style barrier stands out from its counterparts due to its advanced design and functionality. Featuring a set of wheels attached to each barrier unit, it offers unmatched flexibility and maneuverability. This innovation allows security personnel to effortlessly reposition or reorganize the barriers as the situation demands. Rapid response and adaptability are key factors in controlling crowds effectively, and the caster foot style barrier excels in these areas.
Moreover, this barrier is made from high-quality materials that ensure robustness and durability. The sturdy construction enables it to withstand the wear and tear of extensive use, making it an ideal choice for long-term crowd management applications. With the original caster foot style barrier, event organizers can rest assured that their investment in crowd control measures will yield significant returns for years to come.
One of the outstanding features of the caster foot style barrier is its compatibility with various terrains. Whether it is an outdoor concert venue with uneven ground or an indoor conference space with polished floors, this barrier seamlessly adapts to different environments. The specialized wheel design allows for smooth movement, even on rough surfaces, eliminating the need for manual lifting or dragging. This mobility not only facilitates efficient crowd control but also reduces the physical strain on security personnel, enabling them to focus on their primary responsibilities.
In addition to its exceptional mobility, the caster foot style barrier offers a multifunctional design that enhances crowd control efficiency. The barrier units can be easily interconnected, creating a continuous wall-like structure that effectively channels the flow of people. This prevents overcrowding, streamlines pedestrian movement, and reduces the risk of accidents or bottlenecks. With its modular configuration, the barrier can be customized to fit any space or event requirements, ensuring optimal crowd control in diverse settings.
The original caster foot style barrier also incorporates user-friendly features that simplify installation and operation. Equipped with quick-release mechanisms, it can be set up or dismantled swiftly, minimizing time and effort. This is particularly advantageous in situations where immediate crowd segregation or guidance is necessary. The barrier's intuitive design allows security personnel to become proficient in its handling within a short period, making it an efficient tool even for less experienced staff members.
Furthermore, the caster foot style barrier can be customized to complement the overall aesthetics of an event or venue. With a wide range of color options and the possibility of branding or logo placement, it can seamlessly blend into the surroundings. This not only contributes to a more visually appealing crowd control solution but also promotes brand visibility or event sponsorship. The barrier becomes an integral part of the event experience, marrying functionality with aesthetics.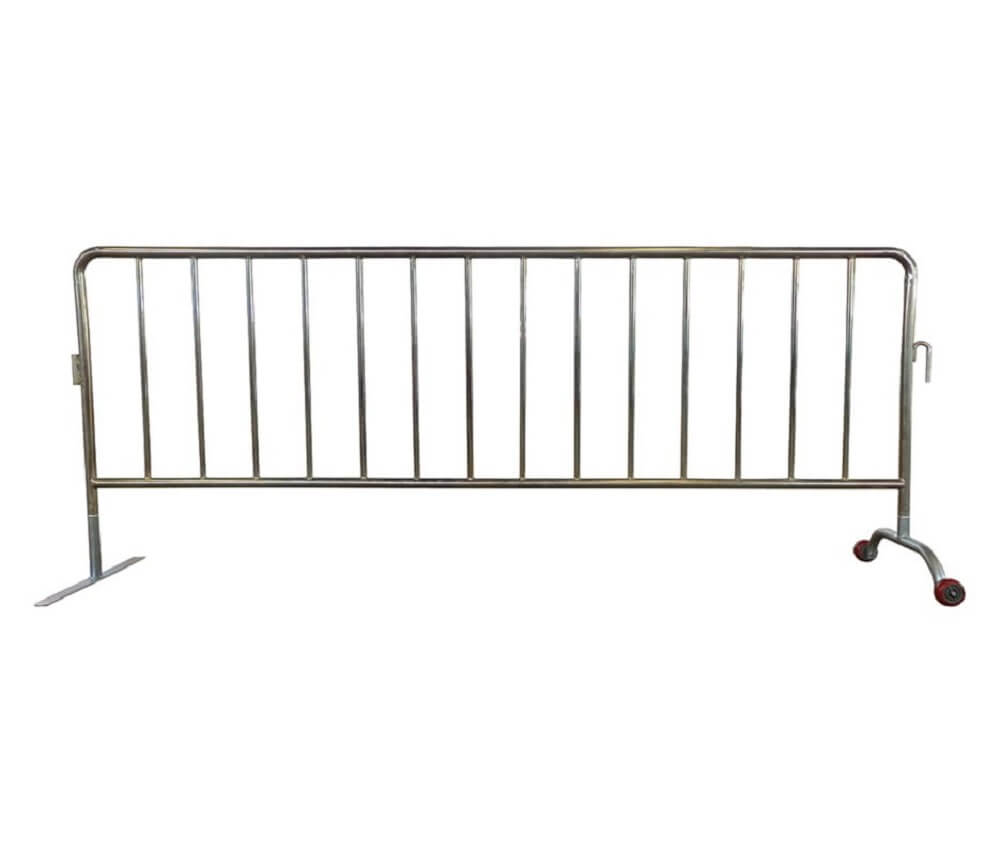 In conclusion, the original caster foot style barrier revolutionizes crowd control with its exceptional mobility and innovative design. This versatile asset enables efficient handling of large gatherings by empowering security personnel with enhanced maneuverability and adaptability. Its compatibility with various terrains, multifunctional configuration, and user-friendly features make it an indispensable tool for event organizers and security teams worldwide. By investing in the original caster foot style barrier, you are not only ensuring efficient crowd control but also prioritizing the safety, convenience, and overall experience of event attendees.