Introduction:
In today's fast-paced world, crowd management has become an increasingly critical concern for various industries and events. From airports to concerts, from conferences to sports stadiums, efficiently managing large gatherings of people is crucial for ensuring smooth operations and safeguarding public safety. In this context, the innovative Original Caster Foot Style Barrier emerges as a game-changer, revolutionizing the way we approach crowd control and mobility. In this article, we will delve into the advantages and features of this novel barrier and showcase why it is the ultimate solution for enhancing mobility in crowd management.
Unveiling the Original Caster Foot Style Barrier:
The Original Caster Foot Style Barrier is a cutting-edge crowd control system designed to provide maximum flexibility while ensuring optimal crowd movement. Unlike traditional barriers that are often bulky, heavy, and difficult to reposition, this innovative solution combines functionality, versatility, and ease of use.
1. Unmatched Mobility:
The key feature of the Original Caster Foot Style Barrier is its exceptional mobility. Equipped with caster wheels, this barrier can be effortlessly moved and repositioned as per the changing requirements of crowd management. Whether it's redirecting foot traffic, creating temporary paths, or dividing specific areas, this barrier offers unparalleled flexibility, making it an indispensable tool for any event or venue.
2. Enhanced Safety:
Every crowd management strategy should prioritize safety, and the Original Caster Foot Style Barrier doesn't disappoint. Crafted from durable materials, this barrier ensures robust protection without compromising on flexibility. It acts as an effective physical barrier, preventing unauthorized access to restricted areas, thus promoting crowd safety and minimizing the risk of accidents or undesirable incidents.
3. Smooth Flow Management:
Efficiently managing the flow of people is paramount in crowd management. The Original Caster Foot Style Barrier excels in this aspect by allowing smooth and regulated movement while ensuring separation when needed. Its seamless design eliminates any tripping hazards, facilitating easy passage and comfortable navigation for large groups of people. This innovative barrier helps achieve a harmonious crowd flow, enhancing overall mobility and reducing congestion.
4. Customization Options: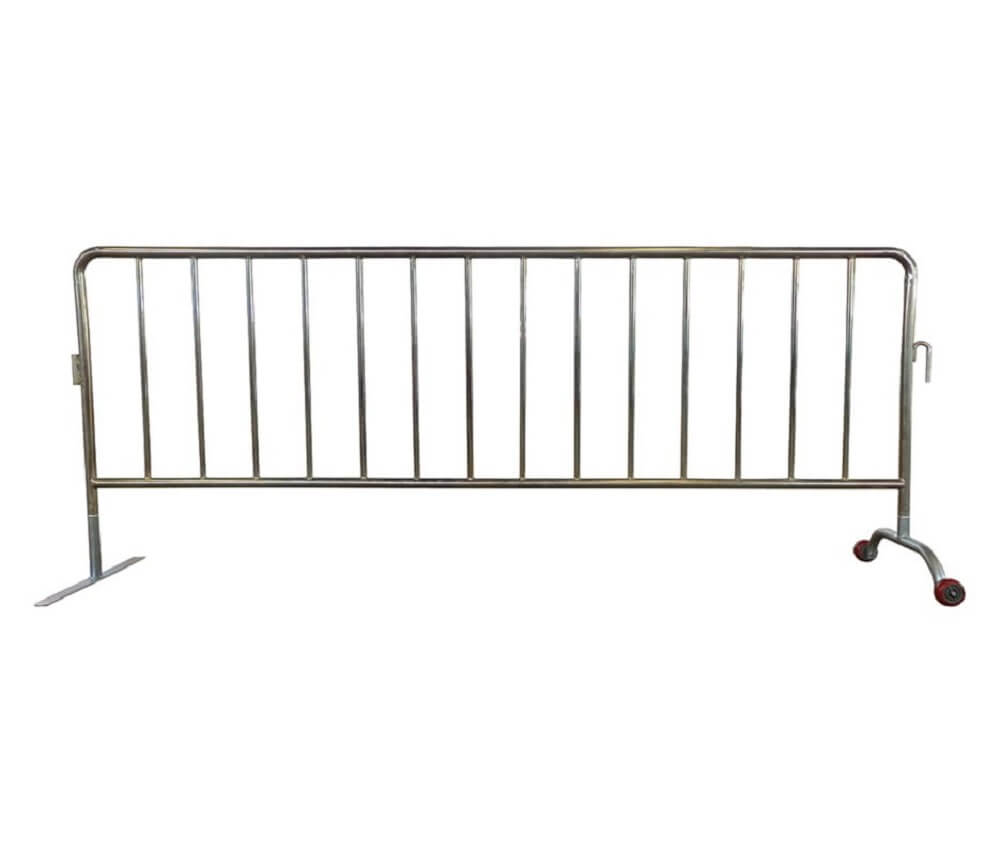 Recognizing the diverse needs and aesthetics of different environments, the Original Caster Foot Style Barrier offers a range of customization options. From color choices to logo placements, this barrier can be tailored to match any event or venue branding. This feature not only ensures excellent crowd control but also presents an opportunity for promoting corporate identity or sponsorships.
5. Efficient Space Management:
Traditional barriers often consume significant floor space, limiting the available area for crowd movement. However, the Original Caster Foot Style Barrier is designed to optimize space management. Its sleek design and maneuverability allow for effective crowd control without excessively obstructing the available space. This efficient use of floor area not only maximizes mobility but also improves overall event or venue capacity.
Conclusion:
When it comes to crowd management, the Original Caster Foot Style Barrier stands out as the ideal solution for enhancing mobility. Its unmatched versatility, enhanced safety features, smooth flow management capabilities, customization options, and efficient use of space set it apart from the conventional barriers. Events, venues, airports, and organizations worldwide can benefit from adopting this innovative crowd control system to ensure seamless operations, prioritize public safety, and create improved experiences for all attendees. Embrace the future of crowd management with the Original Caster Foot Style Barrier and witness the transformational impact it brings to your events and operations.