Title: The Original Caster Foot Style Barrier: Innovating Crowd Control Measures
Introduction
In today's fast-paced world, crowd management has become an essential concern for various businesses and public spaces. Whether it is at airports, malls, stadiums, or any event venue, maintaining orderly queues and managing large crowds is a challenging task. This is where the Original Caster Foot Style Barrier comes into play, revolutionizing crowd control measures with its innovative design and unmatched functionality.
Unveiling the Original Caster Foot Style Barrier
The Original Caster Foot Style Barrier is a ground-breaking solution that addresses the limitations of traditional crowd control systems. Traditional barriers, such as rope fences and metal barricades, often fail to efficiently control crowds. They can be cumbersome to set up, difficult to move, and limit the flexibility required for managing different crowd scenarios effectively. Enter the Original Caster Foot Style Barrier, a game-changer in crowd control management.
Innovation at its Finest: Features and Benefits
1. Mobility and Versatility: The Original Caster Foot Style Barrier stands out because of its exceptional mobility and versatility. With caster wheels discreetly integrated into its base, the barriers can be effortlessly moved and repositioned as per crowd flow dynamics. No longer will staff and security personnel need to waste time and effort manually lifting and shifting heavy barriers.
2. Easy Integration: This innovative crowd control solution is designed to accommodate various accessories and add-ons, making it highly customizable to meet the specific requirements of any event or venue. Incorporating sign holders, ticket scanners, or even branding options becomes a seamless process, enhancing overall efficiency and aesthetics.
3. User-Friendly Design: The Original Caster Foot Style Barrier takes user convenience to new heights. With a simple push-button mechanism, the barriers can be quickly deployed and locked securely in place. This ease of use reduces the need for extensive training and ensures that staff can quickly adapt to changing crowd control situations.
4. Space Optimization: One of the major advantages of the Original Caster Foot Style Barrier is its ability to optimize available space efficiently. The barriers are intelligently designed with a compact footprint, enabling more people to be accommodated within a given area. This ensures optimal space utilization and facilitates better crowd flow management, minimizing congestion and improving overall visitor experience.
The Original Caster Foot Style Barrier: Reinventing Crowd Control
The Original Caster Foot Style Barrier is a testament to the power of innovation in redefining crowd control measures. Its unique features and benefits set it apart from traditional barriers, making it the unrivaled choice for businesses and event organizers. Here's why the Original Caster Foot Style Barrier should be your go-to crowd control solution:
1. Enhancing Safety: By streamlining crowd movement and efficiently managing queues, the Original Caster Foot Style Barrier enhances safety for everyone involved. It enables security personnel to monitor and respond to potential issues effectively, minimizing the chances of accidents or emergencies.
2. Improving Efficiency: The improved ease of setup, customization, and maneuverability saves time and effort, allowing staff to focus on other critical tasks. The barriers' flexibility enables quick adjustments to adapt to unexpected crowd fluctuations, ensuring a smooth and seamless visitor experience.
3. Promoting Branding and Messaging: The Original Caster Foot Style Barrier can incorporate branding elements or important messages through add-ons or sign holders, enabling businesses to maximize their visibility and communicate effectively with their target audience. This provides an excellent opportunity for sponsors, advertisers, and organizers to promote their brands or convey essential information.
Conclusion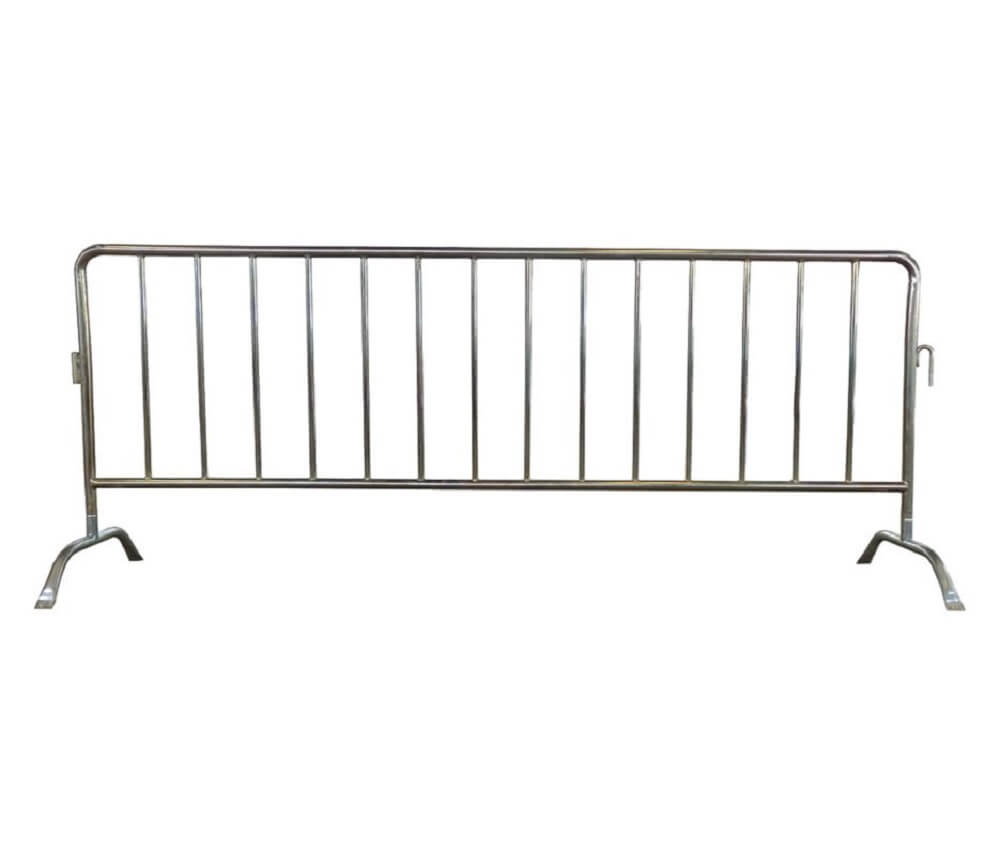 In the ever-evolving world of crowd control, innovation is the key to success. The Original Caster Foot Style Barrier brings out-of-the-box thinking to crowd management, combining mobility, versatility, user-friendliness, and space optimization like never before. Embracing this groundbreaking solution will revolutionize your crowd control measures, ensuring safety, efficiency, and enhanced visitor experiences. Say goodbye to outdated methods and welcome the Original Caster Foot Style Barrier for a new era of crowd control management.