In the realm of crowd control, every event organizer and security personnel are faced with the daunting task of efficiently and effectively managing large gatherings. While traditional barriers have served their purpose over the years, there is a need for a revolutionary approach to crowd control. Introducing the Original Caster Foot Style Barrier – a game-changer that has set a new standard in this field.
Designed with meticulous attention to detail, the Original Caster Foot Style Barrier combines functionality with innovation. Its key feature lies in its four caster wheels, strategically placed on each corner of the barrier. This design enables unparalleled maneuverability, allowing for swift adjustments and improvements on-site. No longer do event organizers have to endure the laborious process of moving heavy, unwieldy barriers. With the Original Caster Foot Style Barrier, the logistics of crowd control become hassle-free.
The barrier's lightweight yet sturdy construction is another aspect that sets it apart from traditional barriers. Made from high-quality materials, it exceeds durability expectations while remaining easy to handle. This means that event organizers can rely on the Original Caster Foot Style Barrier for multiple events without worrying about constant repairs or replacements. Its longevity is a testament to its exceptional craftsmanship.
Moreover, the barrier's sleek design complements any event setting seamlessly. Its smooth lines and minimalistic appearance ensure that it doesn't disrupt the aesthetic appeal of concerts, sports events, conventions, or any occasion that demands crowd control. By blending into the background, the Original Caster Foot Style Barrier seamlessly becomes a part of the event's ambiance, rather than a distraction.
Safety is always a top priority for crowd control, and the Original Caster Foot Style Barrier surpasses expectations in this regard as well. Equipped with advanced features like interlocking mechanisms, the barriers can be connected securely, providing a steadfast barricade that prevents unauthorized entry or crowd surges. In high-pressure situations, when maintaining order is crucial, event organizers can confidently rely on the Original Caster Foot Style Barrier to maintain public safety.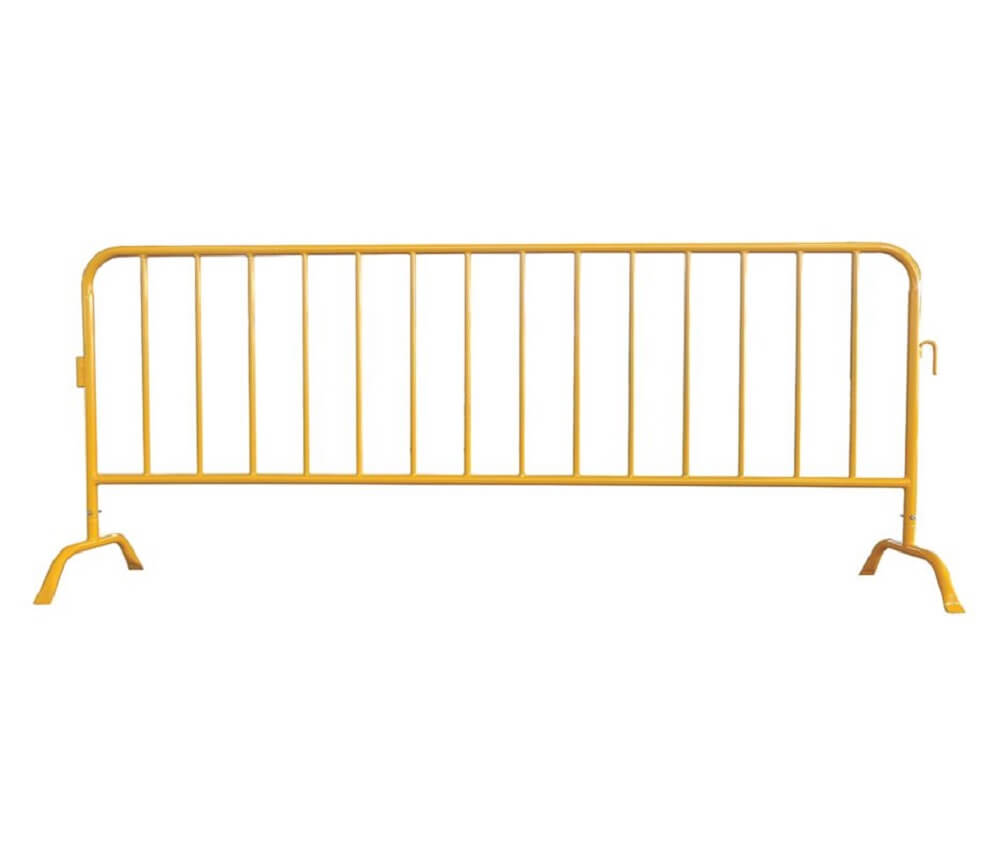 The adaptability of the Original Caster Foot Style Barrier is yet another reason why it reigns supreme in the crowd control industry. This barrier can be effortlessly customized to accommodate various configurations, making it compatible with any event layout. Whether zigzagged, straight-lined, or curved, the barriers can be arranged flawlessly to fit the specific needs of the event. This versatility saves valuable time and effort during the setup process, enabling event staff to focus on other essential tasks.
It is also worth highlighting the cost-effectiveness of the Original Caster Foot Style Barrier. By eliminating the need for excessive manual labor, a smaller team can effectively deploy and manage these barriers, resulting in significant cost savings. Additionally, the reduction in potential injuries associated with moving unwieldy barriers helps prevent costly lawsuits and liabilities. Event organizers can rest assured that their investment in the Original Caster Foot Style Barrier pays off in more ways than one.
In conclusion, the Original Caster Foot Style Barrier has revolutionized crowd control tactics. Its maneuverability, durability, sleek design, safety features, adaptability, and cost-effectiveness make it the ultimate choice for event organizers and security personnel. This barrier not only simplifies the process of managing large crowds but also ensures public safety, enhances event aesthetics, and boosts efficiency. With the Original Caster Foot Style Barrier, crowd control reaches new heights, setting the stage for successful and memorable events.