When it comes to organizing events, whether it's a music festival, a sporting event, or a trade show, ensuring the safety and security of attendees is of utmost importance. Event organizers are constantly seeking innovative solutions to create a seamless and secure environment. One such tool that has become an iconic staple in the industry is the original flat foot style barrier.
The original flat foot style barrier is a versatile and practical crowd control solution that has revolutionized event management. Its simple yet effective design has made it a favorite among organizers worldwide. Let's take a closer look at why this barrier is an essential tool.
1. Durability and Stability:
The original flat foot style barrier is constructed using high-quality materials, making it incredibly durable and long-lasting. The solid structure and sturdy design ensure that it can withstand the pressures of large crowds and adverse weather conditions. Event organizers can have peace of mind knowing that this barrier will not falter, providing optimum security and stability throughout the event.
2. Easy Assembly and Transport:
Efficiency is key when it comes to event organization. The original flat foot style barrier offers easy assembly and transportability, making it a time-saving solution. With its lightweight design and compact size, organizers can quickly set up and dismantle the barriers at different locations within the venue. Additionally, the interlocking feature allows for a seamless connection between barriers, ensuring a continuous and impenetrable boundary.
3. Versatility and Customizability:
Event organizers understand the importance of branding and creating a unique experience for attendees. The original flat foot style barrier provides the opportunity for customization with various branding options. Organizers can emblazon the barriers with sponsor logos, event branding, or safety instructions, adding an extra layer of professionalism and promotion to the event. These barriers can also be easily decorated with banners or signage, enhancing the overall aesthetics of the venue.
4. Enhanced Safety and Control:
Maintaining a safe and secure environment is vital during events. The original flat foot style barrier offers a solid physical barrier that helps to contain crowds, preventing unauthorized entry and ensuring organized flows of attendees. By strategically placing these barriers, event organizers can effectively manage queues, control crowd movements, and separate different areas within the venue. This enhanced safety and control contribute to an overall positive event experience for both attendees and organizers.
5. Eco-Friendly Solution: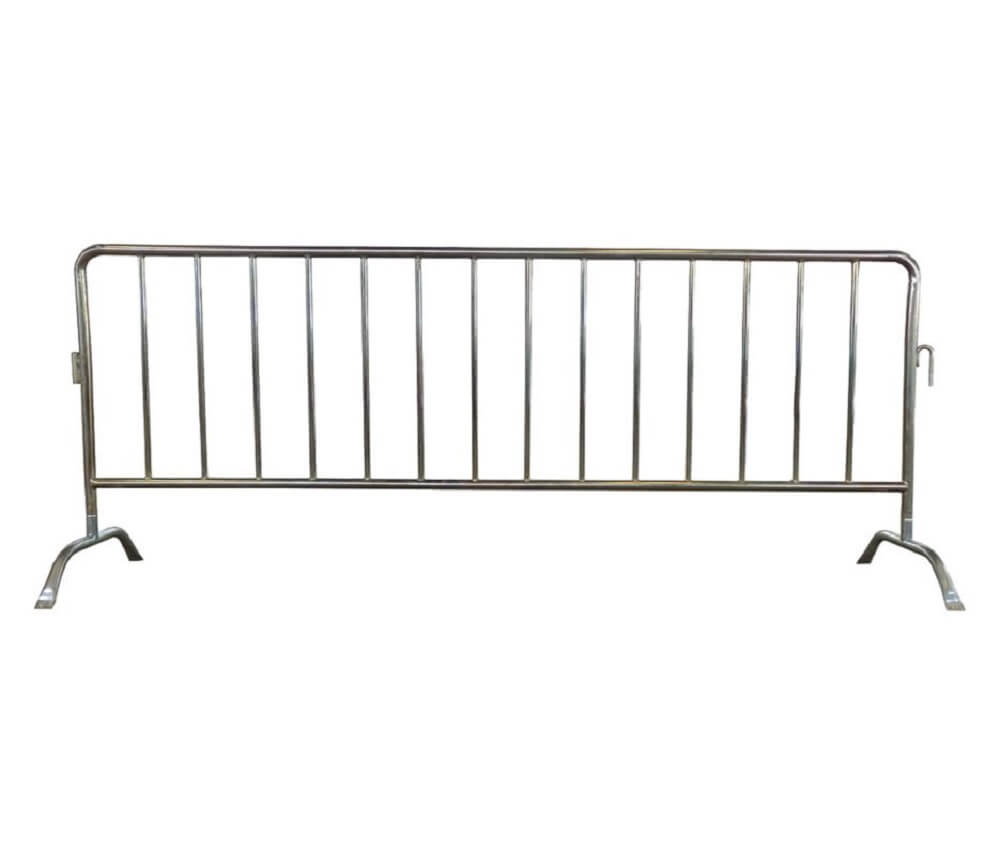 In today's eco-conscious world, sustainability is a significant consideration for event organizers. The original flat foot style barrier is designed with durability and reusability in mind, reducing the need for constant repurchasing of disposable barriers. Additionally, it is made from recyclable materials, minimizing its environmental impact. By opting for this eco-friendly solution, event organizers showcase their commitment to sustainability and responsible event management.
In conclusion, the original flat foot style barrier has rightfully earned its status as an iconic tool for event organizers. Its durability, stability, ease of assembly, versatility, safety enhancements, and eco-friendliness make it an invaluable asset. Incorporating this crowd control solution into event planning ensures a seamless and secure environment for attendees, ultimately leading to the success of any event.