Introduction
Effective crowd control is essential for maintaining order and safety in various public spaces. Whether it's at concerts, sports events, or busy train stations, managing large groups of people requires the implementation of efficient crowd guidance systems. In this article, we will explore the benefits of the original flat foot style barrier and how it simplifies crowd guidance.
The Problem with Traditional Crowd Control Methods
Traditional crowd control methods often involve the use of temporary fences, roped-off areas, or cumbersome barricades. While these methods can provide a physical barrier, they are often time-consuming to set up and require multiple personnel to handle. Additionally, traditional barriers can be visually unappealing and obstructive to the overall event experience.
Enter the Flat Foot Style Barrier
The flat foot style barrier introduces a revolutionary approach to crowd guidance. This barrier system features a sleek and minimalistic design that seamlessly integrates with any environment, making it both aesthetically pleasing and functional. Unlike traditional crowd control methods, the flat foot style barrier is lightweight, portable, and easy to maneuver, minimizing the need for excessive manpower.
Key Benefits of the Flat Foot Style Barrier
1. Enhanced Flexibility: The flat foot style barrier is modular, allowing for easy customization and adaptability to different event layouts. Its interlocking mechanism allows for quick assembly and disassembly, making it highly versatile for various crowd sizes and dynamics.
2. Efficient Space Management: With its compact design, the flat foot style barrier optimizes space utilization. The barriers can be strategically placed to create designated areas or control the flow of crowds, without causing congestion or hindering movement.
3. Improved Crowd Safety: Safety is a top priority when it comes to crowd control. The flat foot style barrier offers a stable and reliable barrier system that effectively separates crowd areas, preventing overcrowding or potential stampedes. Its low center of gravity ensures resistance to tipping, providing a secure environment for attendees.
4. Streamlined Crowd Management: The flat foot style barrier simplifies crowd guidance operations. Its lightweight nature enables easy transportation, reducing the effort and time required during setup or tear-down. This efficient process allows event organizers to focus more on event logistics and attendee experience.
5. Branding and Customization Opportunities: The flat foot style barrier can be customized with color choices, logos, or branding elements. This presents a valuable opportunity for event organizers or sponsors to promote their brand while ensuring crowd safety and control.
Successful Implementations
The flat foot style barrier has proven successful in various crowd control scenarios. Music festivals, for example, have embraced this modern approach to crowd guidance, ensuring the safety and enjoyment of attendees. Sporting events, such as marathons or cycling races, utilize the flat foot style barrier to create start and finish lines, maintaining the integrity of the competition. Furthermore, transportation hubs, including airports and train stations, have implemented this barrier system to efficiently manage passenger flow.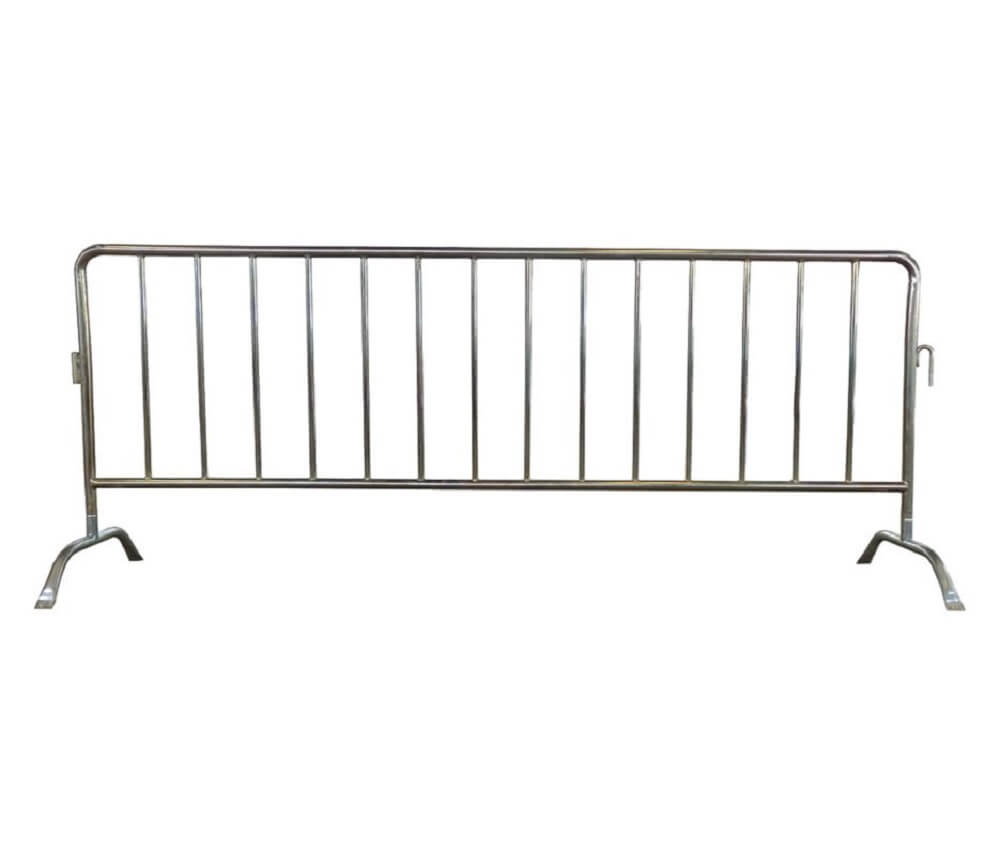 Conclusion
The original flat foot style barrier offers a practical and efficient solution to crowd guidance. Its streamlined design, flexibility, and ease of use simplify crowd control operations, benefiting event organizers, attendees, and security personnel alike. As the demand for effective crowd guidance increases, adopting innovative crowd control methods such as the flat foot style barrier becomes crucial for maintaining order and safety in public spaces.