Introduction:
In today's ever-changing world, ensuring public safety and security has become a priority for communities worldwide. Crowded areas such as stadiums, concert venues, and public spaces are particularly susceptible to security threats and incidents. To address this concern, the Original Flat Foot Style Barrier presents an innovative solution that not only enhances security measures but also offers an array of additional benefits. This article aims to shed light on the importance and advantages of adopting this revolutionary barrier system.
Enhancing Security:
The Original Flat Foot Style Barrier, developed with state-of-the-art technology, stands as a reliable tool for preventing and controlling security breaches in crowded areas. With a robust yet modular design, it provides a strong physical barrier that prevents unauthorized access, effectively deterring potential threats. The barrier's strength acts as a psychological deterrent to potential wrongdoers, significantly reducing the possibility of criminal activities. By implementing this system, event organizers, law enforcement agencies, and facility operators can create a secure environment conducive to the enjoyment and peace of mind of attendees.
Flexibility and Customization:
One key benefit of the Original Flat Foot Style Barrier is its adaptability to various settings and configurations. The modular design allows for easy customization to match the specific requirements of different locations and events. Whether it's outlining a secure perimeter, creating VIP areas, or managing crowd control, this barrier system can be effortlessly configured accordingly. With the ability to adapt to different spaces, it provides flexibility for both organizers and security personnel, enabling them to optimize safety arrangements without compromising the overall experience of the attendees.
Integration of Technology:
In addition to its physical attributes, the Original Flat Foot Style Barrier integrates cutting-edge technology to enhance security measures further. By incorporating strategically placed surveillance cameras, facial recognition software, and RFID systems, the barrier system facilitates quick identification of potential threats while minimizing human error. The combination of physical barriers and technological advancements creates a multi-layered security approach, maximizing safety within crowded areas. This integration of technology not only strengthens security protocols but also ensures greater efficiency in identifying and responding to security incidents.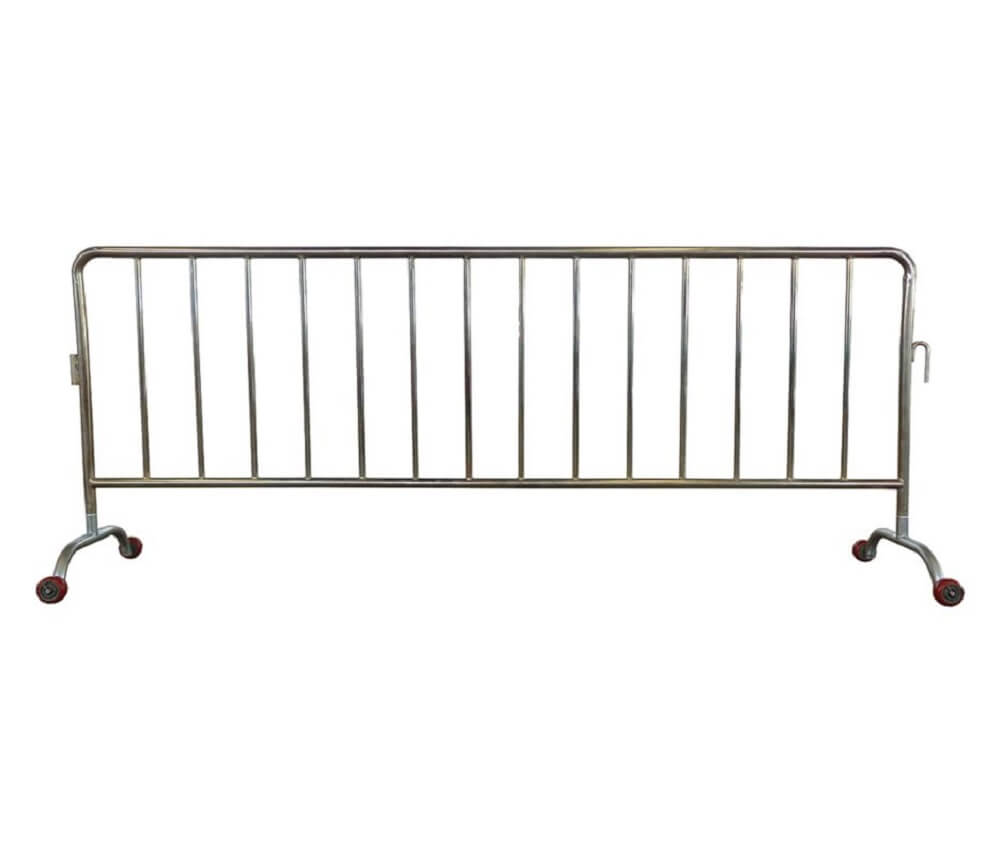 Easy Deployment and Compact Storage:
The Original Flat Foot Style Barrier offers practicality in its deployment and storage. With a lightweight and modular design, it can be easily transported and set up, reducing logistical challenges for event organizers. The barrier system's compactness allows for efficient storage when not in use, occupying minimal space. Additionally, its modular nature enables quick assembly and disassembly, further streamlining operations.
Safeguarding Public Safety:
By prioritizing security within crowded areas, the Original Flat Foot Style Barrier promotes public safety and well-being. A secure environment fosters trust, encouraging individuals to attend events without concern for their personal safety. This, in turn, contributes to the economic growth and development of communities by attracting more visitors to various venues. By investing in the Original Flat Foot Style Barrier, cities and event organizers send a strong message that safety is of utmost importance, generating a positive and secure atmosphere for all attendees.
Conclusion:
The Original Flat Foot Style Barrier presents an innovative solution to strengthen security in crowded areas. Its robust design, adaptability, integration of technology, ease of deployment, and focus on public safety make it an ideal choice for event organizers, law enforcement agencies, and facility operators. As the need for enhanced security measures continues to rise, investing in this barrier system proves to be a wise choice, ensuring the safety and well-being of individuals in crowded environments. With the Original Flat Foot Style Barrier, security becomes a proactive endeavor, creating an atmosphere of peace, enjoyment, and reassurance for everyone involved.