In the fast-paced world we live in, managing crowds and ensuring public safety has become increasingly challenging. Whether it's at a concert, sporting event, or public gathering, the need for effective crowd control solutions has never been more crucial. That's where the Original Flat Foot Style Barrier comes in – a sturdy and stable solution to maintain order and security in any crowd-filled scenario.
The Original Flat Foot Style Barrier is a revolutionary crowd control system that offers unmatched stability, durability, and versatility. It is designed to effortlessly withstand the pressures of large crowds and provide an effective barrier to prevent unauthorized access or crowd overflow. With its unique flat foot design, this barrier system sets itself apart from traditional barriers in terms of stability and ease of use.
One of the key features of the Original Flat Foot Style Barrier is its sturdy construction. Made from high-quality materials, these barriers are built to withstand extreme weather conditions, rough handling, and constant use. Unlike other barriers that may break or topple over easily, the Original Flat Foot Style Barrier provides a reliable and long-lasting solution. So whether it's a scorching hot day or pouring rain, event organizers can trust these barriers to remain standing strong.
Another advantage of the Original Flat Foot Style Barrier is its stability. The flat foot design not only ensures a strong base but also prevents tripping hazards. This is particularly beneficial in crowded situations where people are constantly on the move. By minimizing the risk of accidents, this barrier system helps create a safe environment for both event attendees and staff. Furthermore, the stability of these barriers allows for easy customization and configuration, making it ideal for controlling various types of events and spaces.
Versatility is yet another aspect where the Original Flat Foot Style Barrier excels. With its modular design, this system can adapt to any crowd management needs. From creating simple straight lines to forming complex and curved barricades, these barriers are incredibly flexible. They can be quickly assembled and disassembled, allowing for efficient crowd control setup and dismantling. Additionally, the barrier panels can be easily branded and customized to match event themes or sponsor requirements, adding an extra touch of professionalism and aesthetic appeal.
The Original Flat Foot Style Barrier also prioritizes convenience and ease of use. Its lightweight design makes transportation and storage a breeze, saving time and effort for event organizers. Setting up these barriers is a simple task that requires minimal manpower, thus reducing overall costs. Moreover, the barriers' sleek and compact profile ensures they take up minimal space, optimizing crowd flow and maximizing the available event area.
When it comes to crowd control, safety is of utmost importance. The Original Flat Foot Style Barrier addresses this concern with its exceptional build quality and stability. Whether it's managing crowd flow, securing VIP areas, or maintaining order during emergencies, these barriers provide a reliable solution that event organizers can count on.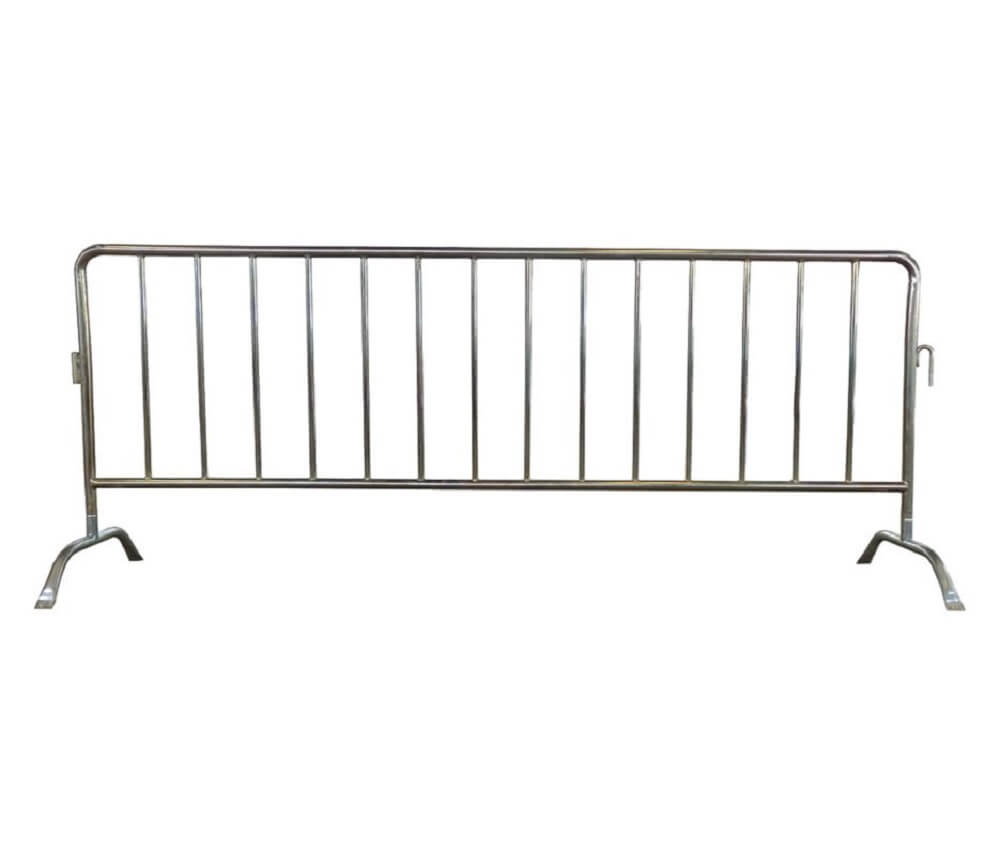 In conclusion, the Original Flat Foot Style Barrier is a game-changer in the world of crowd control. Its sturdy construction, unmatched stability, and versatility make it the go-to choice for event organizers worldwide. Investing in this barrier system not only ensures public safety but also elevates the overall experience of any event. So why settle for traditional barriers when you can have the Original Flat Foot Style Barrier – the ultimate sturdy and stable crowd control solution?