Introduction
Noise pollution is a significant concern in our modern society, affecting both our physical and mental well-being. With the rapid urbanization and the constant development of infrastructures, it has become increasingly challenging to find peaceful environments. In this article, we will explore the role of the 358 welded wire fence in minimizing noise pollution. This versatile and highly effective fencing solution offers numerous advantages in reducing noise levels, ensuring a serene living and working space for individuals.
Understanding Noise Pollution
Before diving into the role of the 358 welded wire fence, it is important to understand the concept of noise pollution. Noise pollution refers to the excessive, unwanted, or disturbing sounds that may have adverse effects on human health and the environment. It can result from various sources, including transportation systems, construction sites, industrial activities, and even social gatherings. Prolonged exposure to high levels of noise pollution can lead to stress, sleep disturbances, hearing loss, and other serious health issues.
The 358 Welded Wire Fence: An Effective Noise Barrier
The 358 welded wire fence, also known as the anti-climb fence or prison mesh, is a highly reliable solution for noise control. This type of fencing is made of robust steel wires, tightly woven together to create a mesh pattern with a small aperture size of 3 inches by 0.5 inches (or 76.2mm by 12.7mm). Such a design offers significant advantages in minimizing noise pollution.
1. Enhanced Sound Absorption: The dense structure of the 358 welded wire fence allows it to absorb sound waves effectively. When sound waves hit the fence, the tightly woven wires and small aperture size cause the waves to scatter and lose intensity. As a result, the fence acts as a barrier to prevent the transmission of noise to the surrounding areas.
2. Noise Reflection: In addition to absorbing sound waves, the 358 welded wire fence can also reflect noise. This is particularly beneficial in situations where noise originates from a specific source, such as a busy road or a factory. By reflecting the noise back towards its source, the fence helps to minimize the sound propagation, reducing the impact on nearby residents or workers.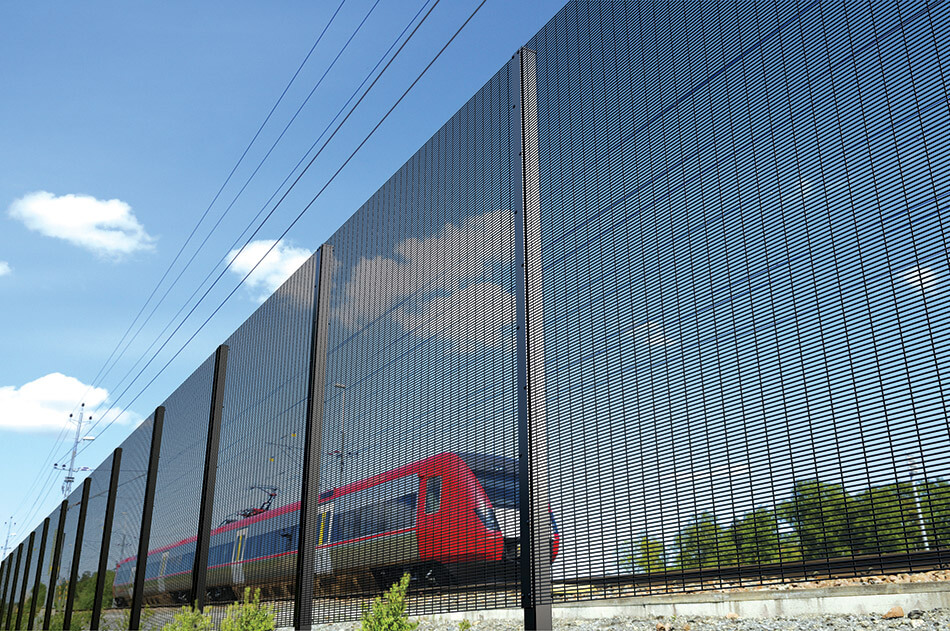 3. Physical Obstacle: The 358 welded wire fence serves as a physical barrier that restricts the movement of sound waves. With its sturdy construction and anti-climb design, it prevents direct transmission of noise from one side to the other. This is especially advantageous in areas where there is a significant difference in noise levels, such as separating residential neighborhoods from busy highways.
4. Durability and Longevity: The 358 welded wire fence is built to withstand various environmental conditions. It is resistant to corrosion, vandalism, and extreme weather, ensuring its effectiveness in reducing noise pollution for an extended period. Its longevity is crucial in maintaining a consistent level of noise control, offering long-term benefits to communities.
Applications of 358 Welded Wire Fence in Noise Control
The versatility of the 358 welded wire fence makes it suitable for a wide range of applications in noise control. Some notable examples include:
1. Highways and Railways: The installation of 358 welded wire fences along highways and railways can significantly reduce the noise generated by passing vehicles or trains. By creating a barrier between the source of noise and nearby residences or commercial areas, it helps to create a more peaceful environment for the community.
2. Residential Areas: Noise pollution from neighboring houses or busy streets can be a constant source of disturbance in residential areas. Installing a 358 welded wire fence can act as a sound barrier, minimizing the transmission of noise from one property to another. This allows individuals to enjoy a quieter living space, free from the disruptions of external noise sources.
3. Commercial and Industrial Sites: Factories, construction sites, and other industrial facilities often generate high levels of noise. By implementing the 358 welded wire fence, these noise sources can be contained within the premises, preventing unnecessary disturbance to nearby residential areas or offices.
Conclusion
As noise pollution continues to be a pressing issue in our modern society, effective solutions, such as the 358 welded wire fence, are crucial in creating peaceful and habitable environments. With its superior sound absorption and reflection properties, as well as its physical obstacle characteristics, this fencing solution offers significant advantages in minimizing the transmission of noise. By implementing the 358 welded wire fence in strategic locations, we can make a positive impact on reducing noise pollution and improving the quality of life for individuals and communities alike.