Introduction:
Temporary fencing is an essential solution for various events, construction sites, and public spaces. It provides the required security and safety without the need for permanent installations. When it comes to temporary fencing, the sturdiness and stability of the structure are crucial factors. This article aims to discuss the significance of temporary fencing with metal feet, highlighting its exceptional robustness and the numerous advantages it offers for different applications.
1. Enhanced Stability:
Temporary fencing with metal feet stands out due to its exceptional stability. The metal feet serve as strong support, ensuring that the fencing structure remains intact even in challenging weather conditions or areas prone to high winds. This stability is particularly crucial in construction sites or crowded events where the fencing needs to withstand external forces effectively, ensuring the safety of both workers and attendees.
2. Durability:
The durability of temporary fencing is another critical aspect that cannot be overlooked. Metal feet contribute significantly to the extended lifespan of temporary fences. Made from high-quality materials such as galvanized steel, these metal feet are resistant to corrosion, rust, and other environmental factors that could affect their structural integrity. Consequently, temporary fencing with metal feet is a reliable and cost-effective investment, as it can be reused multiple times without losing its sturdiness.
3. Easy Installation and Versatility:
Unlike permanent fencing options, temporary fencing with metal feet offers remarkable versatility and ease of installation. The metal feet are designed to be quickly and securely attached to the fencing panels, providing stability and flexibility. This feature allows for easy relocation of the fence whenever the need arises. Whether it's for events that require frequent setup and teardown or construction sites that demand adjustments in fenced areas, temporary fencing with metal feet proves to be highly convenient and efficient.
4. Adaptability to Uneven Terrains:
Uneven terrains can pose a significant challenge for ensuring secure and stable fencing. However, temporary fencing with metal feet resolves this issue with its adaptability to varying ground levels. The metal feet can be adjusted to different heights or angles, allowing the fence to stand firmly on any uneven surface. This adaptability ensures that the fence remains stable even on rugged terrains, maintaining its intended purpose of security and safety.
5. Enhanced Aesthetics:
Temporary fencing with metal feet not only fulfills its functional requirements but can also contribute to the overall aesthetics of the surroundings. The metal feet can be designed in various styles or colors to complement the fenced area, providing an appealing appearance without compromising on sturdiness. This versatility in design allows the temporary fencing to seamlessly blend in with the surroundings, enhancing the visual appeal of events, public spaces, or construction sites.
Conclusion: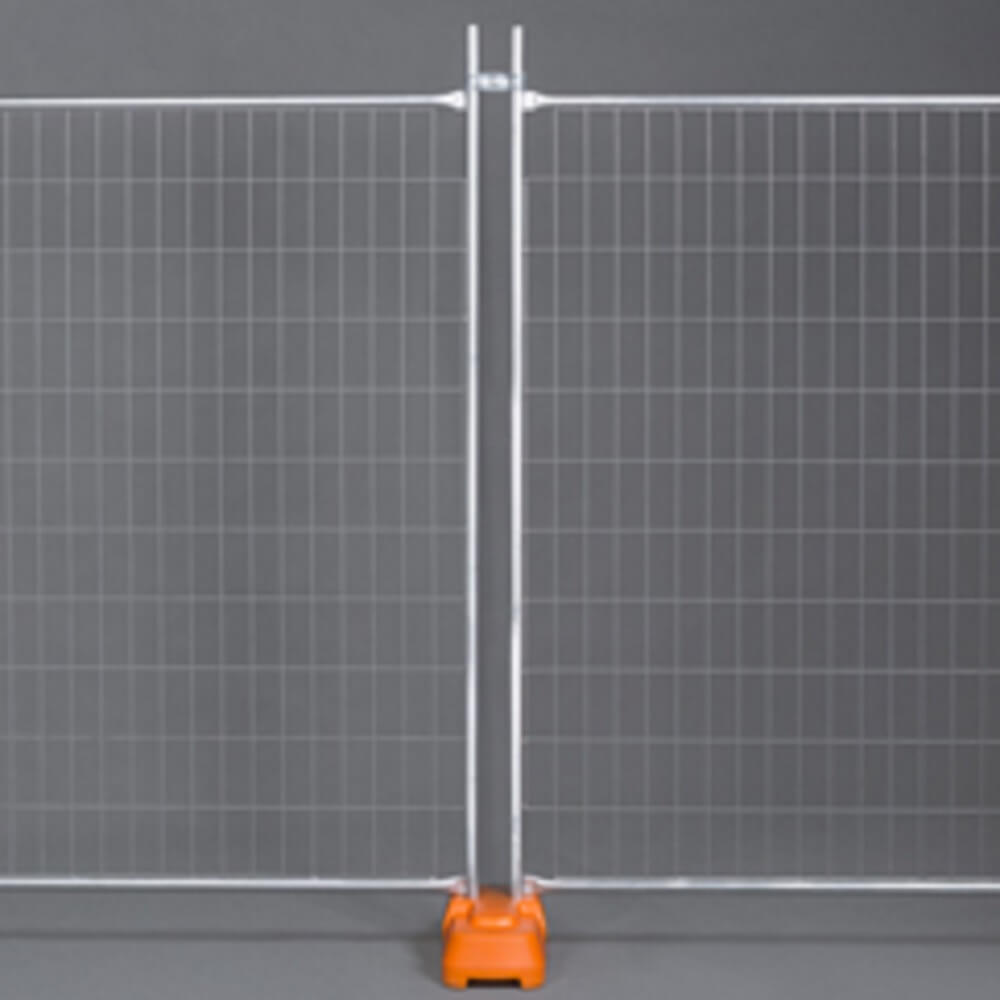 Temporary fencing with metal feet offers an array of advantages, particularly in terms of sturdiness and stability. Its enhanced stability ensures the safety of people and property, even in challenging conditions. The durability provides a long-term and cost-effective solution, while the ease of installation and adaptability to uneven terrains offer convenience and flexibility. Furthermore, the option to customize the metal feet enhances the overall aesthetics of the fenced area. With all these benefits combined, it is evident that temporary fencing with metal feet is an excellent choice for various applications, catering to the security and safety needs of different environments.