: A Must-Have for Any Outdoor Space
A well-designed outdoor space can greatly enhance the overall appeal of your home or commercial property. Whether you're looking to add a layer of security, define a space, or simply create a visual focal point, metal fence posts offer the versatility and durability needed to meet your needs.
One of the key benefits of metal fence posts is their adaptability to various styles and design aesthetics. Whether you are looking for a classic wrought iron look or a sleek, modern vibe, metal fence posts offer a wide range of styles and colors to choose from. Unlike wood or other materials, metal fence posts are not limited by their natural properties and can be easily customized to fit the specific needs of your space.
Another significant advantage of metal fence posts is their durability. Metal is resistant to rot, insect damage, and corrosion, making it an ideal choice for outdoor use. Unlike wood, metal fence posts require little maintenance, making them a cost-effective solution for both homeowners and commercial property owners.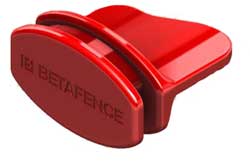 In addition to their durability and versatility, metal fence posts offer excellent security. They can be installed with locking mechanisms, and they are much more difficult to damage or break than traditional fence posts. This extra layer of security is essential for protecting your property and ensuring peace of mind.
Metal fence posts are not only functional but also aesthetically pleasing. They add an elegant touch to any outdoor space while still maintaining their durability and functionality. Moreover, metal fence posts are environmentally friendly, as they are often made from recycled materials and are 100% recyclable.
In conclusion, if you are looking for a versatile, durable, and stylish option for your outdoor space, metal fence posts are an excellent choice. They offer a wide range of benefits that are hard to ignore, including adaptability to various styles, durability, security, aesthetics, and environmental friendliness. Invest in metal fence posts today and take the first step toward creating your dream outdoor space.